Habs Must Continue to Add Following Jordie Benn Acquisition
Ryan Ritchie/FanSided via Puck Prose

Fansided
On Monday, the Habs added a bit of defensive depth by acquiring Jordie Benn from the Dallas Stars in exchange for Greg Pateryn and a 2017 4th round draft pick. It's a solid addition, but Montreal must continue to add if they truly believe they're contenders.
Announced Monday, the Habs added some defensive depth by acquiring Jordie Benn from the Dallas Stars in exchange for Greg Pateryn and a 2017 4th round draft pick.
Benn is currently in the first year of a three-year deal, which carries a $1.1 million dollar cap hit.
It was a fairly minor deal in the grand scheme of things. After all, we've seen a flurry of trades over the last week. In fact, since Feb.23, we've seen 11 trades involving 23 players joining new organizations. While just a small deal, it's a step in the right direction for the Montreal Canadiens.
Many GMs seem to be doing the bulk of their business leading up to the actual deadline, a trend we've seen grow in past years. And it sounds like GM Marc Bergevin is no different with the Habs name being bantered around the likes of Matt Duchene and Martin Hanzal (now with the Wild). For the sake of the Canadiens, I hope they're not done dealing.
Last-Minute Deals Won't Be Easy
I don't envy Marc Bergevin in the hours leading up to the deadline. The Habs are in a precarious position. They're obviously not good enough as is to win a Stanley Cup. Their recent struggles over the last few months, including starter Carey Price is a serious concern.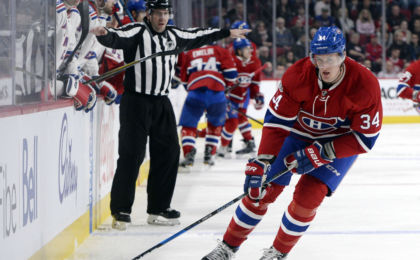 That being said, I don't think this team is that far off from being a serious threat. Once they get prospects such as Mikhail Sergachev, Noah Juulsen, Michael McCarron, Nikita Scherbak, and Charles Hudon (among others) as regulars in the lineup, the Habs could be a scary talented team.
That leaves Bergevin in a tough position because you want to be competitive now while some of your top veterans are still in their prime, but you also want to preserve the prospect pool for the near future.
If I had to guess, there's likely been a lot of player development analysis over the last few months as the Habs try to identify which prospects fit the future of the organization, and which are expendable to make this club better now.
Who Could the Habs Trade?
If we're looking at the 23-man roster, F David Desharnais likely ranks as the most likely to be dealt. The 30-year-old is a pending UFA that carries a $3.5 million dollar cap hit. With that number, don't be surprised if the Habs are forced to retain part of his salary – not a big deal anyways.
Other potential candidates include pending UFA F Brian Flynn and RFA F Sven Andrighetto. Some may be raising an eyebrow with the inclusion of Andrighetto since fans still have high hopes for the 23-year-old, but sadly, he can't seem to crack the lineup on a full-time basis. It might be time for a change of scenery, and his inclusion in a bigger deal could go a long way in getting a good return haul.
Lastly, let's not forget about 24-year-old D Nathan Beaulieu. A pending RFA that carries a $1 million dollar cap hit, Beaulieu will definitely be looking for a raise in the summer. That could be an issue with so much money already locked up on the back end, not to mention Andrei Markov looking for a new contract as well.
The sad thing is, if the Weber-Beaulieu experiment had just worked out on that top pairing, things would look very differently today.
When it comes to the prospect pool, you obviously need to be very careful of what you subtract. Given the fact that Montreal has Carey Price on the roster and guys like Charlie Lindgren and Michael McNiven lurking in the minors/junior, there may be no better time to deal one of the NHL's top goaltending prospects.
Yes, I'm talking about Spengler Cup standout Zachary Fucale. It's kinda sad that he was even forced to start his pro career down in the ECHL. The time is now for Marc Bergevin to cash in his chips on this young man.
Potential Targets the Habs Should Consider:
Matt Duchene, Colorado Avalanche
You only make this deal if the astronomical asking price comes down. It still means giving up a top prospect on the back end (i.e. Sergachev) and up front (i.e. McCarron). Unfortunately, that's the cost to get your hands on a guy who can play basically anywhere in your top-six. A little insurance at that no.1 center slot could be nice while Alex Galchenyuk grows into the role.
While he doesn't fill that need up the middle, I include him based on the fact that he could be a very affordable rental piece. A versatile winger, Sharp could bring some much-needed experience into the Habs dressing room.
Thomas Vanek, Detroit Red Wings
Here's another rental piece rumored to be available. Surprisingly, Vanek has been re-invigorated in 2016-17, proving that his stint in Minnesota was nothing more than a bad fit. With 15 goals (38 points) in 47 games, Thomas could give the Habs a solid boost offensively.
Adam Henrique, New Jersey Devils
While Henrique is yet to be rumored in trade talks, I wouldn't be surprised if teams are calling New Jersey regarding his availability. The fact is, they've got Travis Zajac, Pavel Zacha, and John Quenneville (among others) in the mix at center. Czech rookie Zacha has been forced to play the wing as a result. Therefore, I wouldn't be shocked to see the Devils move a center and open up a bit of cap space ahead of what could be a very busy summer in New Jersey.
Alex Killorn, Tampa Bay Lightning
Sadly, we could also include names such as Tyler Johnson, Vladislav Namestnikov, or even Valtteri Filppula to the list of potential players to be moved. One way or another, TB needs to lose a few players if they want to make room to sign a boat load of restricted free agents this summer.
Killorn is particularly interesting considering the uncertainty surrounding his future. As it stands, he promises to be a top target for the Vegas Golden Knights unless Steve Yzerman can find a way to open up another slot on the protection list. So, he could come at a relatively affordable cost. And for a guy who can score goals (16 in 2016-17), plays roughly 18 minutes/night and contributes on both sides of special teams, it would be a sneaky good pickup for the Habs. Although listed as a LWer, where he has primarily played in 2016-17, Alex Killorn is capable of playing center. His versatility would be extremely helpful to the Montreal Canadiens.
This article originally appeared on