Habs Heavy World Cup of Hockey Contribution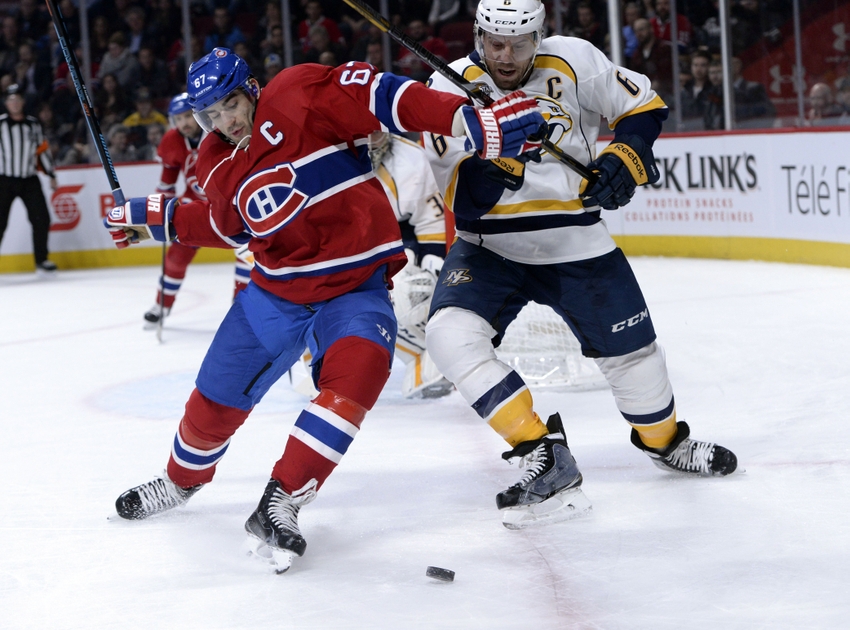 Habs will provide key players to each of the tournament favorites. Here is the analysis of-of each Habs that will play in the World Cup and their expected roles within their teams.
World Cup training camps opened yesterday – with several notable Habs present.  We know the rosters, and we already were able to witness some of the combination that will be used by a few teams. Statistically speaking, of the 184 players listed on the eight rosters, 169 are issued from NHL teams, nine comes from the KHL, one from the Swiss National League and 5 are free agents. Each NHL Teams provide from 1 (Ottawa Senators) to 12 (Tampa Bay Lightning) players to the different rosters.
Habs are right in the middle of the pack with six players representing their nations in Toronto in September.
While analyzing a roster, some mistakes must be avoidable. Some teams may have more players in the tournament but the overall quality of players sent, and their role on their respecting teams may be lesser.
Montreal Canadiens Top 5 Draft Busts in Franchise History
As an example, Toronto Maple Leafs may argue that they are sending eight players while the Habs will have only six. However, keep in mind that Roman Polak and Jhonas Enroth contribution and skill levels will probably never compare with what Carey Price and Shea Weber will be doing for Team Canada. Instead of evaluating how many players will end up there, let's see how will they be contributing on their respective teams.
Carey Price – Goaltender – Team Canada
Following Team Canada's first practice, Carey Price seems to be poised as the starting netminder for defending champion from the last tournament held in 2004. All projectors will be on him throughout the tournament. He hasn't seen action in the last ten months, but he is an elite talent and comes at camp having won a gold medal as a starter in Sochi.
Shea Weber – 1st Pairing Defenseman – Team Canada
Habs last acquisition, one of the NHL's best defenseman, Shea Weber can do it all. He will punish opposing forward in front of the net and crush them into the board, he will use his cannon of a shot on the power play and will be part of the leadership group as he was named an alternate captain in August. In Canada's first practice, he was in his usual spot, on the first pair alongside Marc-Edouard Vlasic.
Max Pacioretty – 2nd Line Winger – Team USA
The Habs captain has never had better players on his unit in his career. After Team USA's first practice, he was listed as a second line forward completing a line with Joe Pavelski and Patrick Kane. Sources on Twitter mentioned that they were the 2nd line, however, to me, a line with the best scorer in the last Stanley Cup Playoffs and with last year winner of the Hart, Art Ross, and Ted Lindsay awards can't be deemed as a "second line." There's no doubt, Montreal's captain will be a key player for team USA!
Tomas Plekanec – 1st Line Center – Team Czech Republic
When I look at every team in the tournament, the Czech are clearly one of the teams that will struggle in this competition. They are probably the weakest team on defense; their goalies aren't an elite talent and their 3rd and 4th line could be "ok" on any NHL team but are no match versus the elite opposition they will face. Nonetheless, Plekanec has been named Captain of his team and will be a key piece of the Czech roster. I expect him to be massively used in every situation.
Andrei Markov – 2nd Pair Defenseman – Team Russia
Montreal's aging defenseman will be playing on Russia's top four and could have a big impact on his team. Russia's defense isn't what it used to be, their first paired as of now is Orlov / Zaitsev which is pretty far from what other power house like Canada will line up in September. On a Russian squad that should be focused on offense, Markov could have a big impact on the power play and as one of their most effective offensive D-man.
Alexei Emelin – 2nd Pair Defenseman – Team Russia
According to Twitter sources covering Team Russia, Alexei Emelin is set to be playing with Andrei Markov on their team 2nd unit. Surely the coaching staff saw a fit since they are both playing on the same team and that they have known each other for years.
Emelin will have a shutdown and physical role with this squad. In the last years, he sometimes had trouble to fulfill this role on an "ok" NHL Team. Against the World top tier players, I expect that Emelin will slide from the 2nd to the 3rd pair soon after the competition will have started. He'll be a key part of their PK, but I don't expect much from him at this level.
So how will the Montreal Canadiens player will fare in the World Cup of Hockey? Habs may send only six players, but they are clearly sending key players for each of their respective nations. Furthermore, Montreal Canadiens players are playing for the top teams in the competition and have a legitimate shot at winning it all.
Want your voice heard? Join the A Winning Habit team!
Sure Montreal could have more players suiting for international competition, however, since their recent draft were majorly focused on Canadian, American, and Russian players, we can't expect more from this team for now. This competition will be exciting and will entertain us until the start of the NHL's regular season, which should be really interesting in Montreal given all the change that Habs GM Marc Bergevin made since last year.
More from A Winning Habit
This article originally appeared on