Grading the biggest NHL trades from 2016 offseason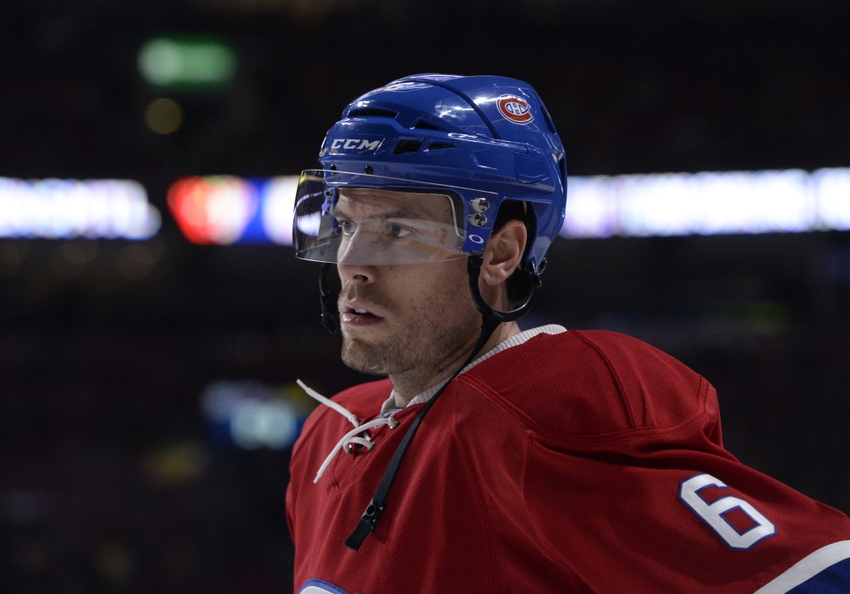 Breaking down the trades that rocked the NHL during this 2016 offseason. 
Grading trades in the NHL is very difficult. It's especially hard doing so after just a few games. However, fans can still see certain teams emerging as winners from the trades that shook the league this offseason. There were several huge trades. But we'll just be addressing five of them.
Trades will be graded looking at what each team got, who's benefitting the most from it, and projecting how the trade will look in the future when relevant. The offseason was defined by two trades. One sent Taylor Hall to the New Jersey Devils and Adam Larsson to the Edmonton Oilers. The other sent P.K. Subban to the Nashville Predators and Shea Weber to the Montreal Canadiens. But let's not forget the other trades.
5. Brian Elliot to Calgary Flames
This trade, much like the Calgary Flames season, was hyped up to be a huge one. So far, it's been a dud. At the 2016 NHL Draft, the St. Louis Blues traded Elliott to the Flames for a 2016 second round pick and a conditional 2018 third round pick. He was expected to help solve Calgary's goaltending woes from the 2015-16 season. To be fair, the Flames weren't dumb to think this. Elliott did, after all, lead the league in save percentage.
So far, he has been mediocre at best with a .882 save percentage, allowing 3.36 goals per game. The Blues traded him for cap space and because they had confidence in Jake Allen. Allen hasn't been much better with a .904 save percentage.
Who won it: By default, the Blues. Elliott's terrible play has the Flames looking dumb for trading for him. Oh, and he's a free agent after this season. Allen hasn't been very good, but he's been better than Elliott. Still, St. Louis didn't get much for a goalie who led the NHL in save percentage. So while they won, it's pretty much by default and they should have nailed this trade. But they didn't.
4. Frederik Andersen to Toronto Maple Leafs
This trade is fun because it happened in multiple parts. The first part of the trade saw Frederik Andersen go from the Ducks to the Maple Leafs for a 2016 first round pick (30th overall) and the middle of Toronto's three second round picks in 2017. Now, because Jonathan Bernier had a roster bonus due and the Leafs have far more money than the Ducks, the second part didn't happen until July. That part saw Bernier go to the Ducks for a 2017 conditional pick which most likely won't account for anything.
Goalies take a while to adjust to their new teams, so this trade is hard to judge. But so far, Bernier has been a very good backup to John Gibson. He's always been a solid backup though, and the Maple Leafs forced him into a starting role he didn't deserve.
Who won it: This trade gets an "incomplete" grade because it's almost impossible to judge Andersen. Sure, you can look at his .907 save percentage or his 3.16 GAA. However, keep in mind he went from an excellent defensive team to a poor one. Andersen missed most of the preseason due to an injury. So he got no time to make adjustments. Andersen has had to do it on the fly. After a slow start, he's been good.
Andersen's extension will not be factored into this trade because he signed it after the trade. It looks like both teams got what they wanted. Everybody wins for now. But down the road, this trade should favor Toronto because even if Andersen is average, that ought to be good enough for the Leafs.
3. Mika Zibanejad for Derick Brassard
When this trade was made, many believed this was an issue of the Senators not wanting to pay for Zibanejad's next contract. With Brassard having a relatively cheap contract in terms of salary, this trade still makes sense for them. He has seven points for Ottawa in his first 17 games and is averaging a career high 18:08 of ice time per game.
However, the Rangers got an excellent young center in Zibanejad. He has 13 points so far. More importantly, Zibanejad has replaced Brassard as the architect of the Rangers power play. That was the lone concern from New York's side of the trade. Now will they be able to re-sign Zibanejad to a long-term deal? That remains to be seen. But considering the Rangers are trying to win a Stanley Cup, that's an afterthought.
Who won it: Hard to say anyone other than the Rangers won this trade. They got the better player for sure. This trade will be revisited after this season, when New York has to re-sign Zibanejad, who will be a restricted free agent. The Rangers sold high on a center whose best days are likely behind him for a center whose best days are likely ahead of him. Those trades tend to be good ones.
2. Taylor Hall for Adam Larsson
The first of the two trades that shook the foundations of the NHL this offseason, Taylor Hall got traded from the Oilers to the Devils for defenseman Adam Larsson. This trade boils down to two teams trading a surplus to address a need. While the Devils didn't have quite the surplus on their blue line as the Oilers have at forward, this trade is looking quite good for New Jersey.
Before injuring his meniscus, Hall was leading the Devils in goals, assists, and points. New Jersey still has some growing to do. Maybe not having Hall will be a good thing for them down the road, as they gain the confidence to win without relying him. If that happens, the Devils could be quite deadly once Hall gets back. They miss Larsson a lot, but Hall has been nothing short of a blessing for New Jersey.
The Oilers' defense has improved since last season. It would be negligent to believe the addition of Larsson hasn't influenced this. However, Edmonton's defense has been getting worse after a hot start. Larsson is very good, but he highlights an issue with the Oilers — their defensemen can't move the puck. Meanwhile, Connor McDavid is a deity on skates, so Edmonton hasn't missed Hall too much. But it's undeniable they'd be noticeably better on offense if they still had Hall.
Who won it: It's hard to declare a winner for a trade that alters the course of two franchises. That said, the Devils are looking like the winners in this deal. Finding a replacement for Larsson should prove to be far easier than trying to find someone to replace Hall's production. This trade still makes sense for both sides, but the Devils got the better player.
1. P.K. Subban for Shea Weber
Before judging this trade, let's remember this trade is much more about the future than it is the present. That said, the Montreal Canadiens have to be happy with how it's worked out for them so far. Shea Weber is a Norris Trophy candidate with 13 points in 16 games and an NHL best plus-minus of +16. He leads the NHL with six power play goals.
However, his relative bad possession numbers are a little bit concerning. It's also worth noting he has a 16.7 percent shooting percentage, which is insanely high even for Weber. The former Predators defenseman also has an even strength PDO (shooting percentage plus team's save percentage with him on the ice) of 108.9, which is very high. Sure, it will likely remain high because Carey Price is the best goalie in the NHL. But take Weber's numbers so far with a grain of salt.
Meanwhile, P.K. Subban has been very good in Nashville. He has 10 points through 17 games. Ironically, he's been getting a pretty good even strength on ice save percentage (92.6 percent), which people expected would be bad since Pekka Rinne is a downgrade from Price. However, the Predators have a 4.6 percent even strength shooting percentage with Subban on the ice. Nashville's issues have more to do with the other guys on the roster than P.K.
Who won it: For now, the Canadiens, but it's worth noting Price is likely influencing this. But judging this trade now doesn't do it justice. This trade is monumental enough that it deserves to be judged for the future as well. Look at this trade three years down the road if you want to properly judge it.
More from FanSided
This article originally appeared on