Florida Panthers Acquiring D Dylan McIlrath Is Beneficial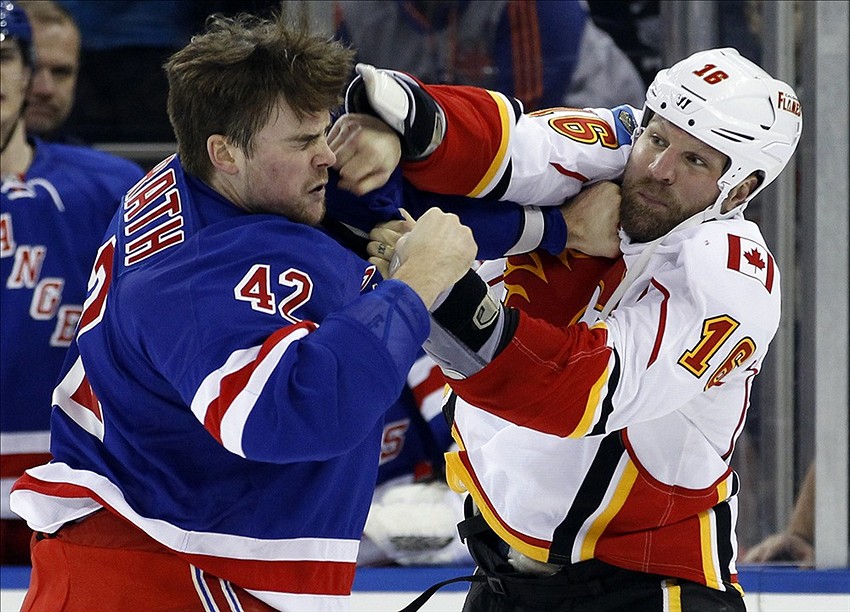 Florida Panthers Acquired Defenseman Dylan McIlrath From the New York Rangers in Exchange for Steven Kampfer and a Conditional Draft Pick.  This Underrated Trade Could be Highly Beneficial for the Panthers.
The New York Rangers have finally put their situation with Dylan McIlrath to rest trading him to the Florida Panthers earlier this week. New York struggled to find a place for him and the 24-year-old defenseman will now get his opportunity to play down in South Florida.
The Panthers sent defenseman Steven Kampfer and a conditional 7th round pick in the 2018 NHL Draft to the Rangers in exchange for the promising blueliner.
Despite Florida missing the opportunity to grab McIlrath when he was waived last month, this move will be beneficial for the team.
Dylan McIlrath In a Nutshell
The Rangers drafted McIlrath 10th overall in 2010. McIlrath is 6-foot-5 and weighs in at 236 pounds. He is known for his tough play, his firm body, and his willingness to fight on the ice.
One of McIlrath's standout moments was his fight against the Philadelphia Flyers' Wayne Simmonds on Feb. 14, 2016. McIlrath fought Simmonds in defense of Rangers captain Ryan McDonagh. The captain was sucker punched by Simmonds earlier that month and received a concussion as a result.

McIlrath is a strong body by the blue line and also carries an impressive slap shot. Overall, McIlrath is a force in front of the net, a wall at the blue line, a quality all-around defender.
Unfortunately, the Rangers were unable to find the right way to use the young defenseman. The Rangers weren't able to provide McIlrath with the ice-time he needed to improve or even open up a roster spot so he could develop his game at the NHL level.
That inability to effectively use him ultimately resulted in Dylan being placed on waivers with the intention of joining the Hartford Wolfpack. At least now, he will be given a new lease on NHL life with the Florida Panthers.
McIlrath vs. Kampfer for Panthers
Last season Kampfer posted four assists, a plus-minus of five and 26 PIM in 47 games with Florida. Kampfer is more of a puck mover and has better skating and puck-handling skills than McIlrath currently has.
Kampfer, the 28-year-old also has more experience than the 24-year-old. Kampfer was acquired by the Panthers in 2014 in a trade with the Rangers in return for Joey Crabb.
Last season McIlrath posted two goals, two assists, a plus-minus of seven and 64 PIM in 34 games. The defenseman tallied two more goals than Kampfer, two less assists and a whole lot more penalty minutes.
Kampfer is more of an offensive-defenseman while McIlrath follows a true enforcer style on the blue line.
The Panthers currently have a defensive group that is solid and good with scoring. Currently, three of Florida's d-men have a goal, and five have at least two assists. McIlrath can sit among producers like this and brings a heavily defense-focused play alongside them.
McIlrath's rough and tough style of play, with his growing offensive abilities, can work alongside the offensive capabilities the Panthers have to offer. Kampfer offered the Panthers a similar style of play to what they already have but introducing McIlrath can definitely shake-up their defensive depth.
McIlrath's Future Play
McIlrath's skating and puck-handling have improved since last season. Rangers coach Alain Vigneault complimented McIlrath's improved play during the preseason. Despite the improvements, Vigneault noted that McIlrath needs to work on his puck skills and decisions.
If McIlrath can get more ice time with the Panthers he will have a better opportunity to improve. More ice time means more chances to improve skills and a player's all around game.
Last season, the Rangers began to minimize former-Ranger defenseman Keith Yandle's with less minutes per game and restricted his play – the Rangers traded Yandle's rights to the Florida Panthers during the offseason in exchange for two draft-picks.
If McIlrath receives more ice-time he will have the opportunity to improve his skills and reach a higher level of play. Defensemen need ice time to stay strong and improve their offensive game. More ice time could do McIlrath well.
The Panthers have more space for a defensemen like McIlrath. Florida is a young, big and energetic group who wants to win. The team has a variety of different style players who work together to find the right balance on the ice. McIlrath's solid ice presence and enforcer-style defense can bring some more grit to the team.
A new team, coaching style and team playing style can be exactly what the McIlrath needs to improve his play and find the right footing.
The Florida Panthers host the San Jose Sharks on Thursday, Nov 10 at 7:30 p.m.
This article originally appeared on