Fixing the New York Rangers Defense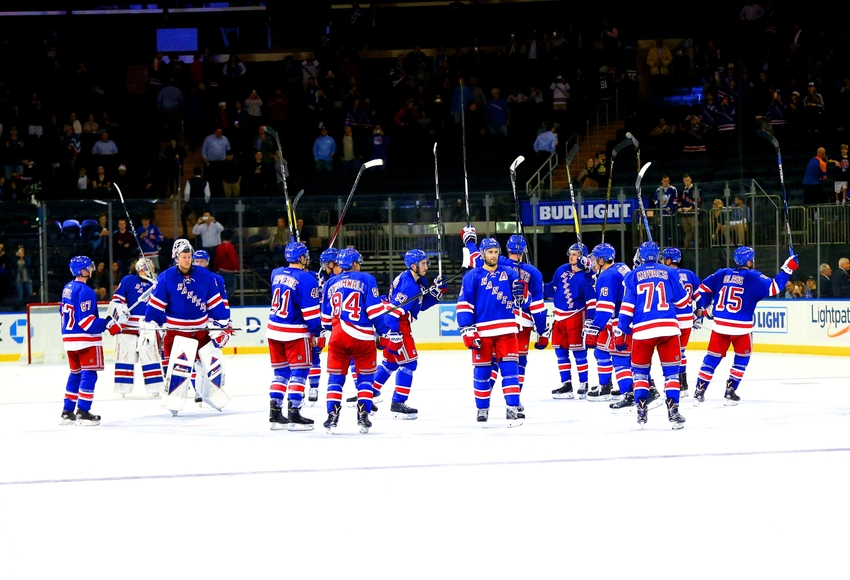 Recently here at Blue Line Station we have covered each New York Rangers defenseman. We wrote that Adam Clendening must be freed, Dan Girardi is a problem, Nick Holden is not a problem, Kevin Klein must be traded, Ryan McDonagh is being wasted, Marc Staal has been re-energized, and that Brady Skjei is crucial to the Rangers' success. Now, let's take a look at how to make the best of the group on hand.
The New York Rangers defense is among the worst in the NHL. That is no secret, and opposing teams have exploited that truth to beat the Rangers. For example, the Buffalo Sabres caged Dan Girardi and Ryan McDonagh in to the tune of a Corsi For Percentage of 24% each on Thursday night. That went a long way towards out-scoring the Rangers' high-powered offense.
New York's tragic downfall is their offense's need to outscore their defense's mistakes. The Rangers' offense is tops in the league, dominating opponents at an unprecedented pace. Standing among the leaders of the Eastern Conference is no minor feat, one only amplified by the atrocity that is the defense.
That being said, everything could be improved with a fixed defense. As previously mentioned, we recently covered each individual member of the defense. For the most part the reviews came out strong, with only Dan Girardi and Kevin Klein serving as problems.
For the Rangers to own a defense that does not actively harm their chances of winning, Vigneault must shelter Girardi and Klein the best he can.
First of all, Ryan McDonagh must be separated from Dan Girardi. A quick look back at the Buffalo game:
On the top pair, Girardi brought the team down at an unacceptable level. Girardi's woes are far too consistent for the game to be considered an outlier, and McDonagh's possession numbers are dropping alongside his.
There is a solution, however, as Girardi did not struggle out of the gate this season. Alain Vigneault originally placed Girardi on the third defensive pairing, a maneuver that worked.
During that same stretch, Ryan McDonagh did this:
Demoting Dan Girardi to the third pair and playing Ryan McDonagh with a competent partner is the first step to renewed success on defense.
Step two consists of limiting Girardi's damage. While Nick Holden and Marc Staal have had success together, Staal is best served playing alongside Brady Skjei. Skjei cannot be tasked with carrying Girardi as an anchor, but Holden's development is not essential to the Rangers. Holden and Girardi can combine for a sheltered third pair, one that holds some potential if Holden's resurgence continues.
With Marc Staal improving over last season, placing Brady Skjei on his right side would not harm Skjei's development. Skjei earning extra minutes and playing an offensive role will aid his learning process, while playing with a newly-responsible Staal.
The final change on defense is swapping Adam Clendening in for Kevin Klein full time. Clendening subbed in against the Sabres on Thursday, notching an assist in the defeat. Klein was placed back in the lineup immediately, but he is the far weaker defenseman currently. The Rangers defense must be able to push the possession and offensive games, a pair of attributes Clendening holds but Klein does not. Even ignoring Klein's rapid decline, his defense-first style of play does not mesh well on the current roster.
It may seem ludicrous to suggest Clendening play alongside McDonagh, but McDonagh performed tremendously with other offensive minded defensemen in the past. McDonagh is well-versed in covering for his partners mistakes, and sees a significant improvement in play when playing with possession positives. Clendening can aid the Power-Play with his right shot as well, while Klein is not needed on the Power-Play or Penalty-Kill.
For the New York Rangers, success is a few adaptions away. Alain Vigneault must fix the defense using the steps outlined above for the team to be a true threat.
This article originally appeared on