Five Questions The St. Louis Blues Must Answer This Preseason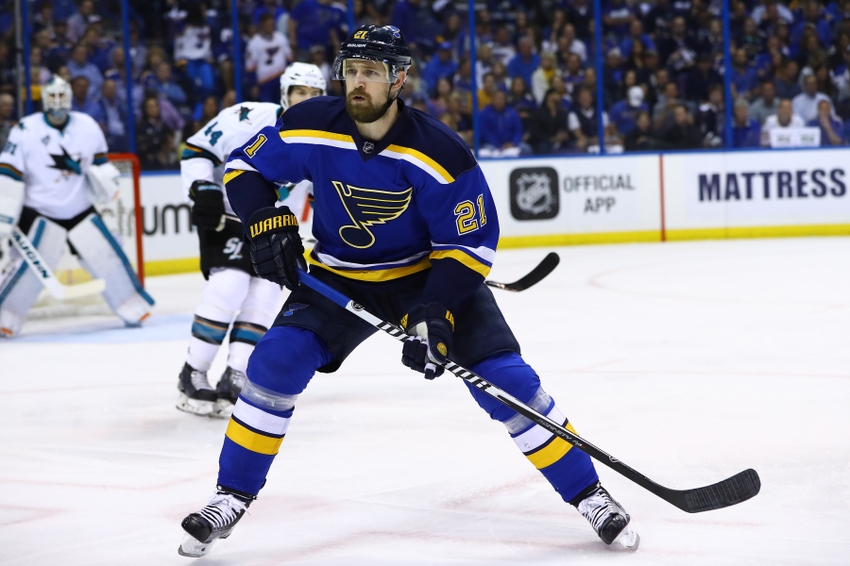 It's that time of year. St. Louis Blues training camp has begun and the preseason is upon us. Now everyone has their questions.
Those of use that follow social media or read the various websites dedicated to the St. Louis Blues know what comes with this time of year. Everyone asking questions and trying to come up with answers.
It's an odd time for the Blues. They have lots of things pretty well set. Not much room is there for forwards to slip into this roster as the team has a reasonably penciled in lineup there.
There is even less room defensively. There is definitely room for sliding pieces around, but the top six guys are all but locked in.
On the flip side, there are several things that remain up in the air as the Blues move toward their 2016-17 campaign.
Who will play on which line? What position will certain people line up in?
Here comes the questions and we'll do our best to answer as we see it.
Here are the top five questions that the Blues must answer this preseason.
What Position Is Robby Fabbri?
Robby Fabbri was one of the pleasant surprises in 2015-16. The Blues obviously had faith he could be a contributor or they would not have included him in the roster.
He earned his spot with a solid training camp and preseason and then kept it. In his first full season, he managed 18 goals. Not bad for a player that only a few expected to even make the team.
The question now, given recent departures, is where will he play? Various websites still list Fabbri as a center.
Fabbri spent almost all of his time on the wing in 2015-16. Will they want to change him from where he was successful in the NHL?
The Blues need to figure it out in the preseason. They aren't quite as deep with NHL proven talent as they were last season, so trying out different positions during the season isn't very smart.
It is said (of course I can't find the tweet now) Hitchcock likes to start his line combinations with pairs. So, as of now, Paul Stastny and Alexander Steen are together and Vladimir Tarasenko and Jaden Schwartz.
Fabbri will be paired with both those lines to see where he fits best. If he is placed with Tarasenko and Schwartz, logic would dictate he could be the center.
What is everyone's best position?
Springboarding off the previous topic, the Blues need to figure out what everyone's best position is. It seems to come up every year that this person should be at center and isn't etc. Best to put that to bed early.
The Blues now seem to have plenty of options defensively.  The forwards are still a little bit of a mixed bag.
They play very well together, but the pairing of Steen and Stastny together seems odd. Not because of the combination, but because the Blues had been playing Steen at center at various times last season.
If your two best centers are on a line together, that could cause problems further down the lineup. If you want to move Steen back to center, it would be on a different line.
Apparently there are also discussions of having Schwartz play center as well.  While that doesn't seem the best option, it is an option.
Hitch said that they're playing Schwartz at center early in camp in case Sobotka doesn't come. #stlblues

— Jeremy Rutherford (@jprutherford) September 23, 2016
All these things need to be figured out by the time the season starts so everyone hits the ground running.
If for no other reason, it needs to be decided so Stastny can have a good start. Each year he has some sort of hitch, whether injury or switching lines, that prevents him from getting going.
Personally, I'd still like to see Stastny and Tarasenko get a run together. As of right now, that seems unlikely.
How Many Games Can Carter Hutton Play?
The focus of the Blues goaltending situation is going to be placed on Jake Allen. Perhaps it would be better to think of it in terms of how many games Carter Hutton can actually play in.
For the sake of argument, let us assume Allen stays healthy the entire season. Even if he does, he is not going to start 70 games or more.
For his part, Hutton has played in 40 games before. Only once though. Outside of that, Hutton has not played in more than 18 games in a season.
The Nashville Predators have a history of producing very good backup goaltenders. Still, the Blues must figure out what a reasonable number is for Hutton to shoulder.
That number can change over the course of a season. Injuries or poor play alter those types of things.
It's fine to show the kind of confidence in Allen the Blues have shown. They need to be just as confident in Hutton though.
He is not going to be goaltender 1b like Brian Elliott was. Hutton needs to be able to play at least a solid 20-25 games.
What Can We Expect From David Perron?
This one ties a little into the best position for each player, but David Perron is almost his own animal. He's a very skilled player, but you can't really know what to expect.
As I just said, it's hard to know what to expect in a full season from Perron, so it will be difficult to know given one preseason. He hasn't scored 20 goals since 2013-14.
Perron only managed four goals in 43 games with an offensive team like the Pittsburgh Penguins. He then came alive at the end of the season with Anaheim.
His best seasons were actually in St. Louis – his highest goal output was 28 in Edmonton. The Blues are clearly hoping the city will revive his offensive abilities.
Where he fits in will likely dictate what the team can expect of him. If you think he fits with the top line players, he had better produce something in the neighborhood of 20-25 goals.
If Perron is more of a third line player, then perhaps expectations should be tempered. 15 goals or so is more likely given that scenario.
A 20 goal season or even up near 30 would be absolutely wonderful. Perron is capable of it, but he's at the age where it seems unlikely since we haven't seen that yet before.
Given the right circumstances, he could be a good scorer. The Blues can't force that though. They need to decide where he fits in the lineup and his production will fall in place after that.
Will There Be Any World Cup Burnout?
This one will be harder to answer in training camp, since the players taking part in the World Cup will still feel fine. However, their practice and preseason game time should be tempered to avoid any problems down the road.
The Blues have avoided any major injury during the tournament and everyone is grateful for that. Given the lack of build up for the tournament and relative intensity most put into it, it might be a sudden shock to the body.
There was very little practice time beforehand. It wasn't quite like going through a normal preseason.
It wasn't going from zero to 100 by any means, but it was jumping into meaningful games right away. There wasn't much space between games wither.
Thus, the Blues are going to have to reign in their World Cup players just a bit. They know where most of them fit in the lineup.
Just about anyone with question marks will be in training camp from the start. Yes, less time spent with the World Cup players takes away some chemistry building, but the Blues can't afford injuries the way they happened last year.
The team can't have guys peaking in January, unable to contribute come time for the playoff push. They need as many hitting their stride at the same time as possible.
For those players, perhaps the World Cup should serve as their preseason. They should practice with the team, but really, it is unnecessary for them to take part in preseason games.
Now is not the time to push guys into the wall when the season has not even begun.
This article originally appeared on