Fandom250: NHL Teams Who Could Have Made the List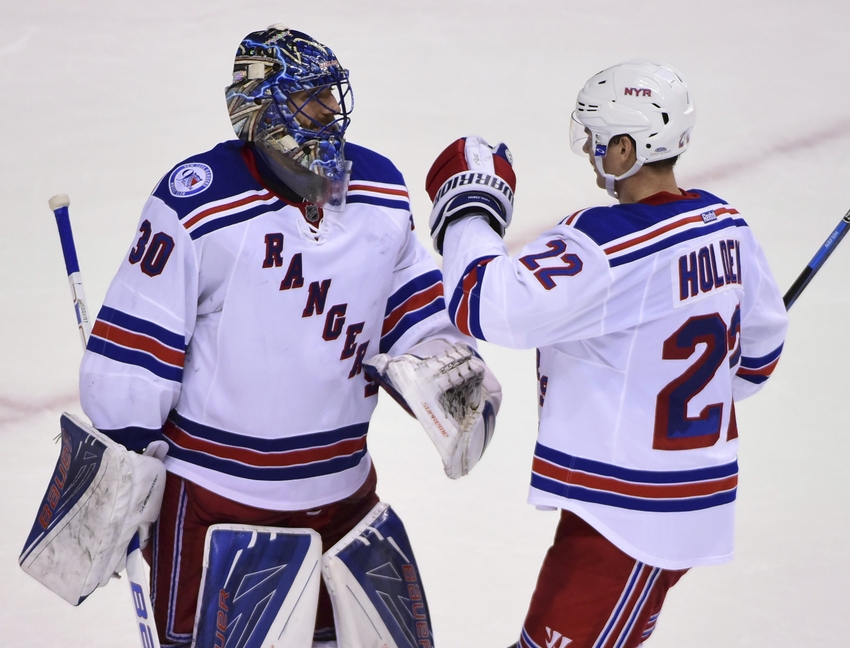 Fansided's Fandom250 Ranked the Top Fandoms For Everything From Sports To Entertainment.  Six NHL Teams Made the Fandom250, But A Few Missed the Cut. Here Are a Few Teams Who Could Have Also Made the List.
The Fandom250 is FanSided's ultimate ranking of the best fandoms ranging from celebrities and entertainment to sports. Fandom250 featured six NHL teams in the top-250 list, but there are a few more teams who could have easily made the list.
There are four NHL fandoms who could have easily made the list, granted it was longer. Though, arguably, perhaps some of these hockey fandoms would have risen up to push their favorite team into the ranking.
Regardless, here are four NHL teams and fandoms who could have made the final list:
1. The New York Rangers
The New York Rangers were the only Original Six team that didn't appear on the Fandom list. The Blueshirts are one of the most recognized hockey teams in the United States. New York's home games pull a crowd of around 100% each night; you'll never find an empty night at MSG.
Some of the League's best hockey players donned a Rangers jersey in their careers and the team has become a classic. New York only brings four Stanley Cups to the table but the team's most passionate fans will never turn their backs on the team.
Out-of-towners, New Yorkers and celebrities alike throw on a Rangers jersey every now and then. The Original Six team just missed the list, probably due to their lesser Stanley Cup titles and consistent big-name wins. Don't worry, though, any Rangers fan will tell you their next win should be right around the corner.
2. Edmonton Oilers
The Edmonton Oilers have been adored since joining the League.  Edmonton continues to rally around their home team despite any lack of success they might face. The Oilers' attendance pulls in about 98.9% for home games and there's never a dull night at Rogers Place.
Edmonton has also been home to many big name players, some of whom they shared with the Rangers. No one in Edmonton will forget the days of Wayne Gretzky or Mark Messier, two incredible players who donned both an Oilers and a Rangers crest in their days.
The Oilers have always been surrounded by passionate and loyal fans in Edmonton. Edmonton's five Stanley Cups and love of the game is enough to keep Oilers fans happy. It certainly doesn't hurt that the team is pulling a good streak this season by leading the Pacific Division. The Oilers' loyal and passionate fanbase would have boosted the Oilers into a top fandom spot.
3. Minnesota Wild
The Minnesota Wild is the home team to the "State of Hockey." Minnesota fans probably aren't passionate about anything as much as they are about hockey. Each night the Wild draws a crowd to Xcel Energy Center at about 105%.
So, the Minnesota Wild don't have any trophies to show off, but their fan base loves them just as much as if they had a dozen. A handful of great players have worn a Wild jersey and the team will continue to chase their first trophy. Success for Minnesota hockey fans isn't a playing factor, they just simply love seeing their team.
In fact, the Minnesota Wild retired the number one in their first year of play, 2000, in dedication to their fans. It was only the first season for the team but who could deny a wildly passionate fan base that would continue to grow as a result.
4. Philadelphia Flyers
The Philadelphia Flyers might seem like a less-likely team to rank high for fandoms, but it all changes when you get a closer look. Philadelphia is a passionate hockey community, just as much as they were when the Broad Street Bullies ruled Philly.
The Flyers currently have two Stanley Cup titles and are 4th in attendance this season. Flyers fans fill Wells Fargo Center to around 100% every night a hockey game plays. These fans can't bear the idea of abandoning their team, even if the wins aren't plenty.
Flyers fans are endlessly passionate and are always rooting for their teams. Regardless of Philadelphia's record, fans are always wearing orange and cheering on their favorite team. Whether the Flyers are winning big or taking it game by game, Philadelphia fans are right there cheering for their team.
These teams have huge fan bases who would rally behind their teams in any situation. The Fandom250 might not have had space for more NHL fandoms, but hockey fans know who they are.
This article originally appeared on