Edmonton Oilers: Though Unorthodox, Gustavsson Proving Worth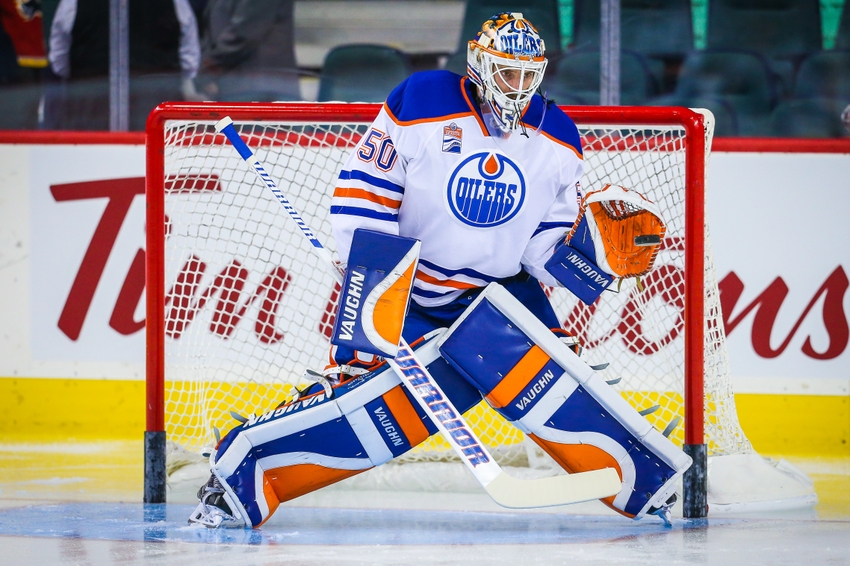 Edmonton Oilers goaltender Jonas Gustavsson stopped 31 shots Sunday, but many of his saves were far from typical.
Looking at "The Monster's" performance against Minnesota, he played an incredibly unorthodox game. He shied away from the classic butterfly and stand-up style, going to great measures to keep the puck out of the net. Overall, Gustavsson is proving his worth as a solid backup option for Edmonton.
Edmonton Oilers: Draisaitl Hot, Davidson Traveling and More
Poke Checks
Gustavsson's strongest weapon in Sunday's loss was his stick. On multiple plays, the Oilers let Wild forwards in all alone against the Swedish veteran. However, he stood tall and ran toward the play. This was one strong area of his game; he went out of his crease to block out the shooter and didn't shy back into the cage. After that, he made the most of his stick.
With numerous poke-checks, Gustavsson pushed the puck off the opposition's stick and kept the Oilers in the game. It was because of his effort in the defensive zone that the Oilers escaped with a win, and one area of his play that he proved to do well is the poke check.
Here's just one example of Gustavsson's skill when it comes to poke checks. Watch how sure he is of the play, and how he comes out as aggressive and scares away the shooter.
However, this play has its dangers. Many goalies cannot practice the poke-check well, and therefore don't tend to go toward that move. However, Gustavsson has had his fair share of trials with it and also knows how to remain confident. It later led to his downfall, considering two poke-checks in 30 seconds in OT eventually led to a Mikko Koivu goal.
Confidence
Through five starts this season, the 6-foot-4, 201-pound netminder is 3-1-1, with a 2.00 GAA and .933 save mark. He's putting up great numbers and is confident between the pipes, which makes him a great option for Edmonton when Talbot is tired. He definitely has earned more starts, especially with his desperation saves and clutch style of play.
As we were discussing before, Gustavsson comes out of his crease and challenges the shooters, and in the end, this closes off more space. When the Oilers allow too many players to break away, having a veteran like Gustavsson who knows how to handle them is analogous to a hidden treasure.
Not to mention, he is quick and able to shut down scoring chances with ease. He doesn't seem too concerned when left alone and fights to the last whistle.
Bottom Line
Though Gustavsson is a rather unorthodox netminder, he is a great backup option. The 32-year-old definitely has more experience and confidence than Laurent Brossoit and was, therefore, the right choice for the number-two spot behind Talbot.
He definitely deserves and needs more start. Talbot is on pace to start 73 games this season, which is way too much for a young netminder who was just named a starter. Sure, Talbot is great, but with an option like Gustavsson in the pocket, the Oilers should make the most use of it.
This article originally appeared on