Edmonton Oilers: Takeaways From Win Over Winnipeg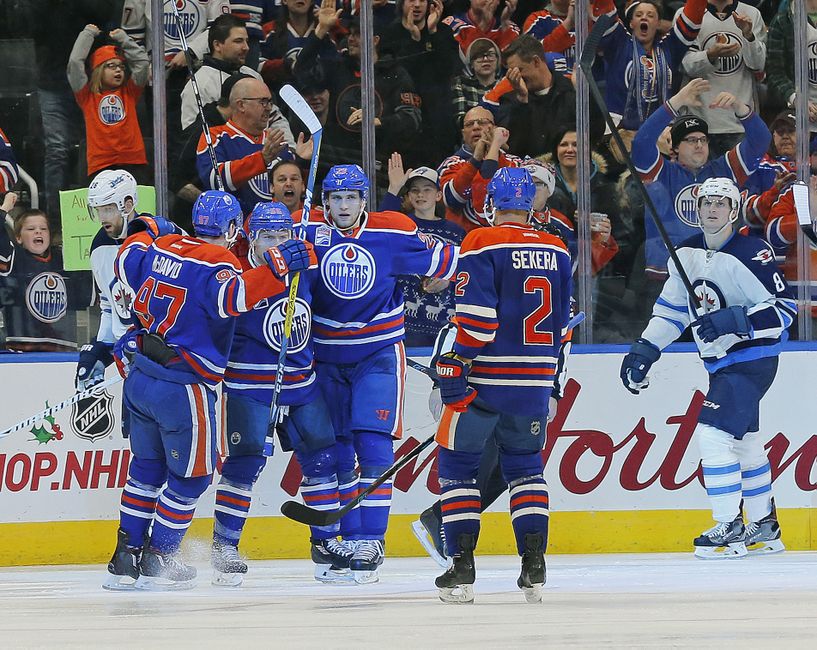 The Edmonton Oilers may have trailed early, but they managed to escape Sunday with a 3-2 win over the Winnipeg Jets.
The Oilers tied the Anaheim Ducks for first in the Pacific Division with their victory, and are in good standing in an ever-tightning conference. Here's everything you need to know about the win.
Edmonton Oilers Shouldn't Be Quick to Count Out Gustavsson
Mark Letestu Ends Drought
The Oilers struggling forward appears to be finding his scoring touch. Though credited with two goals, he technically only scored one (though Patrik Laine's tip-in was the result of one of his shots).
With two goals on the night, Letestu ended a five-game goalless drought and was one of the main catalysts on the Oilers power play. He played on the first line with Connor McDavid and Milan Lucic Sunday, and they seemed to get some offense going.
Letestu also matched a game-high four shots in Sunday's game, and played a solid all-around game. If he continues to play like this, he may see more time on the top six.
Klefbom Was Excellent
About a minute into the second period, Oscar Klefbom tied the game and got Edmonton on the board. He buried a rebound off a shot from Tyler Pitlick, marking his second goal in three games. He is now riding a three-game point streak.
Not only was he solid offensively, but he proved to be outstanding on the backend as well. His skating and overall awareness was on full display. Overall, the Swedish blueliner played an all-around match.
Talbot Proved Solid
Stopping 29 of 31 shots, Talbot proved excellent between the pipes. He made key stops and stuck to his game, and stepped up when he needed to. Despite multiple attempts by Patrik Laine and Mathieu Perreault to score, he stood on his head, and stayed solid.
Talbot had great lateral movement between the pipes and appeared quick on his feet. He also had a hot glove Sunday, and if he continues playing like this, the Oilers have a chance to win every night.
McDavid was also outstanding, as well as Lucic and Draisaitl. Edmonton went 1-for-3 on the man advantage. Most importantly, the Oilers didn't lose momentum or give up when they were down. The Oilers need to continue their success and play each game like it matters, especially given the tightening West.
More from Oil On Whyte
This article originally appeared on