Edmonton Oilers: Takeaways from Loss to Minnesota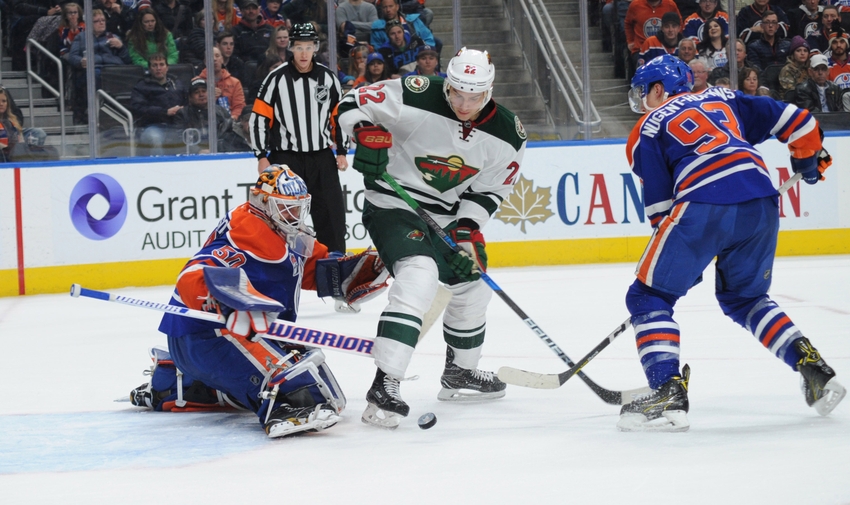 The Edmonton Oilers came out on the wrong end of a 2-1 overtime loss to the Minnesota Wild on Sunday. However, they managed to earn a point and are tied for first place in the Pacific Division.
However, they managed to earn a point and are tied for first place in the Pacific Division. Here's everything you need to know and takeaway from the OT loss.
Oilers Struck First
It was a nice change of pace to see the Oilers strike first early in the game. Patrick Maroon potted his eighth goal of the season. Edmonton has surrendered the first goal of the game within the first five minutes of the first period far too many times. An early start is always a key to success for Edmonton, and seeing Maroon fire the puck home early on was refreshing.
Teams that score first win roughly 70 percent of the time in the NHL. Though the Oilers didn't win tonight, but Maroon's goal gave the Oilers the momentum that stuck with them.
Concussion Protocol
Edmonton Oilers: Draisaitl Hot, Davidson Traveling and More
Oilers fan held their collective breath as captain Connor McDavid had to leave the second period for concussion protocol. After being tripped and hitting his chin on the ice, a concussion spotter forced him to get checked out.
Fortunately, McDavid returned to the game to start the third, but there was plenty of concern throughout the Oilers fanbase. By the same token, some were outraged that McDavid had to leave a tight 1-1 game with an important power-play upcoming.
However, even though the Oilers captain insisted he was fine, it was good that Edmonton got him checked out. Losing McDavid for any amount of time is a lot worse than losing him for a couple shifts.
Power-Play Woes Return
Despite Edmonton's power-play success in this past couple games, they struggled yet again on the man advantage against Minnesota.
The "Jekyll and Hyde" power-play was back on display Sunday, and the Oilers could not get anything going against Minnesota. Edmonton went 0-for-3 with the man advantage and didn't get nearly enough shots, or shot attempts at the net. There was too much passing the puck around the perimeter and not enough shots on net.
To beat a goalie like Devan Dubnyk, you have to take more shots and bury rebounds in front. Not only that, but you can't focus on pretty plays.
Gustavsson Earning More Starts
Cam Talbot is the man between the pipes; there's no debating that. But right now he's on pace to play a franchise record 73 games this seasons. That's simply too much for a guy who only became a number-one goalie in the NHL last year.
Head Coach Todd McLellan said after the game that Jonas Gustavsson will get into more games in December. This is good, considering they are approaching their toughest stretch of games on their schedule this season.
Gustavsson made 31 saves and had great plays (though unorthodox) in the eventual overtime defeat.
This article originally appeared on