Edmonton Oilers: McDavid, Nugent-Hopkins Join Training Camp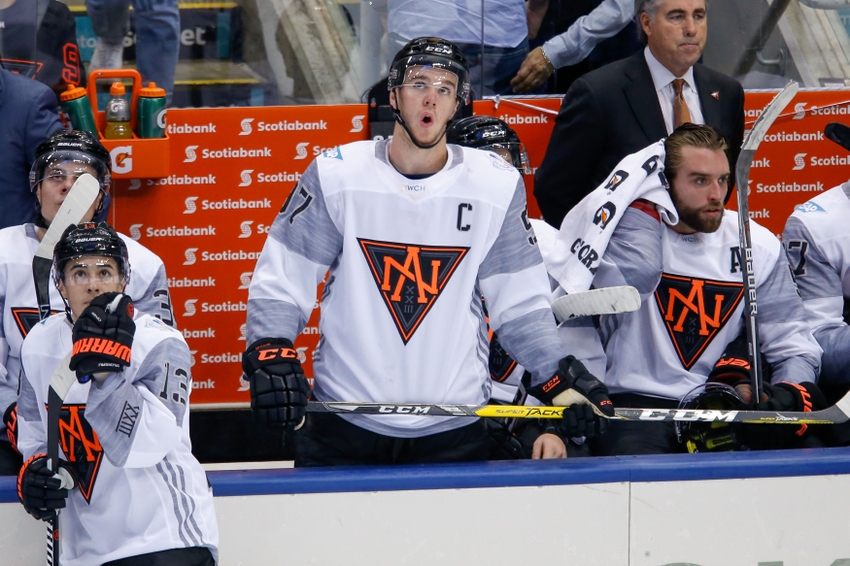 The Edmonton Oilers have been in training camp for almost a week now, but the team looked more stacked Tuesday. Connor McDavid and Ryan Nugent-Hopkins joined the team for the first time Tuesday, hitting the ice with their new teammates.
This was also the first time McDavid got to skate with Milan Lucic, who will likely join him on the first line on the left side. Overall, McDavid seemed excited to get to know the veteran tough guy.
"The way he plays, it's going to work well," McDavid said of Lucic. "He's almost a perfect winger for myself."
Edmonton Oilers: Mark Letestu Has Room for Improvement
It seemed as if the two had solid chemistry on the ice. McDavid provides the speed, and Lucic brings the toughness, aggression and of course, the shot. He can also protect McDavid and be a physical presence on the ice.
Lucic also enjoyed playing with his 19-year-old centre and said that he already finds himself trying to keep up with McDavid.
"For guys like me, it's a great thing to have, it gets me going," Lucic said of playing on McDavid's wing. "It pushes me to play faster."
He is also mesmerised by McDavid's speed and skill and sees the duo forming strong  and interesting chemistry on a line together.
"You just get him the puck and he does his thing," Lucic told the media of McDavid. "It's exciting."
Nugent-Hopkins also returned to Edmonton after a strong performance at the World Cup of Hockey. He mentioned that he is more confident coming into camp after a breakout at the WCH. Not only is he feeling good about himself, but he is feeling good about the new year and fresh faces in the locker room.
"We have a lot of confidence in the group we have," Nugent-Hopkins said. "We have some new faces, and we're excited to get going."
The addition of McDavid and Nugent-Hopkins brings new excitement to camp, as well as a stacked roster. With these two in attendance, the team will likely name a captain soon. And likely enough, it'll be the 19-year-old wearing #97.
This article originally appeared on