Edmonton Oilers G Cam Talbot Shouldn't Be Overlooked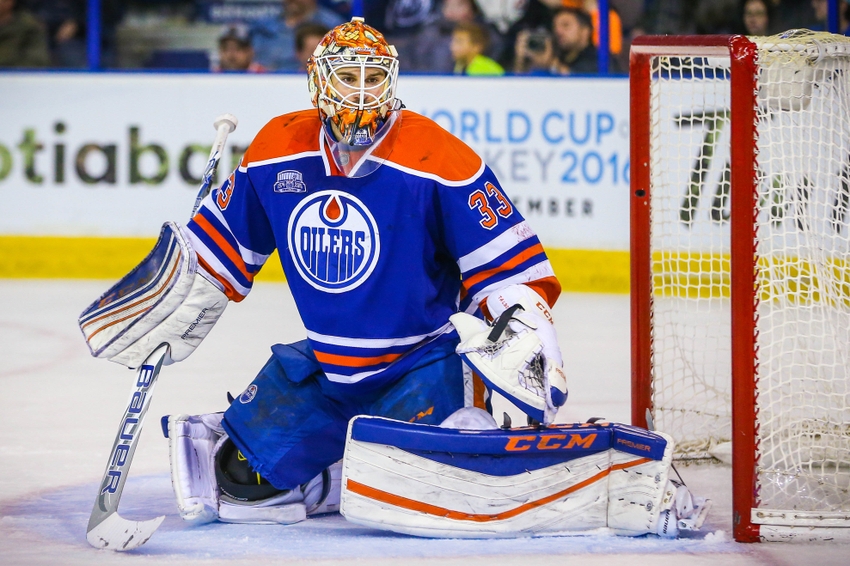 Edmonton Oilers G Cam Talbot is a Highly Underrated NHL Starter That is Often Overlooked.  His Hot Play Early on Has Put Fans on Notice Across the League
Edmonton Oilers G Cam Talbot's play is often overlooked in comparison to other NHL starting goaltenders. Talbot is one of many potentially underrated goalies currently in the league.
Talbot's skill, goalie style, and stats are all indicative of the good play that the goalie can put forward. This season Talbot has brought the Oilers seven wins in nine games and it's only the beginning.
"Calm Talbot"
Talbot was coined "Calm Talbot" during his time with the New York Rangers (2013-2015). The goaltender became known for his calm, cool, and collected composure in net.
Talbot's calm persona in net gives him the ability to move smoothly through hectic moments in the net. Every save Talbot makes looks like he can slow down time, in a good way.
A goaltender's in-goal persona is a big influential factor when it comes to their play. An easily rattled goaltender could freeze up or lose composure while a calm goaltender can accurately handle the situation.
Talbot has always been a quick and calm goaltender. His ability to predict the puck's movement and assess the situation without over thinking has allowed him to make countless saves.
Talbot won 33 of 53 games during his two seasons with the New York Rangers.  In the 2014-15 season, Talbot posted a .926 save percentage and tied for seventh for the Vezina.
Talbot was beginning to excel with the Rangers but was traded to Edmonton in 2015 for a new start.
Starting New In Edmonton
Talbot had a rough start in his first season with Edmonton. The goaltender only racked up 21 wins in 53 games, which was a bad reflection on his abilities.
The Oilers, in general, didn't have a good 2015-16 season. Edmonton placed seventh in the Pacific Division and posted a season record of 31-43-8. Though Talbot wasn't performing to the best of his abilities, the Oilers were in a rut that needed to end.
This season the Oilers are back and Talbot's performance has been a good piece of that. The Oilers have won seven of their first nine games this season, compared to last season's three of nine.
This season Talbot has returned to the play that was expected of him. The composed and humble goaltender is already leading Edmonton into a much better place than last season.
Talbot has two shutouts out of his seven wins and has posted a .936 save percentage. His goals against average is 2.05 and he has just 18 goals against thus far. His much-needed saves combined with his team's ability to score has kept the team ahead.
Talbot has all the potential to lead Edmonton to many more wins this season. Everything seems to be falling into place for Edmonton thus far. Not only do the Oilers have a very skilled and reliable goaltender but the team is better offensively and defensively as well.
Not To Be Overlooked
Talbot, in the past, has often been somewhat overlooked. While many in New York adored Talbot on the Rangers, he was still backup to star goalie Henrik Lundqvist. Talbot's play, though heavily appreciated by many, was sometimes overlooked when compared to Lundqvist.
Talbot proved himself in New York during the 2014-15 season when he was forced to step up and fill Lundqvist's spot while the starter was sidelined with a blood clot. That season Talbot won 21 of 34 games and proved he had the potential to be a regular and consistent goaltender.
Though Talbot had initial struggles on Edmonton, as did the rest of the team, in his first season he's proving that he has what it takes to bring the team wins. His patient and speedy goaltending style will keep the Oilers confident in his skills.
In Talbot's first season with the Oilers, in March 2016, he shut out the Vancouver Canucks after making a total of 40 saves. Despite the team being unable to find the right harmony for the season, Talbot's skill was there.
Going Forward
Talbot is going to keep leading Edmonton to wins this season and the team is ready to turn it around. Even just nine games into the season it is apparent that the Oilers are ready to compete and get ahead.
Around the League, Talbot is known as a class-act, a good teammate, and an even better goaltender. Talbot has the potential to be everything the Oilers could ask for as they keep aiming to grab more wins this season.
The Oilers are coming alive this season and Talbot will continue to give them the best he has to offer. The performance Talbot has had so far this season is just the beginning of the potential Talbot has to put forward.
The Oilers will face the Toronto Maple Leafs on Tuesday, Nov 1 at 7:30 p.m. and it is certain that the team will be in pursuit of another win.
More from Puck Prose
This article originally appeared on