Edmonton Oilers First Line Getting Back In Full Swing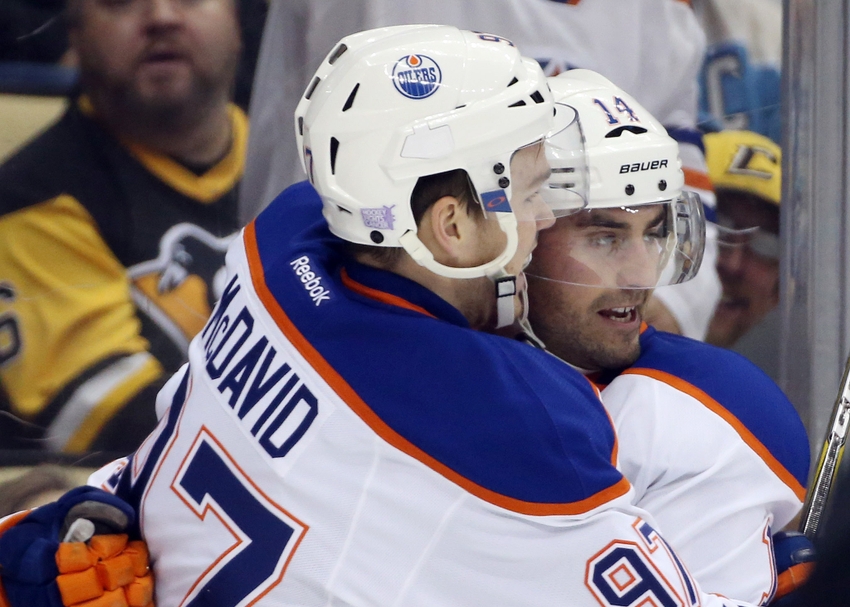 Though the Edmonton Oilers didn't leave with a win Tuesday, there was a lot they did right. Especially when it came to the first line.
Connor McDavid shined with three assists, and Eberle finished with two goals and a helper. Patrick Maroon also picked up a pair of points.
Connor is Connor
McDavid made the most of his debut performance playing against his idol in Sidney Crosby. He finished with three assists, and was an incredibly dangerous force for the Penguins to face off against. With unbelievable speed and back checking, he broke up plays and started his own before Pittsburgh could catch up.
In addition, he made the most of the space he was given, and made Kris Letang look like a struggling defenseman. His burst of speed and energy created many scoring opportunities, and also helped his line produce all three of Edmonton's goals against the Penguins.
Connor McDavid wins the battle, but Sydney Crosby wins the game
Eberle Bustin' Out
His second goal, where he held onto the puck and tested patience for the tally, shows improvement in his skill. This is the Eberle we know so well, and the one that should be skating alongside McDavid on the first line.
Before Tuesday's breakout, Eberle had gone scoreless for nine straight games. Not to mention, his role with the first line was being questioned, especially after Milan Lucic's demotion. If he continues to play like this, Eberle should have no problem not only keeping his job, but scoring.
This off-season, Eberle mentioned working on his one-timers so that he could become even more lethal alongside McDavid. So far, it seems that it's tough for Eberle to keep up, but against Pittsburgh, they clicked. The Penguins gave McDavid a bit too much space, and in the end, it led McDavid and Eberle to create scoring chances.
Patrick Maroon an Asset
Since joining the top unit, Maroon has been beneficial to the first line. He drives to the net and acts as a physical presence, and also crashes the goal for opportunities. Not to mention, he seems more able to keep up with the speed on the first unit.
Maroon has five points (three goals, two assists) in his last four games, and has been an incredible force to be reckoned with on the top six. Replacing Lucic has seemed to benefit him, and will perhaps bring a bit of momentum back to Lucic's game.
More from Oil On Whyte
This article originally appeared on