Edmonton Oilers: Drake Caggiula Fills Out Lineup Nicely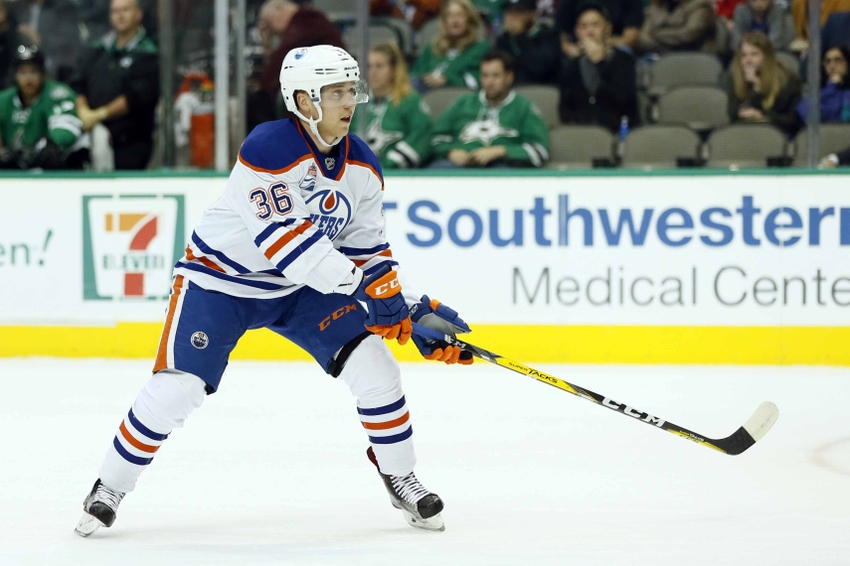 The Edmonton Oilers knew they would turn the tide Saturday against Dallas after activating three players off the injured reserve. However, they weren't putting too heavy of expectations on Drake Caggiula's shoulders.
Little did they know, Caggiula was ready to prove himself once he skated out onto NHL ice for the first i. In just 12 minutes of ice time, his impact as centre was evident.
Edmonton Oilers: Brandon Davidson Re-injures Shoulder
Creating Scoring Chances
The 22-year-old forward picked up his first NHL point on an excellent 2-on-1 break with Tyler Pitlick. When entering the offensive zone, Caggiula stayed with the puck, and even waited out the collapsing defense in order to get the puck across.
This display was an excellent one, and showed Caggiula's patience that help generate scoring chances. He earned the primary assist, as well as the puck from his hard work on his first assist.
With Caggiula filling out centre on the bottom-six, he can win draws, play a physical game and get the puck into the offensive zone. Not to mention, he can use limited time to make plays, and knows how to have the puck on a string.
Allows for Lineup Flexibility
Caggiula is primarily a winger, but in Edmonton, he's slotted in as a face-off man. This flexibility helps the Oilers do a lot more with their roster than they previously could.
While Caggiula was on the shelf with a hip injury, they had Leon Draisaitl slotting in as the third-line centre. He failed to produce much at this level, and struggled down the middle. Even Milan Lucic and Zack Kassian couldn't produce much with him.
Now that the Canadian centre has returned from his week-to-week injury, Draisaitl can play the wing on the top six. This will allow him more scoring opportunities, and give the Oilers much-needed depth on the bottom lines.
This article originally appeared on