Edmonton Oilers: Darnell Nurse Losing Momentum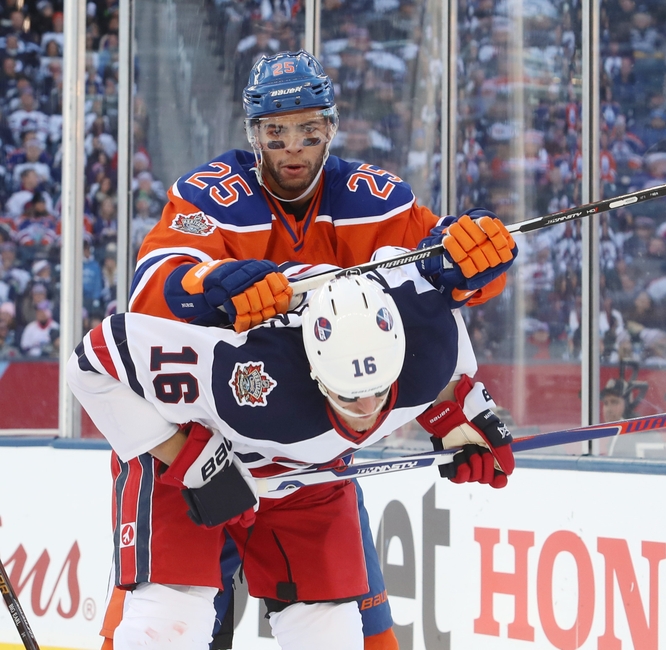 After Edmonton Oilers defenseman Darnell Nurse defied all odds and made it onto the NHL roster last season, he appears to be losing his momentum.
So far, the blueliner has struggled with his full-time job as the Oilers' bottom-pairing LHD. If he continues to play poorly, Nurse has the chance of losing his job, especially with the return of Brandon Davidson and Kris Russell.
With Nurse struggling, the Oilers have started to lose their momentum. Nurse is at the root of these problems, considering he is often on the ice for goals against. He is a minus-6 this season, and also looks sluggish on the backcheck.
Edmonton Oilers: Caggiula, Davidson and Hendricks Traveling With Team
Nurse's Analytics
Looking at the numbers, it's easy to see that the 21-year-old defenseman isn't the best back checker on the ice. He boasts a -2.1 relative Fenwick, and appears to struggle with puck possession.
He also turns over the puck, and has a turnover ratio of -.79. Matching that with 10 giveaways for six takeaways he's had so far, things aren't looking great. Not to mention, Nurse only has 12 shot blocks this season, and a look into his performance on the penalty kill tells a whole different story.
Special Teams
On the PK, Nurse has skated over 35 minutes, and has been trusted multiple times to kill of power-plays. However, he is clearly not even performing well in that aspect. His -4.3 relative Corsi and -5.6 relative Fenwick show that he can't maintain possession. Nurse also shies away from jumping in on the play, providing just two hits and five shot blocks when shorthanded.
He also spends much more time in the defensive zone, and doesn't seem to help much when it comes to keeping the puck out or taking it to the neutral zone or cross-ice. Because of this, the opposition gets more scoring chances, and if they have a strong power-play, chances are they'll make the most of it against the Oilers.
What Can Be Done?
First, Nurse needs to stop getting so much ice time. He's a bottom-pairing defender for a reason, and if they continuously give him trusted time on the PK, it's not certain he can be trusted with it.
Not to mention, pairing him with someone like Eric Gryba doesn't appear to be working. Statistically, both are better off without each other (Nurse's CF goes drastically up, while Gryba slightly improves). Therefore, giving them new partners, or doing something to get insurance on the backend would help.
Adam Larsson and Oscar Klefbom are an effective shutdown pairing, but they can't play the entire game. Sure, they swallow up big minutes, but the bottom-pairing is vital in protecting the Oilers. And with goals at critical times plaguing the team, Edmonton needs a new system.
This article originally appeared on