Edmonton Oilers: Connor McDavid's Behavior Justified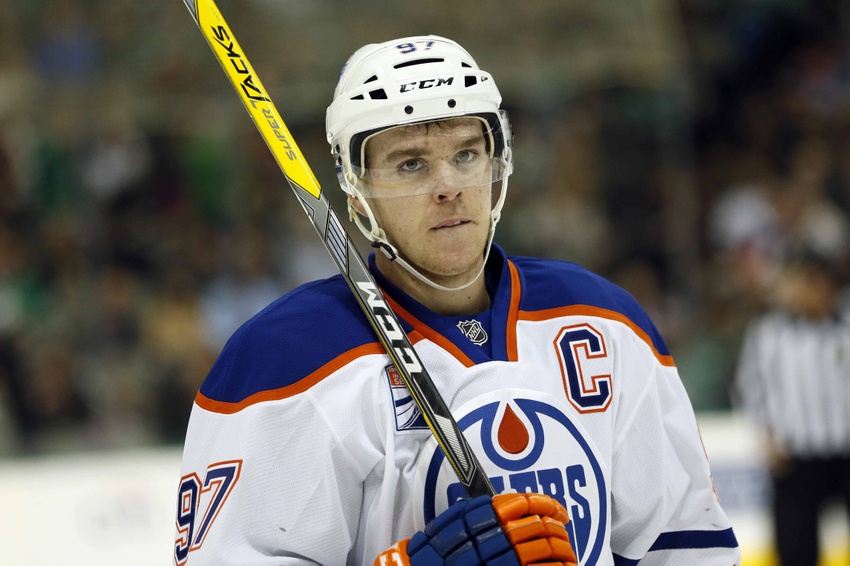 Following the Edmonton Oilers 6-5 loss to the Philadelphia Flyers Thursday, Connor McDavid had some more words regarding Brandon Manning.
On the ice Thursday, McDavid appeared vocal towards Manning, who was in his face from the get-go. After McDavid struck on the power-play, silencing Manning for a moment, he decided to take things another step further. The 19-year-old captain had more words for the 26-year-old blueliner
The 19-year-old captain had more words for the 26-year-old blueliner, and by no means held back. If you kids are reading this, don't read lips.
Following the game, McDavid spoke about Manning's behavior and their altercations on the ice. The Oilers captain, who is mature beyond his years, alleged in his post-game conference that Manning was commenting about his hit from last season, a play sent the former rookie awkwardly into the boards. This play led to McDavid's broken clavicle that sidelined him for 37 games.
McDavid went further to call Manning's behavior "classless" and mentioned that he confirmed that play was on purpose.
Going forward, the biggest question pertains to whether or not McDaivd was justified in his behavior. And the answer is a clear and blatant yes.
Edmonton Oilers: Takeaways from Loss to Flyers
McDavid Has a Voice and Used It
The first thing to note is that McDavid is genuinely a mature, classy player that tries to be as professional as he can. Unfortunately, that's not always what you'll find in the game of ice hockey; it's a passionate, physical sport where players chirp and lose it at times. Even someone as composed as McDavid needs to let out that anger.
Sure, it's good to let out anger, but it all depends on the way you do it. In McDavid's case, he responded to Manning with a goal, and then a hot-headed, short-tempered comment to add insult to injury. McDavid had a right to voice that anger, especially in retaliation against Manning, who basically admitted to trying to cause him bodily harm.
Players like Sidney Crosby and even Patrick Kane have words for their opponents. Everyone has a way of reacting differently, and they all have their outlets for anger. At least chirping serves as an alternative to fighting and helps players release that anger inside.
Passion is a Blessing in Disguise
With McDavid's vocal and visual display of passion, he left his anger out on the ice and applied it to his game. It helped him push harder against the Flyers and outplay their defense, which led to his goal and assist.
The 19-year-old is still young and upcoming in the NHL and used that anger and passion for putting more firepower into his game. It could be argued that Manning was motivating to McDavid and helped push him to play harder against Philadelphia.
Didn't Stoop to his Level (For the Most Part)
Besides firing comments back at Manning, McDavid didn't drop the gloves and let guys like Milan Lucic, Patrick Maroon and Zack Kassian respond accordingly. McDavid actually broke his hand in juniors thanks to a fight and knew better than to waste five minutes in the box for fighting a guy who refused to go with the Oilers' plethora of tough guys.
Bottom Line
Hockey isn't a non-physical sport. Despite all the hits, words said and plays made, it's all left on the ice at the end of the game. McDavid was justified in his behavior and was simply expressing his anger in a passionate, intense game. There is no reason to see him as immature, because in his post-game interview, he was professional in his comments and gave reasoning behind his actions.
More from Oil On Whyte
This article originally appeared on