Edmonton Oilers: An In-Depth Look at Scoring Woes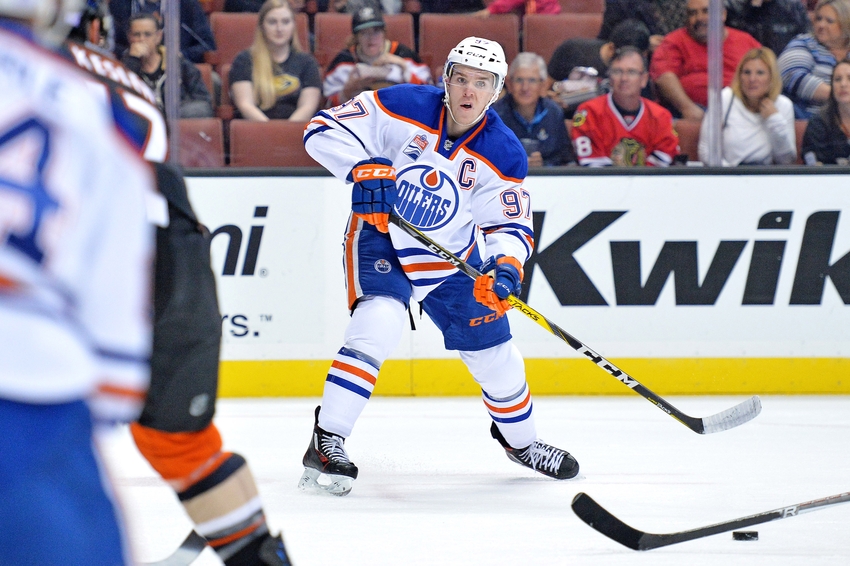 Coming into this season, scoring was supposed to be a non-issue for the Edmonton Oilers. With a roster that contains the likes of Connor McDavid, Leon Draisaitl, Jordan Eberle, Ryan Nugent-Hopkins and Milan Lucic, goals shouldn't be a problem.
Scoring has been anything but easy over the last eight games for the Oilers. They have allowed early goals against, which have led to tough games of catch-up, putting even more stress on the offense's shoulders.
With four goals so far, Patrick Maroon leads the Oilers in the goal-scoring department. The next leading goal scorers are Jordan Eberle, Ryan Nugent-Hopkins and Tyler Pitlick with two goals each. Though these seem like strong numbers, Eberle's two goals came in one game, and Nugent-Hopkins' tallies have come off the power-play.
In November, if you take away the game against Pittsburgh, the only Oilers to score at even strength are Maroon, Pitlick, Andrej Sekera, Darnell Nurse, Anton Lander and Adam Larsson. While it's refreshing to see these players stepping up, it's hard to overlook that there are no elite top-six Oilers on this list.
So far this month, Connor McDavid does have seven assists this month and has been trying to carry the offense. However, he can't do it alone. No one should tell McDavid on how he could improve his play, but he still has a tendency to want to pass first. His shots on net this month are up, but they just aren't going in.
Why Aren't Pucks Going in the Net?
The Oilers have been out-shooting teams of late, but not all of the shots have been dangerous shots. They are kept to the outside as teams have started to collapse their defense to limit the in-close chances. In this scenario, the Oilers aren't strong enough to beat the goalies, and other teams recognize that.
Edmonton was supposed to be bigger and tougher, but only Maroon is showing it in front of the net.He's has had some tap-ins and deflections close to the net because he plants himself in the crease. Big-body players like Lucic, Jesse Puljujarvi, Leon Draisaitl and Benoit Pouliot, rarely put themselves in front of the net and screen the goalie.
As of late, they stand next to the posts hoping for a tap-in pass instead of standing in front of the goalie. Edmonton can keep shooting pucks all they want, but if the goalie can see it from the top of the circles he's most likely going to stop them.
Most of this team watches McDavid make unbelievable plays. He dangles to score goals, and in cases, his teammates want to mimic that. Many of the Oilers have taken to attempting pretty goals, but in the end, it doesn't work. This roster isn't designed to score highlight-reel goals.
This roster is made to score greasy rebound goals in the tough areas. That's why Maroon has plenty of goals, along with Pitlick; they crash the net with speed and determination and they score those types of goals.
Poor Starts Lead to Poor Games
In five November games so far, the Oilers have allowed the first goal within the first two minutes . Their record in those games is 1-4-0. Their one win came in their 4-3 shootout victory against the New York Islanders.
Trailing early on is incredibly deflating to a team, and given that these early goals put the Oilers in a compromising position, it doesn't translate well. When Edmonton scores first, they have a 5-1 record. Therefore, the Oilers are much better when they take the lead and start early with momentum.
While the Oilers have the ability to come back, it's often too little, too late, especially when the urgency picks up last minute. Between Cam Talbot, the defense and forwards, no one appears ready for the start of the game.
Whether it's unreadiness, jet-lag or the "McDavid factor," the losing needs to stop. Something needs to change.
The Injury Bug Bites Hard
Injuries have plagued this franchise for what seems like forever, and I have no idea why. This year is no exception with Brandon Davidson, Kris Russell, Matt Hendricks, Drake Caggiula and Mark Fayne on the shelf.
It just puts pressure on to guys to play above their abilities and leading to failures. Rookie defenseman Matthew Benning looks great, but is going through growing pains. The Oilers rely on Eric Gryba to play every game, but he suffers against stiff competition. Mark Letestu is on the power-play and is a top-nine winger because he's the last resort. Once the Oilers get fresh bodies back, improvements will show.
Going on this road trip may help with some of these issues because going through California will force the Oilers into rough tightly contested games that require simple game plans: Hit, Pass, and Shoot.
This article originally appeared on