Edmonton Oilers: Adam Larsson Making His Impact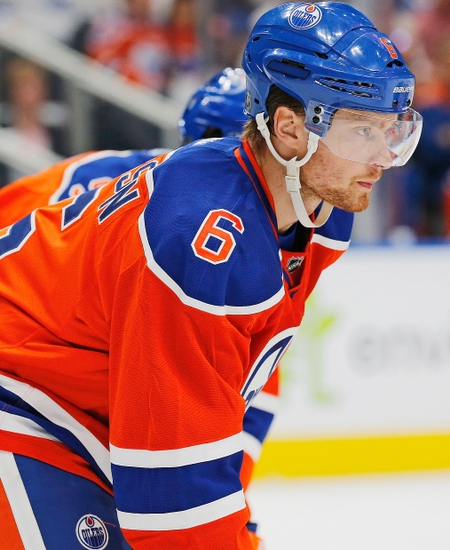 The Edmonton Oilers defencive corps look a lot better than they did last year, even though they may need a little bit of work.
However, for newcomer defenceman Adam Larsson, he's fitting in pretty well through the first four games. The Swedish blueliner was the product of the trade that sent Taylor Hall to the New Jersey Devils. Though fans were not thrilled with that trade at the moment, it seems to be working out for the best for Edmonton.
Edmonton Oilers Make Lineup Changes Prior to Game vs. Hurricanes
So far, Larsson has been a force for Edmonton on the blue line. On the backend, he has made tremendous plays and proved to be a solid first-pairing defender alongside Oscar Klefbom.
So far, he has a Corsi for of 47.3 percent and a 0.4 relative Fenwick. The 6-foot-3, 205-pound blueliner has also put up nine hits and five shot blocks through his first four games, and averages over 20 minutes a game.
Larsson also averages 6.5 hits per 60 and 3.6 blocks per 60 so far. Also, he has a .33 turnover ratio, and stacks up as one of the best defencemen on the Oilers' roster.
In the end, though the Oilers don't have the scoring presence that was Hall, Larsson proves to be faring well for the team. He is providing depth and outstanding play on the right side, and works to lead the weak defencive corps.
Edmonton seems capable of producing offence without Hall in the picture, so in the end, this trade worked out pretty well for the Oilers.
This article originally appeared on