Dylan Larkin Is Red Wings Answer to Losing Pavel Datsyuk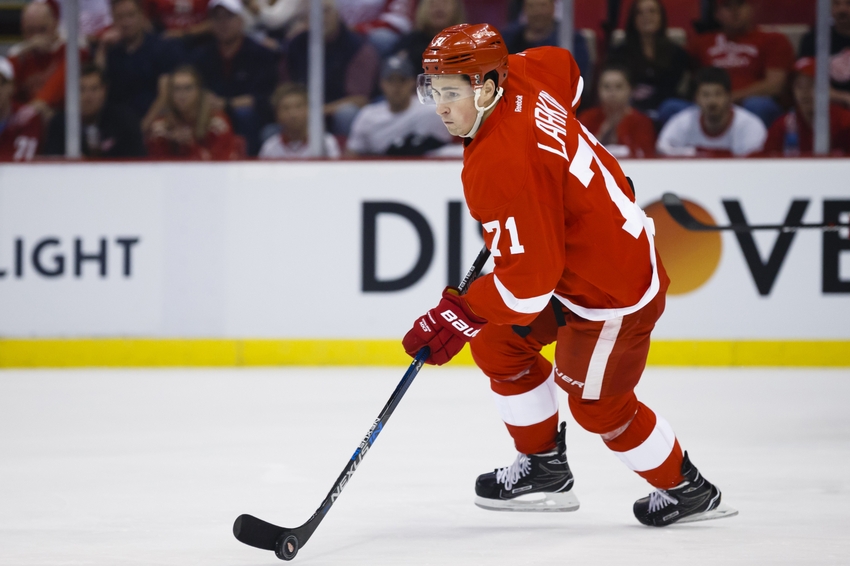 Dylan Larkin was the breakout player of the Red Wings' 2015-16 season – can he fill the hole left by Pavel Datsyuk's departure?
At the end of the 2015-16 season, Pavel Datsyuk ended his 14-year career with the Detroit Red Wings, after winning two Stanley Cups (2002 and 2008), and four consecutive Lady Byng trophies (2006, 2007, 2008, and 2009). Upon leaving, he was the last member of the Detroit Red Wings 2002 Stanley Cup Championship team.
With Datsyuk's departure, he leaves a hole in a Red Wings roster that has failed to get past the first round of the Stanley Cup Playoffs for the last two seasons, being eliminated both times by the Tampa Bay Lightning. While still a fantastic technical team that is exciting to watch, the Red Wings seem to have lost a spark in the past few seasons, though they have tried desperately to rekindle the glory that they found in the Nineties.
Enter, Dylan Larkin
The 20-year-old (19 when he began playing for the Red Wings in 2015) from Waterford, Michigan gave fans of the Red Wings something to cheer about all season. He became the first Red Wings teenager since Steve Yzerman in 1983 to score in his first NHL game. He was named Rookie of the Month in November 2015, leading all rookies with 7 goals. He was the third rookie from the Red Wings chosen to play in the NHL All-Star Game, setting a record for the fastest skater with a time of 13.172 seconds, breaking Mike Gartner's record set twenty years earlier.
During his rookie season, Larkin recorded 23 goals and 22 assists in 80 games. He also led the Red Wings with a +11 plus/minus rating, 221 shots on goal, and five game-winning goals. Following an outstanding rookie season, Larkin was named the Red Wings Rookie of the Year by the Detroit Sports Broadcasters Association.
To say that Larkin had an astounding first season would be an understatement. But does this make him the Red Wings player most likely to fill the shoes of Pavel Datsyuk? Can those shoes be filled at all?
Big Shoes to Fill
I hesitate to say that any player can fill the shoes of any other player. Datsyuk possessed a unique brand of hockey, easily one of the league's most instinctive and creative players. Each player is as unique as their own style of play, and I think that it's unlikely the Red Wings will see a player like Datsyuk again – just as there will never be another Yzerman. 
That being said, I do think that Larkin is going to be one of the players that the Red Wings and their fans can count on for seasons to come. At just 20-years-old, he has his whole career ahead of him, and if the Red Wings are smart, they'll hang onto him for as long as possible (barring the partnership not working out for either party for whatever reason).
One of the questions on the minds of fans and analysts is whether or not Larkin will avoid the dreaded sophomore slump. The Red Wings have moved Larkin from a wing position to center, which will separate him from linemate Henrik Zetterberg, who helped Larkin rack up 45 points in his rookie season. Moving Larkin to a center position will give him the freedom to become more of an offensive player, but he will have to make up for that freedom by playing a 200-foot game at both ends of the ice. Given Larkin's speed, I don't suspect that this will be a problem for him.
With a year of NHL hockey under his belt, not to mention some games in the playoffs, and competing with Team North America at the World Cup this month, Larkin has obtained a lot of experience playing professional hockey in under a year. It's becoming apparent that Larkin can handle the pressure and responsibilities of being one of the Red Wings' centers. He possesses a competitive drive that hints at a level of maturity beyond his years, which means we could see him wearing a letter on the front of his jersey before too long.
In the coming years, the Red Wings are going to be seeking new team leaders from within, given Datsyuk leaving and Zetterberg slowing down. Larkin is certainly poised to become one of those leaders, and while he may not be a replacement for Datsyuk, he will likely become a well-rounded and amazing star player in his own right.
This article originally appeared on