Drew Stafford May Have Lost His Spot on the Winnipeg Jets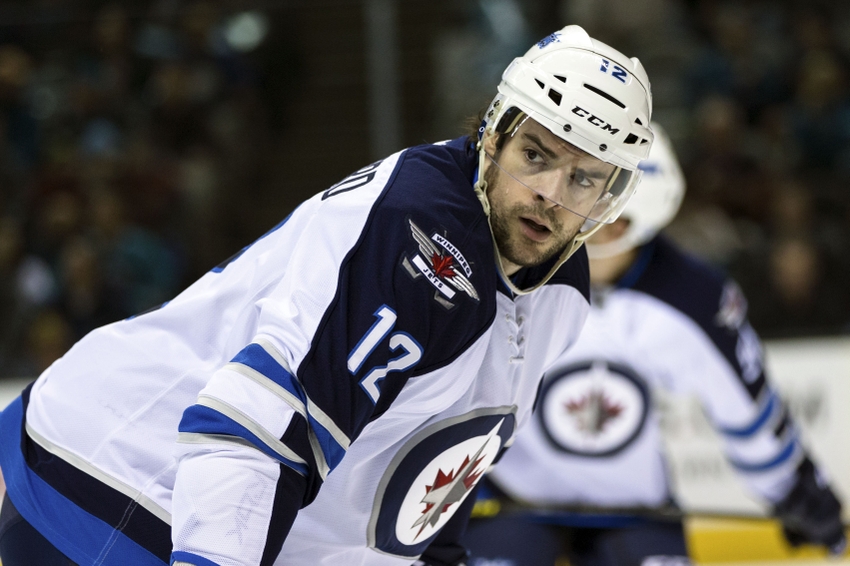 Watching the Winnipeg Jets new young team has been fascinating. Not only have we seen exciting action, but also the best quality of hockey we've witnessed in Winnipeg since relocation. As Jets continue to fall one-by-one due to injury, especially their veterans, more, and more of their future is being called up from the Manitoba Moose.
Surely exciting play, and wins are what the Winnipeg Jets want as a whole. But when Drew Stafford comes back from injury, does the 20-goal scorer still have a spot in the lineup? Who does he need to beat?
The Lineup Locks
These are the players that no one in the Winnipeg Jets organization could pass on the depth chart. Whether they have five great games in a row, or ten without a goal, these guys are still ahead of Drew Stafford.
Mark Scheifele, and Blake Wheeler are the Jets two "veteran" forwards who are lineup locks. They wear captaincy letters on their jersey's for a reason. They are the best players, and role models for this young team. Patrik Laine, and Nikolaj Ehlers, although still in their rookie, and sophomore seasons respectively, have shown poise with the puck, and a skill level that sets them apart from the rest. Mathieu Perreault, and Bryan Little are both injured, but are ahead of Stafford in the pecking order when they are all healthy. Little's defensive structure, and ability to raise linemates play sets him above Drew. For Mathieu, it's his success on multiple franchises on the power play, and creating offense in general. Stafford has no chance of playing ahead of these players.
Nic Petan
It was quite a disappointment when Petan got sent back to the Manitoba Moose during Jets training camp. Since his call-back from injuries with the big club, Nic has been a staple on the Jets second power play unit, and is able to produce higher scoring chances than Stafford. Until he hits a slump… move a long Stafford.
Kyle Connor
Kyle was just placed on the Jets injured reserve after an awful hit by Kyle Clifford to his head. He's started the season weak, but so is to be expected from a 20-year old rookie. Here's somewhere Stafford MIGHT fit in.
Marko Dano
Along with Petan, Dano has brought a new speed to the second power play unit, and through his first few games has played up and down the Jets lineup. Just like Petan, he will be in the lineup until he goes through a rough stretch.
Chris Thorburn / Adam Lowry / Shawn Matthias / Brandon Tanev
These are the Jets four lineup musts, but in the bottom of the lineup. They are fourth line plugs who provide penalty killing, and defensive assignments. Matthias is currently on the injured reserve, and expected to return after Stafford. With a lack of centremen, Stafford will not make the lineup over Adam Lowry, but if it comes down to Thorburn or Stafford for a final spot, that's a no brainer: Drew Stafford. Brandon Tanev's speed and forechecking could land him a fourth line spot ahead of Stafford.
Andrew Copp
Copp was another real surprising lineup cut at the start of the season. If he's battling for a bottom line spot with Stafford, Copp may just win because of his speed, and defensive awareness.
Alex Burmistrov / Quinton Howden / Chase De Leo
These three are just hanging on by injuries. Burmistrov has been downright awful this season, and De Leo is a ways away from being an NHL regular. Howden leads the AHL in goals, and the Jets will want him to continue on that success. Stafford would be a no-brainer to beat these.
What could the lineup look like?
At some point this season the Winnipeg Jets will no longer be troubled on the injury front. Here's what their forward lines would look like with everyone back. And ultimately, does it include Stafford?
Patrik Laine – Mark Scheifele – Nikolaj Ehlers
Kyle Connor – Bryan Little – Blake Wheeler
Nic Petan – Mathieu Perreault – Drew Stafford
Marko Dano – Adam Lowry – Brandon Tanev
Extras: Throrburn, Matthias, Copp
Want your voice heard? Join the Jets White Out team!
Obviously 20-goal scorers are well welcomed into NHL lineups, but if head coach Paul Maurice would rather have a young skilled lineup, perhaps Drew Stafford could be moved from Winnipeg.
More from Jets White Out
This article originally appeared on