Dmitry Orlov Might Not Re-Sign with the Washington Capitals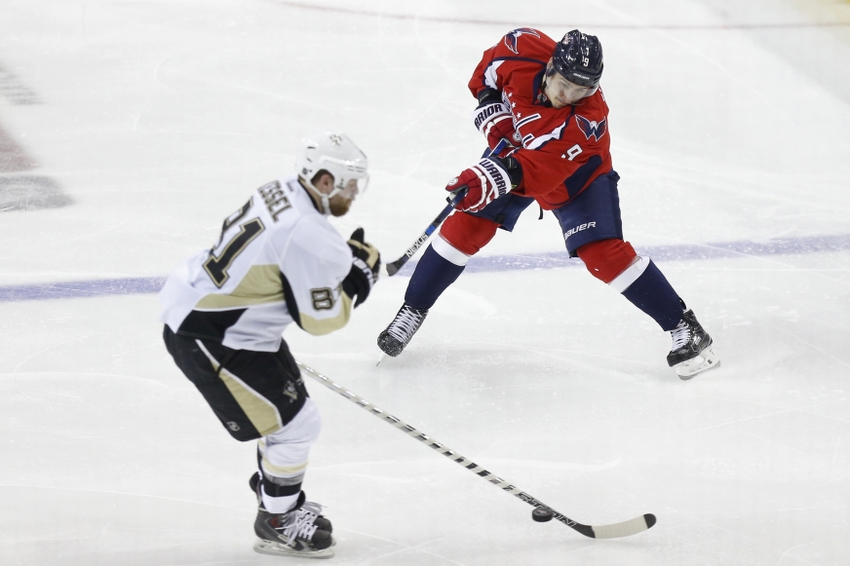 What if Dmitry Orlov doesn't re-sign with the Washington Capitals? It would be bad. At least, that's what our gut reaction tells us. Let's dive in and see what could actually happen.
Isn't Dmitry Orlov an RFA? Doesn't he basically have to re-sign with the Washington Capitals?
Well… not really. Let's recap the timeline. The Washington Capitals tendered a qualifying offer to Dmitry Orlov prior to the start of free agency. The qualifying offer would've been a 1-year deal with 100% of the value of Orlov's previous contract year salary, or $2.250 million. It is normal for a player to reject this status quo offer, and on July 1st Orlov became a restricted free agent (RFA) under the rules of the NHL CBA. From then on he was free to negotiate with the Capitals, or to receive an offer sheet from another club.
The next deadline to pass was the July 5th salary arbitration deadline, which Orlov did not file for. On July 15th the original qualifying offer from the Caps expired. Since then, nothing – clearly the two camps have not yet brokered a deal. And what's worse, recent comments by fellow Russians Evgeny Kuznetsov and Alexander Ovechkin suggest that Orlov is seriously considering not signing with the Caps. If he doesn't re-sign then what are his options? There are basically four possible outcomes:
A trade. If Orlov is dead-set on not signing with the Caps, GM Brian MacLellan could trade his rights. The Caps would presumably get a depth defenseman or a draft pick in return, and it would be up to the new club to re-sign Orlov.
An offer sheet. Orlov could sign an offer sheet from by another team. More on this below.
The long-term holdout. Orlov could hold out until December 1st, the drop dead date for all RFA signings, making him ineligible to play for the remainder of the year. The Caps would retain his rights.
Another league. Orlov could sign in the KHL or another overseas league and leave the NHL entirely.
More from Stars and Sticks
What is Dmitry Orlov worth?
It's tough to say, but he's likely worth a good bit more than the $2.00m AAV of his last contract, and perhaps also more than the $3.45m in cap space the Capitals currently have (via General Fanager). Yes, the situation is tight enough that two decimal places are warranted. Orlov has a reputation for making big turnovers, but let's look at some numbers.
In both 5v5 points and primary points in 2015-2016, Orlov was ninth in the league amongst all defensemen (500+ min) with 25 and 17, respectively. For 5v5 goal scoring he was seventh. In relative 5v5 Corsi-for% he was a tick below Letang at 24th in the league, with a +3.4%. This was just behind Ovechkin and Williams for third on the Caps, tops among defenseman. Despite his reputation as a defensive liability, he was number one on the Caps in Corsi-against per 60, and the top defenseman in the Corsi-for per 60 category.
In other words, statistically, there is a case to be made that Orlov easily projects to be an offensively effective top-4 defenseman. There are mitigating factors though. He had by far the cushiest zone starts of Caps defense regulars with 41% offensive zone starts. And he had a lower quality of teammates and faced a lower quality of competition than everyone other than Taylor Chorney. Finally, yes, Orlov led the defense in giveaways per 60 minutes at even strength.
Gauging what Orlov should make depends on what you value in a defenseman and what you see in him. He is one year removed from a significant injury (although he played all 82 games last season), and he is still inexperienced for his position. His 5v5 raw-production comparables (Letang and Josi) are too elite to be usable, and his potential in a top-pairing is up for debate. But it is likely that Orlov is currently a top-4 defenseman, and Brian MacLellan has said as much. A team desperate for offense (who also has a space on the powerplay for that booming shot) might feel completely comfortable paying north of $4m AAV over multiple years for Orlov, which leads us to…
The Offer Sheet
An offer sheet is a stipulation of the CBA that allows any team to send an RFA a contract offer during their negotiation window. If signed by the player, the rights holding team (the Capitals in this case) has 7 days to either unconditionally match the offer, or surrender the player for draft picks as compensation scaled to the amount the lost player signed for.
Dmitry Orlov is an exceptionally tempting player to offer sheet. Why? Two main reasons: the Caps current salary cap situation, and the CBA compensation brackets. It's straightforward, really. The $1.88m – $3.76m offer sheet bracket only requires a 2nd round pick for compensation. And the Caps only have $3.45m in available cap space. If a team were to offer Orlov $3.75m AAV over say, 3-5 years, the Caps might not be able to match. Or they've have to part with another player in order to make the needed space.
If this were to happen, it could fairly be called a "disaster." The Caps would lose Orlov for just a second round pick. A variety of teams, such as the Oilers or Devils, need help on defense and would probably be happy to take the gamble on Orlov continuing to improve in exchange for a low draft pick. You could make a case that $3.75m is consummate with Orlov's current performance.
What is actually likely to happen?
That is anyone's guess. I would've thought that Orlov would be signed by now, but there is mounting evidence that a contract might not be imminent. There are thousands of factors unknowable from the outside: does Orlov care about playing for a contender? How far is the gap between him and the Capitals? Is he is open to playing in Russia? What is his inbox looking like, in terms of offers from other teams? Typically offer sheets in the NHL are taboo amongst GMs, but how taboo? If they were going to offer sheet him, why hasn't it happened yet? If things get too dicey will MacLellan cut his losses and make a trade?
All we know is that Orlov is projecting to be at least a legitimate top-4 defenseman. He is a valuable piece of the Caps present and future, and there is no clear replacement should he be absent come game one. It would be a scar on the new era of Caps management should they lose this player. We should (hopefully) know soon enough what will come of this situation, but until then keep your fingers crossed.
This article originally appeared on