Detroit Red Wings Win In Philadelphia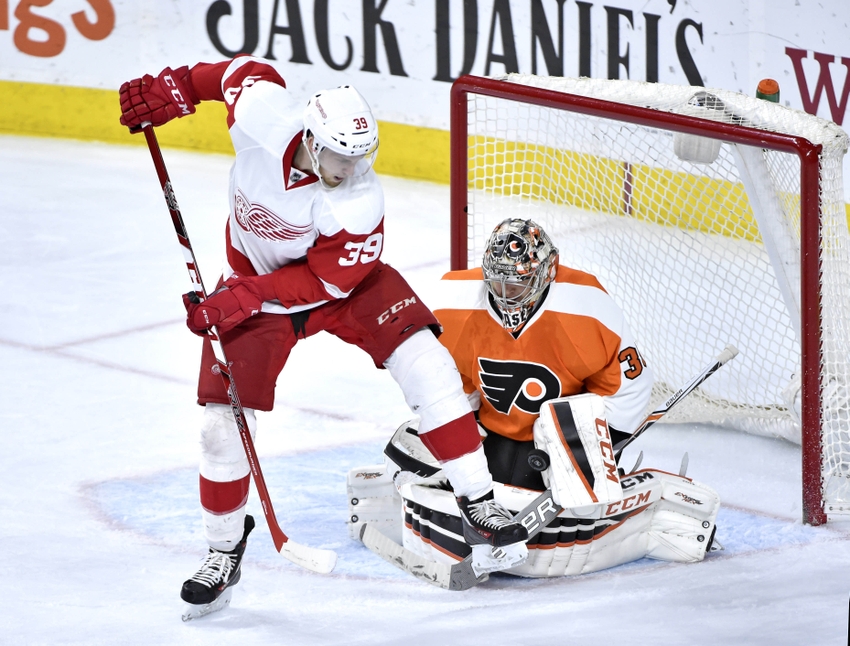 Coming in to Philly with a five-game losing streak, the Detroit Red Wings hoped call-up Tyler Bertuzzi could spark a win. They were right.
The city of Philadelphia has not been kind to the Detroit Red Wings. The Philadelphia Flyers have been beaten the Red Wings into submission every time they've played in Philly since 1997. The Red Wings looked to change that by starting Jimmy Howard and calling up Tyler Bertuzzi, and change it they did. Andreas Athanasiou scored the only goal in the shootout and won the game for the Red Wings.
The call-up of Bertuzzi was confusing for many fans. He is not exactly lighting it up in the AHL. Bertuzzi plays for the AHL affiliate of the Detroit Red Wings, the Grand Rapids Griffins. With the attitude to add grit and more of a defensively responsible forward to their group, the Red Wings
Live Feed

Detroit Red Wings
promoted Bertuzzi.  For the Griffins, Bertuzzi is a respectable 2-2 for four points in nine games. Why wouldn't they call up a more offensively gifted player? They are effectively searching for a replacement for injured Thomas Vanek and Bertuzzi doesn't paint that image. It is no coincidence that the losing streak started around the loss of Vanek, who was performing beautifully on a line with Darren Helm and Gustav Nyquist.
Why Not Mantha?
Many fans clamored for scoring winger Anthony Mantha, who has had an electric start with the Griffins. Mantha has played in nine games for the Griffins this season and leads the team in points with 7-1. In 10 games with the Red Wings last season, Mantha posted okay numbers at 2-1. Many may point to the production of former Red Wing Teemu Pulkkinen as an example that high scoring in the AHL doesn't translate to the NHL. Many players need games to adjust to the different speed that comes with the NHL. Athanasiou was the one who beat Mantha out of a roster spot.
Goaltending Solid
Goaltending hasn't been the Red Wings problem this season. Petr Mrazek is proving to be a quality starter, and back-up Howard is posting stellar numbers. Howard has started five games this season. He has a league leading save percentage and goals against average at .965% and 1.12. There are thoughts that Howard may be able to steal the starting job back. This comes at a time where Howard started consecutive games for the first time this season.
More from Puck Prose
This article originally appeared on