Detroit Red Wings vs Tampa Bay Lightning live stream, TV info and Las Vegas odds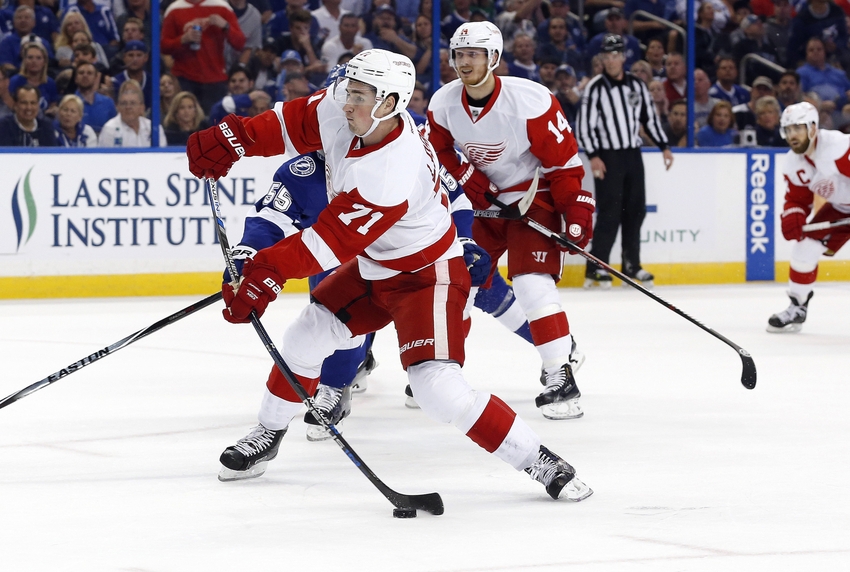 The Detroit Red Wings and Tampa Bay Lightning will open the 2016-17 NHL season tonight from the Amalie Arena in Tampa, Florida. For hockey fans, there is nothing better than opening night!
Game 1 of the 2016-17 season is just hours away and for fans in Motown and across the United States and Canada this is the best time of the year. Every team is 0-0 and has high hopes of making the NHL playoffs and a run at the 2017 Stanley Cup.
For the Detroit Red Wings, this season is going to be a lot different than years past.
This team is full of youngsters, something that isn't the norm in Detroit, at least not for the last decade. The Red Wings have been called the "New York Yankees of hockey," in other words it is Stanley Cup Finals or bust for the Winged Wheelers. That may not be a fair assessment for this season's squad.
The first difference Wings fans will see is Pavel Datsyuk is no longer on the team. That is huge. Datsyuk has been a leader on this team for more than a decade and a fan favorite. Now the Red Wings will turn to the future, namely Tomas Tatar and Dylan Larkin.
Larkin has the potential to be the next Steve Yzerman in Detroit. His skills are incredible and he is the fastest man on the ice – literally! The Wings are hoping that the additions of Thomas Vanek, Frans Nielsen and Steve Ott will go along nicely with Tatar and Larkin.
It would be nice to see the Detroit Red Wings get off to a 1-0 start for many reasons, however the biggest may be that Tampa Bay has ended Detroit's playoff postseason run two years in a row.
The Tampa Bay Lightning have had great success the past three seasons, however, they have still failed to win the Stanley Cup. In 2014 Tampa was eliminated by Montreal in the first-round of the NHL playoffs.
However, in 2015 Tampa reached the Stanley Cup Finals, unfortunately they fell short to the Blackhawks, losing in the finals 4-2. Last season Tampa Bay reached the Eastern Finals, but they were eliminated in a tough seven game series vs. the eventual Stanley Cup champion Pittsburgh Penguins.
So will this year finally be the magical one for Tampa Bay? They are amongst the Las Vegas favorites to win the 2017 Stanley Cup.
In tonight's game, Tampa Bay is listed as the favorite at -170, with the comeback on Detroit set at +150. The over/under goal total is listed at 5.
Fans can catch all of the action live on FOX Sports Detroit, and streaming live online through FOX Sports Go starting at 7:30 p.m. ET.
This article originally appeared on