Detroit Red Wings F Darren Helm Injured, Hole Left to Fill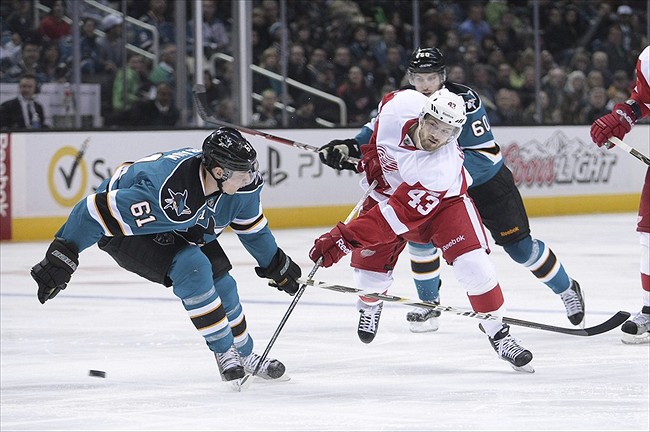 Detroit Red Wings F Darren Helm is out for the next six weeks at the very least. Helm suffered a dislocated shoulder after being hit by Nikita Nesterov. This loss comes with the hopeful news that Thomas Vanek is ready to return from his injury
Detroit Red Wings F Darren Helm is out for at least six weeks, which is going to put a damper on the offense. Detroit has managed nine goals in their past five games, and were shut out in one of those contest. The goal differential for the Red Wings for the past five games is minus-five.
With the loss of Helm against the Tampa Bay Lightning, the Wings are likely going to look for an offensive spark via their minor-league affiliate. Tyler Bertuzzi was just recently returned to the Grand Rapids Griffins and could very well be called up once again with Helm sidelined.
Rough Loss
Helm dislocated his shoulder and subsequently the Red Wings lost the lead with less than two minutes to go in the game. Not only did the late goal demoralize the Red Wings team, but the loss of another key player also rubs salt in the wounds of a team that was already dealing with early injuries. Luckily, Vanek is slated to return to the team for Sunday's contest against the Calgary Flames. Until then, the Red Wings are going to have to lean heavily on the team's youth to create more offense.
Quick Review: Red Wings 11/15/16 Game Notes
In the 4-3 loss to the Lightning, Ryan Sproul netted his first career NHL goal on the power-play. Sproul was brought into the lineup as Niklas Kronwall took a day off to maintain his knee.
Other notables from the loss was Petr Mrazek's first start since November 4th. Mrazek also assisted on the opening goal for the Lightning; a misplay behind the net led to a turnover and conversion by Nikita Kucherov.
Possible Call-Ups
The most probable call-up for Detroit would be bringing Bertuzzi back into the lineup. Coach Blashill liked what he saw from the left winger in his three games earlier in the season. Blashill cited his size and tenacity on the puck.
Other options could be Martin Frk, who was placed on waivers by the Red Wings and claimed by the Hurricanes before being re-claimed. Another option could be big left winger (6'4") Eric Tangradi who played in a game last season with the Red Wings. If Blashill wants a center, Louis-Marc Aubry or Dominic Turgeon would be the best options to fit Helm's role.
The Red Wings will call up one player before their game Friday 11/18/16 against the Washington Capitals.
This article originally appeared on