Detroit Red Wings Experiencing Defensive Regression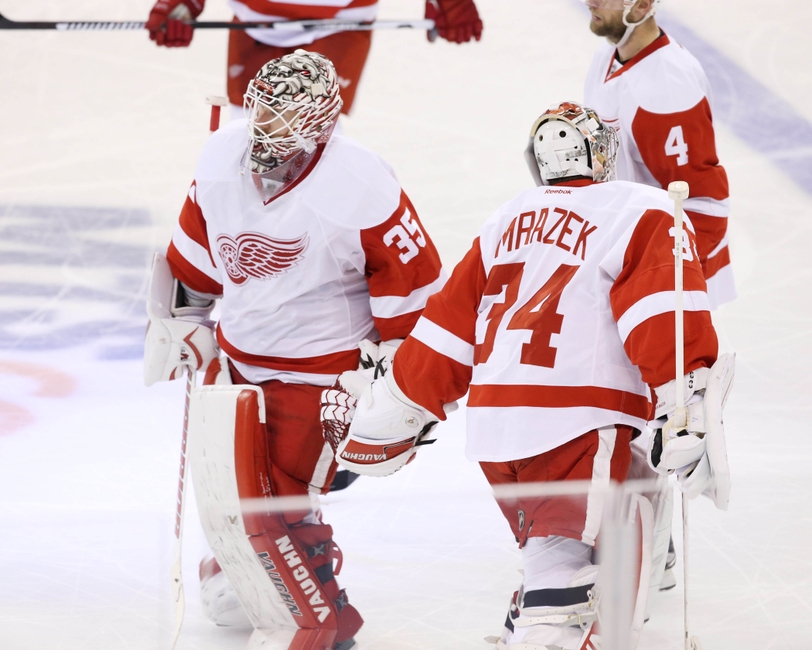 Detroit Red Wings season is officially 10 games old after Sunday's 5-2 drubbing by the Florida Panthers. Holding a record of 6-4-0 with 12 points, the Red Wings sit in 2nd place in the Atlantic division.
Detroit Red Wings have alternated streaks early on losing their first two, winning their next six, and then losing their last two games. A major concern from last year was the Wings' ability to score goals.
This year, goal scoring hasn't been as large of an issue for them thanks to new acquisition Thomas Vanek. Unfortunately, Vanek is now currently listed by the team as week-to-week with an injury and has missed the past three games for the Wings. Vanek leads the Red Wings in both goals and points.
Saving Hope
Another glowing spot for the Red Wings has been the goaltending. Besides Sunday night's effort by Petr Mrazek, the Wings have had great netminding from the tandem of Mrazek and Jimmy Howard.
Sunday night's effort by Mrazek resulted in four goals on 10 shots. Mrazek was yanked in the second period and replaced by Howard, who posted 13 saves and one goal against. Coach Jeff Blashill was quick to defend Mrazek's play, citing defensive and team breakdowns as the main culprit.
Defensive breakdowns have been the Wings worst enemy this season, and defense may be the bringer of destruction for the Wings.
Defensive Breaks
Nobody expected the Wings' defense to be golden, especially without injured veteran Niklas Kronwall. The recap above shows a breakdown with the Wings on the man-advantage, where Howard makes the first save, is taken out by teammate Frans Nielsen, and the rebound is tapped in with two men on him. Two players defensively didn't do a good enough job to prevent a short-handed goal.
Growing pains keep hitting the Red Wings as life after Nicklas Lidstrom continues as the Detroit Red Wings still have no definitive top-pairing D-Men.
Upcoming

Schedule

11/2

at

Philadelphia Flyers
11/4

Winnipeg Jets
11/6

Edmonton Oilers
11/8
at

Philadelphia Flyers
11/10

Vancouver Canucks
Too Many Giveaways
Breakdowns in the defensive zone are hurting the Red Wings chances of winning games. This is most exemplified in Detroit's takeaways versus giveaways. As a team, the Red Wings have 56 takeaways versus 71 giveaways per Hockey-Reference.
Having more giveaways than takeaways isn't an easy way to win games, but the most striking fact is when you look at the defense corps stats in giveaways. From the defensive skaters that have suited up for the Wings this season they have 9 takeaways. Not too bad a number as most often the offense initiates takeaways. The Wings defense has a combined 34 giveaways. Brendan Smith, Alexey Marchenko, and Danny DeKeyser have a combined 21 of these giveaways.
Through experience and coaching, the younger players may continue their development or Ken Holland is going to be forced to make a trade if he wants the playoff streak to live on. Otherwise, the defensive mistakes will continue to pile up and hurt the Wings' chances of making the playoffs for a 26th straight year.
This article originally appeared on