David Pastrnak Inches Closer To Return For Boston Bruins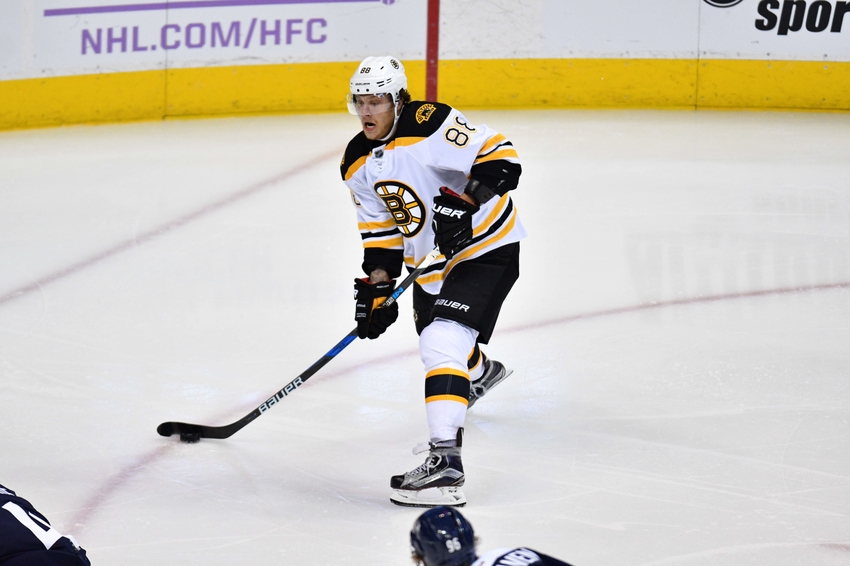 The Boston Bruins are currently without the services of forward David Pastrnak.  The young Czech winger currently leads the team in goals, and has been an excellent  all-around player so far this season.
Boston Bruins forward David Pastrnak has been a pleasant surprise this season. In the 14 games he's played so far this season, he's earned 10 goals and put up 14 total points for the B's. He's found great chemistry with Brad Marchand (who is second on the team in scoring) and Patrice Bergeron (who makes everyone around him play better).
Currently, the Bruins have the 20-year old Pastrnak listed as "day-to-day" status.  He's still recovering from an injury suffered last weekend in a game against the Colorado Avalanche. (The Bruins won that game 2-0.)  The Bruins top scorer has been taking part in individual skating before and/or after team practices, casting hope that he'll be back in the lineup. While players like Marchand and Bergeron have found goal success again, Pastrnak has been the most consistent and prolific scorer for the Black and Gold so far this season.
Claude Julien is optimistic about Pastrnak's return to the lineup, but he's not going to take any chances rushing the B's top scorer back on the ice. "He skated today. He skated this morning," said the Bruins bench boss about Pastrnak. "He's day-to-day, but skating is a good sign. It's something he hadn't done. But I deal with the players that are healthy, and until they tell me he's ready to go I deem him day-to-day. The skating means he's getting closer to joining the team."
For the moment, the Bruins are using Riley Nash as the fill-in for Pastrnak. Nash did alright on the Bergeron line in the B's solid win against Winnipeg on Saturday. Nash had a +1 rating with a single shot on net in 15:49 of ice time.
Nash's temporary placement on the B's top line looks like an acceptable fit for now. That being said, the Bruins would like to get back Pastrnak as soon as possible. He's come out of his shell this season and has played some of the best hockey of his professional career so far this season.
This article originally appeared on