David Desharnais Redemption Game for the Montreal Canadiens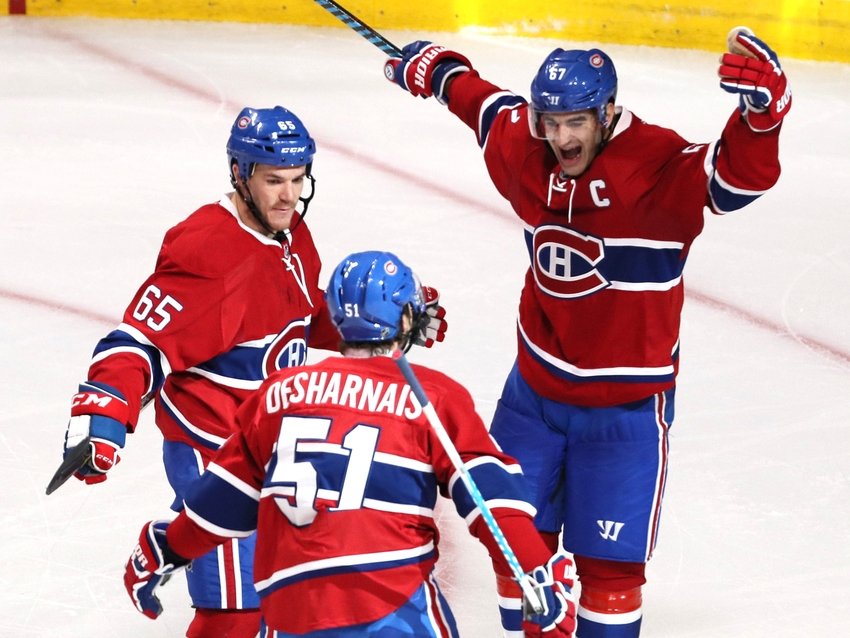 Analyzing the impact of David Desharnais 2 goal game for the Montreal Canadiens against the Penguins, and his strong start to the season
The Fanned Shootout Attempt
On Saturday night the Montreal Canadiens found themselves in a shootout against the Senators who badly outplayed the Habs. Erik Karlsson had just scored to give the Sens the edge to win the game, unless the Habs scored next. David Desharnais was selected to shoot for the Canadiens.
Desharnais skated up the ice, building speed as he approached the net. He lifted his head to look at where to shoot, and as he did that, his stick came off the ice. When he tried to shoot the puck, it was was no longer, he fanned on the shot.
More from A Winning Habit
This created an embarrassing moment for David Desharnais, as that play ended the game with a Habs loss. Clearly the Habs didn't lose the game because of that one play, but it didn't help them win either.
Desharnais Past Struggles
The shootout fail didn't go over so well with Habs fans. In fact many have been very critical of Desharnais through the last couple of seasons (including myself). He has struggled mightily to produce offense consistently for the Canadiens the last couple of seasons.
In the last 43 games of last season Desharnais produced 12 points. He had 4 goals and 8 assists during that span. During that brutal slump, he was still being used on the team's Power Play very consistently leaving many Habs fans scratching their heads.
Desharnais Fresh Start?
However this is a new year, and a new season. Even though Desharnais had the forgettable shootout attempt, he has played well through 3 games. Last night's 2 goal performance was very solid.
Aside from the 2 goals, Desharnais was making very creative plays setting up his teammates in good spots on the ice to score. One example of Desharnais creative plays, was an odd man rush heading into the Pens zone. He was able to spot the trailing player, make a great back pass to get him the puck and as a result giving his teammate a great chance to score.
Desharnais finds himself with 3 points in 3 games. Hopefully Desharnais can keep building off this strong game as well as his and the Canadiens good start to the year.
Desharnais Motivation
I'm not saying that I have forgotten, or that you should forget Desharnais past struggles to produce consistent offense for the Habs. What I am saying is that Desharnais is off to a great start in a contract year.
At 30 years old, this could be Desharnais last chance to earn a big contract in the NHL. He is also playing with more offensively talent line mates in Andrew Shaw and Daniel Carr this season. It could be the beginning of a good season, or just a flash in the pan, like Desharnais has shown us in the past.
Last night however, Desharnais must have felt great to redeem himself of the embarrassing shootout miss.
Save
This article originally appeared on