Dallas Stars Would Be Just Fine Without Valeri Nichushkin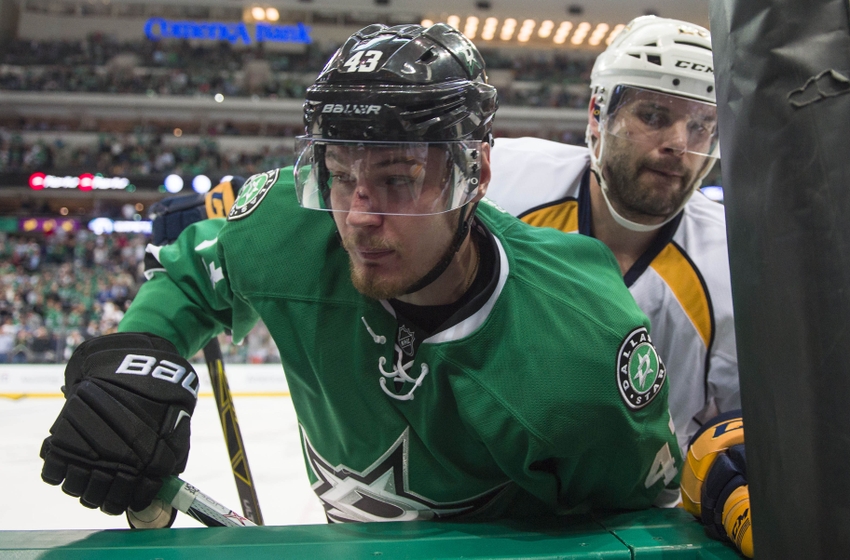 The Dallas Stars are one dangerous team, especially on offense. The loss of one 21-year-old semi-productive forward will not have them in the danger zone.
The Dallas Stars are four days away from opening up their 2016 training camp session. Usually at this time in a typical hockey season, an NHL team has their training camp roster finalized and is ready to roll.
Sadly, the Stars are staring down multiple crises as training camp nears. Superstar center Tyler Seguin has a hairline fracture in his heel and has no set timetable to return. Radek Faksa was injured in the opening game of the World Cup of Hockey for Team Czech Republic and is considered day-to-day with concussion-like symptoms.
But none of these situations compare to what they are now facing.
Yesterday, rumors surfaced that Dallas Stars 2013 first round pick Valeri Nichushkin had received an offer from the KHL in Russia (his home country) and was planning on accepting. It's a two year offer from the team CSKA Moscow, and it's apparently close to a done deal.
Nichushkin was scheduled to become a restricted free agent on July 1st of this past offseason, but the Stars tendered a qualifying offer to protect him from becoming a UFA. They still needed to sign him to a new contract, and Nichushkin was wanting long term security.
The 21-year-old was drafted by the Dallas Stars in the first round of the 2013 NHL entry draft at 10th overall. Being 18 at the time, the Stars were taking a rather large chance on drafting him and attempting to immediately inject him into the NHL lineup. But in the midst of a five year playoff drought and a massive overhaul both on the ice, on the bench, and in the office, they were ready to try anything.
Nichushkin had a strong rookie campaign, scoring 14 goals and tallying 34 points in 79 games. He spent a majority of the season with Jamie Benn and Tyler Seguin on the first line and meshed well with the group. He also tallied one goal and one assist in the Stars' six-game playoff journey that season.
His second season was primarily lost due to hip surgery and the recovery that followed. He only appeared in eight games, tallying one assist and an ugly -5 on-ice rating.
This most recent season marked Nichushkin's third in the NHL, and things did not necessarily go as planned. Stars fans were expecting him to hit a milestone, but instead he hit a rut. Nichushkin lost 1:02 average ice time when compared to the 2013-14 season and hit a decline in production. He only scored nine goals and tallied 29 total points in 79 games.
The Stanley Cup Playoffs gave him another chance, but his numbers flopped once again. In 10 of a possible 13 games, Val only registered one assist and a -2 on-ice rating.
Some chopped it up to Nichushkin still trying to find his element and place in the game. Others suggested that maybe he was not going to bloom into the elite first-rounder all Dallas fans had labeled him as.
And now the Stars may never get a chance to see him hit his stride (if he reaches it). After yesterday's reports, it seems as though Nichushkin to the KHL is more than likely a done deal.
Now, word the Nichushkin signing to CSKA Moscow will indeed occur. Nothing official yet, but going down that road.

— Elliotte Friedman (@FriedgeHNIC) September 19, 2016
But here is where things get interesting. Apparently the reason Nichushkin wants to bail on Dallas is not because of money or contract negotiations. It's Lindy Ruff. The Dallas Stars head coach must not be giving Nichushkin what he is looking for, which is giving him the idea to leave.
While every player deserves to have their own opinion, this just seems a bit overrated. Nichushkin has reportedly said that he will consider returning to Dallas once Ruff is gone. Ruff's current contract with the Stars will expire in two years, but that does not mean that he will not re-sign.
The Dallas Stars are in a very encouraging and exciting spot at the moment. After a strong regular season slate last year followed by a hard-fought playoff run, the Stars could be looking at making some major noise this year. They might even have the power to find the Stanley Cup this coming season.
So obviously Ruff knows what he is doing. In three years with Dallas, he has two playoff appearances, a Western Conference regular season champions title, a Central Division title, the highest scoring offense in the league, and a Jack Adams nomination.
Nichushkin may not like playing under Ruff, and that's completely his decision. But as long as Ruff is doing what he's doing, the Stars should be just fine with Nichushkin absent from the lineup.
Now might be a good time to remind all Stars fans that Dallas recently signed veteran forward Jiri Hudler to the roster. They also have a mass of NHL-ready forwards that are prepared to help Dallas defend their high-scoring title. Nichushkin could be considered a bottom-six asset for the Stars at this point.
Dallas Stars general manager Jim Nill spoke on the Nichushkin dilemma yesterday, and his choice of words would lead one to believe that Val is definitely gone.
"The good news is he's 21 years of age, he's going to play over there and keep developing," Nill told the media. "I just hope we get a more mature player when he decides to come back over. It's not the end of the world."
He could not have said it better. Nichushkin is not a backbreaker piece for the Stars, and they should consider themselves lucky for that.
Dallas will still retain his rights, meaning he has a chance to come back if he decides to. But if Ruff remains at the helm, we may not see Nichushkin for a while. But on the bright side, that is not the end of the world by any means.
More from Blackout Dallas
This article originally appeared on