Dallas Stars Welcome Old Friends Back To Frisco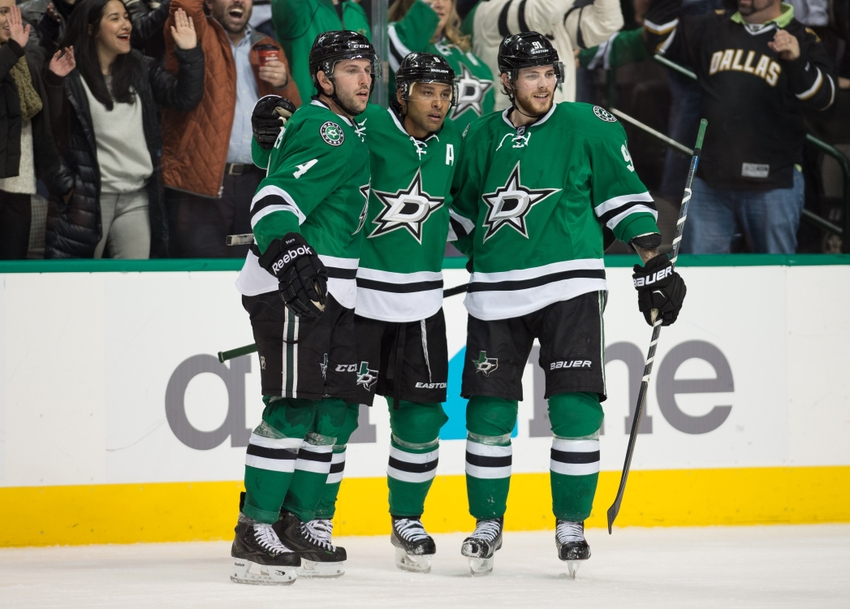 The Dallas Stars were joined during their skate in Frisco yesterday by some special pals.
Fans who flocked to the Dr. Pepper Arena in Frisco to watch the Stars skate saw more familiar faces out on the ice than they expected. While current Dallas Stars practiced for the upcoming season, they were joined by several former teammates.
Mark Stepneski posted a photo on Twitter showing that Trevor Daley was skating with the Stars, and later confirmed that both Jason Demers and Vernon Fiddler had returned to Dr. Pepper Center for a little preseason skating. Naturally, many Stars fans exploded with excitement to see these players in the area and doing well.
Such a sighting is bittersweet. While seeing these guys in their new teams' jerseys gives a bit of a sting, it's great to see them in the area prepping for a new season, even if it won't be with the Stars. Let's take a brief moment to catch up with some of the players who've moved on.
Dallas Stars' Upgraded Roster Puts Ruff In Spotlight
Trevor Daley was traded to the Blackhawks in the infamous July swap that brought Patrick Sharp and Stephen Johns to Dallas. Chicago then traded him to the Penguins in December, just in time for Daley to be a part of the 2016 Stanley Cup champion team. Still suited up in the Pittsburgh sweater, Daley seems to be doing well on the ice, although we can tell his heart is still in Dallas!
Jason Demers exited the organization just this summer when, as a free agent, he signed with the Florida Panthers.
From his Instagram posts, we can tell two things: one, that he's being welcomed well to the Panthers and two, that he doesn't seem to have intentions of cutting ties with his Stars buddies any time soon. Social media shoutouts to and offseason events with his old teammates seem to prove that he'll be staying on our radar, in some way or another, for some time.
Colton Sceviour, who departed from the Dallas Stars also during free agency, also made his way to the Florida Panthers on a two-year deal. We're hoping that he and Demers will be able to make a nice home away from home in Florida while also keeping in touch with all the fans who still care about their former Stars.
When Vernon Fiddler's free agency came around, he, too, was able to ink a deal further east. He'll be with the New Jersey Devils for at least a year, but was also sighted on the ice yesterday with his former teammates.
One of the first Dallas Stars we lost this summer was Alex Goligoski. The defenseman went to the Arizona Coyotes in exchange for a fifth round draft pick after the Stars couldn't reach a mutually agreeable deal with Goligoski.
Although the Dallas Stars have moved on and are counting their losses as avenues to keep molding the team into a champion one, it's great to see that the guys we've cheered on and bit our fingernails over for seasons and seasons are still on the radar and are doing well, preparing to head out to their new homes and teams.
So everyone, enjoy seeing our current and former Stars on the same ice in different jerseys while you still can. Once playtime is over and the season starts a renewed quest for the Stanley Cup, it's no holds barred for our Dallas Stars!
More from Blackout Dallas
This article originally appeared on