Dallas Stars Updates: Breaking Down Tyler Seguin's Injury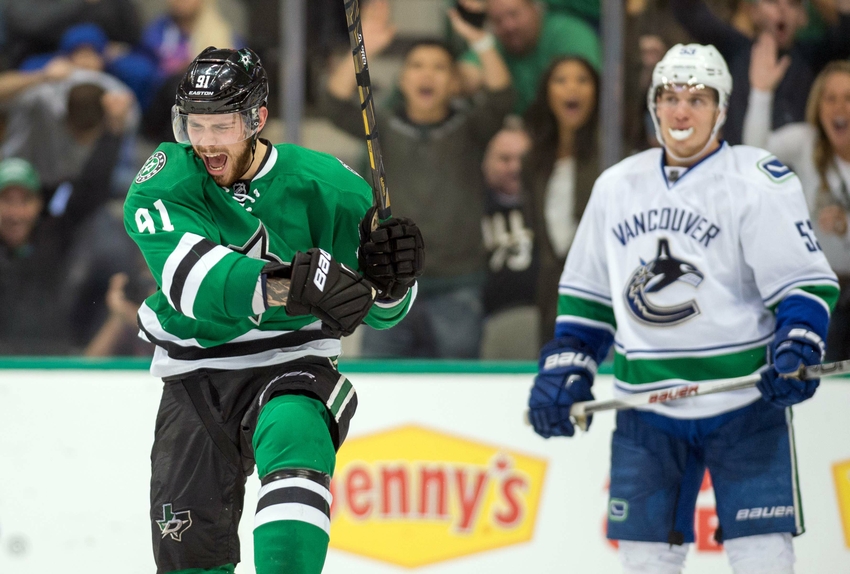 The Dallas Stars brought their Team Canada representative home early from the World Cup of Hockey. What exactly happened and how long will recovery take?
Tyler Seguin is out of the World Cup of Hockey. If you did not already know, surprise!
Last night, it was announced that Seguin would not compete for the remainder of the tournament due to some sort of injury. It was also said that he would be returning to Dallas in the near future to receive a full evaluation.
So what all happened, and what does it mean in regards to not only Seguin, but also with the Dallas Stars as a whole. Let's break it down into pieces like a good reporter would do. You obviously already know that the "who" is Tyler Seguin and the "why" cannot necessarily be explained.
But we can still take a look at everything else.
Dallas Stars' Upgraded Roster Puts Ruff In Spotlight
What:
Well, that's the problem. We don't know exactly what it is. After last night's reports, most assumed that it had to do with his leg. In a preliminary game against Team USA last Friday, Seguin lost his balance after stepping on a stick and crashed awkwardly into the boards.
He left the ice and headed for the locker room while nursing his leg, but was back on the ice a few shifts later.
This morning, Dallas Stars general manager Jim Nill reported that Seguin had a foot injury that required a week or so long recovery.
But then Team Canada head coach Mike Babcock mentioned in an interview that Seguin had not been very truthful about his ankle injury. Apparently Seguin had tried to play through the initial signs of the injury, but the pain never healed quite the way he was expecting.
Whether it is a foot or ankle injury, it's clear that Seguin cannot comfortably play on it.
Where:
It obviously happened at the World Cup of Hockey in Toronto. But Seguin is heading back to Dallas to have it examined and fully checked out by a professional.
When:
The injury, as stated above, more than likely happened on Friday evening against Team USA. But Seguin was back out on the ice after a short break in the locker room, and even tallied an assist in the second game of the doubleheader on Saturday afternoon.
So it is not exactly clear when the injury occurred, but there's a good chance it was when Seguin collided with the boards.
How Long:
It does not seem that this injury will be anywhere near as serious as Seguin's injuries have been with the Dallas Stars over the past two years. In an interview today, Nill suggested that Seguin would recover for the next 7-10 days before being ready to jump back in.
This prediction means that Seguin would likely be ready in time for training camp, where he could skate with captain Jamie Benn, Jason Spezza, Patrick Sharp, and other shining Stars who either could not participate or flat out missed the cut from the World Cup roster.
The last thing the Dallas Stars need in a critical time like this is for one of their top two players to go down with an injury. The Stars have the Stanley Cup on the brain this season, and that all starts with consistent production from the front lines.
Keep an eye out as more becomes available. We'll see what all we can find out. Until then, make sure to cheer on the other Dallas Stars in the World Cup and get ready for the preseason!
More from Blackout Dallas
This article originally appeared on