Dallas Stars Try To Dig In, But Let Nashville Get Away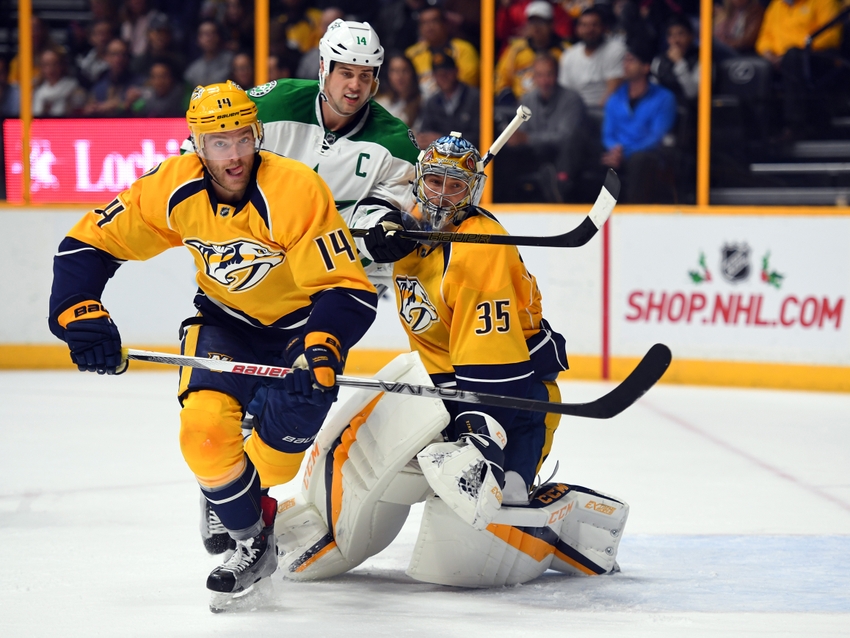 2

5
Frustrating, embarrassing, a little biased. Tonight's game had it all. Although the Dallas Stars started out with a lot of will power, it was slowly drained as they dealt with questionable officiating, shoddy defense, and wasted opportunities.
Game Recap
In the first period, the Stars allowed a goal from Filip Forsberg and P.K. Subban. Still, they excelled on  the penalty kill. They went through the second period, too, without scoring. Mike Fisher scored a wrap around goal that was disallowed on the ice, but was reviewed and deemed a worthy goal.
Dallas Stars Finally Crack Top Three In Central Division Standings
In the third, the Stars made the most of repeated penalty kills when Sharp scored a shorty, his first goal of the season. However, the Predators turned right around and answered with a goal from Johansen.  Insult was added to injury when the Stars gave the puck away still within their own zone, and created a 3 on none scenario that Lehtonen couldn't possibly pick up after.
After missing a good power play opportunity, Ritchie was determined to get one back and did to bring the score within 2. But when the Stars emptied their net in the final minutes, James Neal scored an empty netter to seal the deal at a 5-2 score in favor of the Preds.
Thoughts and Observations
Defensive downers
Several defensive factors simply did not click tonight. Turnovers were yet again the specialty of this game, and it's almost inevitable that Ruff will make some personnel swaps for the future.
Esa Lindell had a particularly rough game, with the three Predators to no defenders scoring ratio brought on by a strange stop and stare moment on his part. Whether he is simply not ready for the NHL or whether this game was a fluke, I'm not entirely sure.
To Kling or to let go
John Klingberg was back in this game, taking on all usual duties including participating on special teams. Although Klingberg himself is not the problem, it's hard not to notice the difference in play when he's scratched versus when he's not. With Stephen Johns out tonight, things weren't as smooth and flowing as they could have been. I still say to scratch Klinger two nights in a row to get a real feel for how the team does consistently in his absence.
Tonight was also a bad night to be sans Johns, as things with Nashville got pretty physical and calls simply failed to fall Dallas's way. Without the Stars' designated hit-man, players like Seguin, who hardly even gets his hands dirty, ended up getting aggressive and physical in an attempt to help keep the Preds in line.
To Kling or to let go 2.0
Another question- will it be Lehtonen or Niemi in next game? Some of the goal situations tonight were in no way under Lehtonen's control.
However, a few of them were and it begs the question as to how often the goaltending position needs to be shaken up in order to keep things- and results- fresh. Personally, I would expect to see Niemi next game for a clean slate. But then again, who knows what goes on up there in Lindy Ruff's brain?
After a game that was frustrating and even embarrassing in parts, let's hope that Ruff does take some time to evaluate what moving parts need to be oiled or replaced in time for the Canucks' visit to the AAC on Friday.
More from Blackout Dallas
This article originally appeared on