Dallas Stars Travel To Detroit To Clip Red Wings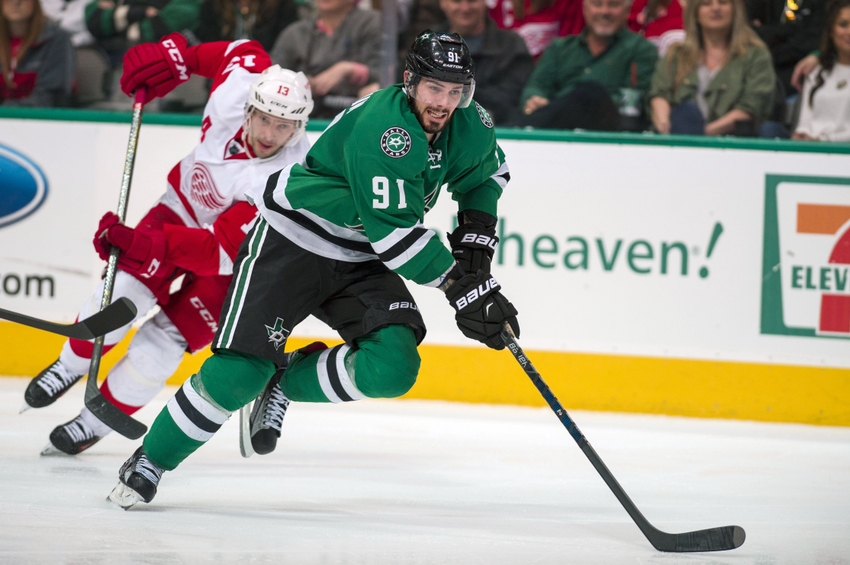 The Dallas Stars picked up a point in last night's overtime loss to the Blues, and now they're headed to Detroit to see if they can take one in regulation against the Red Wings.
The game will air tonight on Fox Sports Southwest (FSSW), or you can catch the broadcast on 1310 AM/ 96.7FM The Ticket. Puck drop is scheduled for 6:30 PM CT from Joe Louis Arena.
Records and Scores
The Dallas Stars are 9-8-6 on the season after their one point pickup in St. Louis last night. Although it wasn't a pretty game, it showed that the Stars are still capable of scrapping, which, contrary to how it sounds, is a vital part of Dallas's play. In their past ten games, they've been able to pull out eight points and a 5-2-3 record. This will be the second of a four game roadtrip for the Stars, and the second night of a back-to-back schedule.
The Detroit Red Wings' last game was a 2-1 overtime loss at home to Montreal on Saturday. They've gotten a chance to rest and will be looking to further their 10-10-2 record. In their past three games, they've gone 2-0-1, although their powerplay record for their most recent game was 0-3.
Storylines
They have history
In their two meetings last season, the Stars' only loss to the Red Wings was in overtime. While it may not be the case that Dallas sees an overtime game two nights in a row, it could be a possibility. With the Stars having faces quite a few overtimes thus far, with their most recent one last night, it could be good for them to keep experiencing extra time until they really nail down how to get back to strong three-on-three play.
Dallas Stars' Overtime Struggles Continue Piling Up In Loss To Blues
In the last three seasons, the Stars have had an even 2-2-2 record against the Red Wings. With this being their first game against an Atlantic Division opponent, this game will be a telling one in regards to measuring the Stars' improvement since prior seasons.
Getting power played
Something the Stars should take advantage of tonight is shorthanded opportunity. The Red Wings have gone 0-14 on the power play in their last five games, and have only converted with the extra man in one of their last nine games. Since the Stars can pull out shorthanded goals in surprising situations, tonight would be a great night for it.
The Red Wings are much better on their penalty kill, with a 12-13 record over their last five games. The Stars' power play hasn't been spectacular, but they should be able to utilize special teams to their advantage in a different way tonight by keeping an eye on shorthanded opportunities.
More line dancing
The Stars juggled things around again, and featured lines which separated Tyler Seguin and Jamie Benn. Although production was a grind in the early parts of their tilt against the Blues, the Stars put forth an explosive effort near the end of the game to tie it up with under a minute to go in regulation. One of those goals came from Jamie Benn, while the other two owed to Jamie Oleksiak.
It seems the Stars are still trying to figure out their best options and how to play with them. Jamie Benn has been his best this season on his own line separate from Seguin, while the defensive pairs have been much more conducive to defensive scoring, which has become a big staple for the Stars. We'll see how the lines work in the Stars' favor tonight.
Injury Report
The Dallas Stars still have a slew of players lost to IR, including Johnny Oduya (lower body), Jiri Hudler (illness), Mattias Janmark (knee), and Ales Hemsky (hip).
The Detroit Red Wings lost a few players to injury in their last game, including Brendan Smith (knee) and Tyler Bertuzzi (ankle), who were placed on injury reserve and join Andreas Athanasiou (lower body), Alexey Marchenko (upper body), and Jimmy Howard (groin).
Projected Lines
Dallas Stars
Jamie Benn – Radek Faksa – Brett Ritchie
Antoine Roussel – Tyler Seguin – Patrick Eaves
Lauri Korpikoski – Jason Spezza – Adam Cracknell
Devin Shore – Cody Eakin – Patrick Sharp
Detroit Red Wings
Tomas Tatar – Henrik Zetterberg – Anthony Mantha
Justin Abdelkader – Frans Nielsen – Luke Glendening
Gustav Nyquist – Dylan Larkin – Thomas Vanek
Drew Miller – Riley Sheahan – Tomas Jurco
Dan DeKeyser – Mike Green
Jonathan Ericsson – Ryan Sproul
Niklas Kronwall – Xavier Ouellet
Jared Coreau
Predictions
I think, or hope, that the Stars will flow right into this game with the energy and enthusiasm that allowed them to beat the buzzer and tie last night's game. They will have taken note of what needs fixing and will hopefully play tonight like a better version of their St. Louis loss. If that is the case, they'll score first early and stay ahead the whole game, with a final score of 3-1.
More from Blackout Dallas
This article originally appeared on