Dallas Stars Top 100 Players of All-Time: 60-51
Tom Dorsa/FanSided via Blackout Dallas

Fansided
In conjuction with the NHL's centennial celebration of its 100 greatest players of all-time, the team at Blackout Dallas turned around and assembled it's Top 100 Dallas Stars list.
To note, we apologize for the inconvenience in delaying the countdown for a week, but here goes nothing…
The Dallas Stars franchise has pumped out a good amount of talent over their 23-year existence, and today we're continuing the countdown of the best of the best.
Over the past few days, we have been counting down some of the best Dallas Stars players of all time. The list only includes players who have been with the team since the move to Dallas in 1993, which still leaves plenty to choose from.
This list was compiled as a result of the "NHL 100," the list that the NHL released on Friday showcasing the 100 best players of all time. It was released in conjunction with the NHL beginning their celebration of 100 years (1917-2017).
We began at 100 and have made our way to 70. For the results of the first 30, click here.
But let's go ahead and continue the countdown. Here are numbers 70-61 on the list of the greatest Dallas Stars of all-time.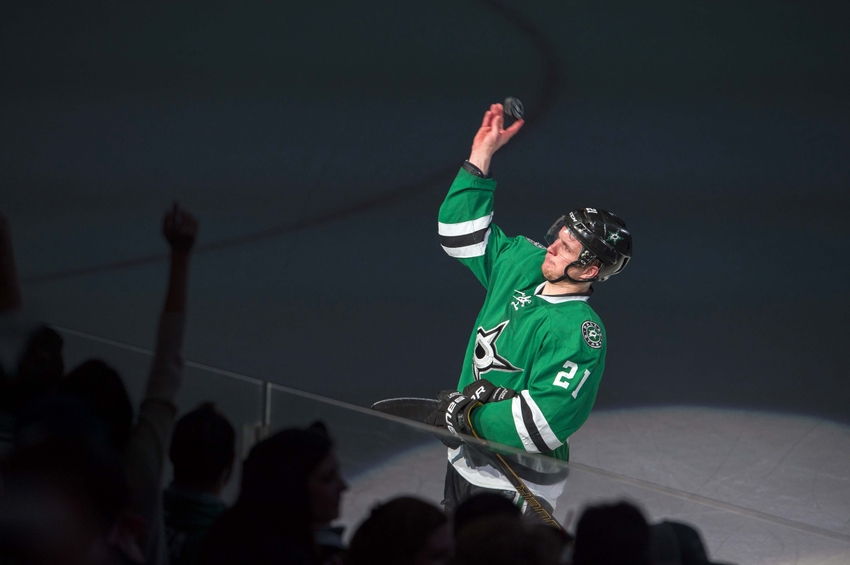 Apr 16, 2016; Dallas, TX, USA; Dallas Stars left wing Antoine Roussel (21) throws a puck to the crowd after being named the number three star in the win over the Minnesota Wild in game two of the first round of the 2016 Stanley Cup Playoffs at the American Airlines Center. The Stars defeat the Wild 2-1. Mandatory Credit: Jerome Miron-USA TODAY Sports
#60 – DEFENSEMAN, SHAWN CHAMBERS
Sterling Heights, Michigan native Shawn Chambers came to the Dallas reaching the end of his career, but his numbers suggested he still had a lot in him.
Known as a three-zone defenseman with a good amount of size (6'2", 210lbs), Chambers put up 35 of his 235 total NHL points as a Dallas Star, and holds a top-25 ranking on defenseman points, plus/minus, power play points, game-winning goals, and games played. Chambers retired as a Star shortly after winning the 1999 Stanley Cup.
#59 – FORWARD, PATRICK EAVES
You would think a former first-round draft pick would be an impact player from day one, but Patrick Campbell Eaves is an interesting case. The American-born yet dual citizen forward is in the midst of his best NHL season thus far, with 18 goals and 13 assists, but most impressively: 10 power-play tallies for the Dallas Stars. Eaves as a Star has put his body into harm's way and added a scoring punch in all situations, with 43 goals and 26 helpers in his 151 games in green.
Dallas Stars Look for Victory in Ottawa After Frustrating Losses
#58 – DEFENSEMAN, GRANT LEDYARD
Perhaps one of the franchise's most underrated defensemen ever, Grant Ledyard brought 20 goals and 97 assists to the Dallas Stars in one four-season span in the mid 90s (and also a short second-coming of eight games in 2000-01). Ledyard, a former Saskatoon Blade, retired from the NHL after over 1,000 career games, totaling a magnificent 366 points. His last taste of organized hockey was as assistant coach of Canisius College of the AHA.
#57 – FORWARD, ANTOINE ROUSSEL
A native of Roubaix, France, scrappy left-handed winger Antoine Roussel has specialized in agitating and irritating opponents as debatably the single-most effective and skilled played in the NHL in this role. It also helps when you're the highest-scoring French NHLer in history, with 117 points in 327 top-level contests. Roussel has one year left on his contract with the Stars and will potentially be saved from the expansion draft.
#56 – FORWARD, TOBY PETERSEN
Following his ninth-round selection to Pittsburgh in 1998, Toby Petersen meandered his way through the minor leagues until impressing many in a Dallas with his work ethic and versatility.
Petersen, under former Stars head coach Glen Gulutzan, was a lock-down penalty killer and occasionally saw power play time, which speaks to his dependability and constant growth, ending his career with 81 points. Petersen retired after propelling the AHL's Texas Stars to a Calder Cup championship in 2014, and is now an assistant coach with defending league-winners, the Cleveland Monsters.
Want your voice heard? Join the Blackout Dallas team!
#55 – FORWARD, NIKLAS HAGMAN
Although the Finnish forward was undersized, Niklas Hagman was an insanely talented puck-handler and possessed on a wicked wrist shot, which allowed him to reach a career-high 27 goals in 2008, helping the Stars gain a berth in the Western Conference Finals. Hagman tallied 85 of his 309 NHL points in green, aided by earning a spot on the Stars first-line for his three years in Dallas. Hagman now suits up for HPK Hammeenlinna of SM-liiga.
#54 – FORWARD, JUSSI JOKINEN
Drafted by the Stars in 2001 with the 192nd pick, Jussi Jokinen proved he belonged in the NHL after scoring a downright spectacular 55 points in his rookie season of 2005-06 (for instance, Jaromir Jagr scored 57 points in his rookie season in a higher-scoring era). Jokinen played two more seasons with the Stars – adding 76 points – before being traded to Tampa for Brad Richards. The Finnish winger now serves as an alternate captain for the Florida Panthers. Oct 20, 2015; Philadelphia, PA, USA; Dallas Stars goalie Antti Niemi (31) makes a save against the Philadelphia Flyers during the second period at Wells Fargo Center. Mandatory Credit: Eric Hartline-USA TODAY Sports
#53 – GOALTENDER, ANTTI NIEMI
Antti Niemi was once a simple, lonely Zamboni driver in homeland of Finland, hopping from paycheck to paycheck as an undrafted goaltender. With help from agents and friends, Niemi held a spot with Pelicans of SM-liiga, and eventually the Chicago Blackhawks, where he won the 2010 Stanley Cup.
Niemi was acquired from San Jose, his next team, for a 7th-round pick in 2015; Niemi then split crease-time with Kari Lehtonen, as both netminders won 25 games last season. As a Star, Antti is 35-21-11.
#52 – DEFENSEMAN, JASON DEMERS
As a native of Dorval, Quebec – a suburb of under 20,000 people about 11 miles out of Montreal – Jason Demers was a hockey player from birth. However, as a seventh-round selection to San Jose in 2008, the 6'1" righty faced his fair share of obstacles before coming to Dallas in a straight-up, late-2015 trade for Brenden Dillon.
In two seasons as a Star, Demers posted 12 goals and 33 assists as a valued offensive defenseman, but departed to Florida after a miserable playoff performance alongside Kris Russell. Demers is now in the midst of his first season as a Panther, in which he boasts a career-high nine goals.
More from Blackout Dallas
#51 – FORWARD, ERIC LINDROS
Eric Lindros as a Philadelphia Flyer was once considered to be the best player in the NHL, as the London, Ontario native tallied 40 or more goals four times in burnt orange on his way to being named to the NHL's 100 greatest players ever.
Lindros only played one season with Dallas as a heralded off-season signing, but due to injuries racked up just 26 of his 865 NHL points in green, playing only 49 games. Lindros was part of 2016's Hockey Hall of Fame inductees and made the NHL 100 list.
That's all for this most recent edition. Make sure to tune back in over the next few days as we continue unveiling!
This article originally appeared on