Dallas Stars Suffer From Bad Luck, Fall to Oilers 5-2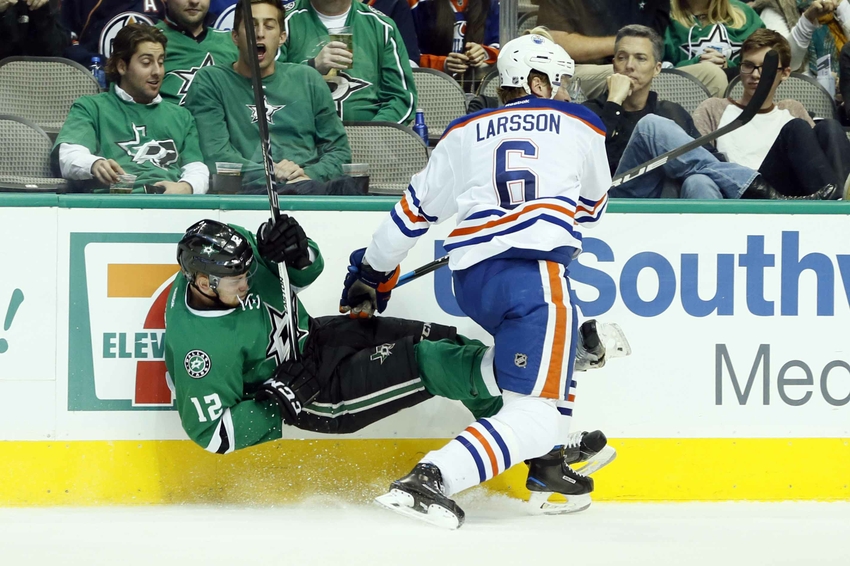 TheDallas Stars could not quite get it done tonight against the Oilers and received some bad luck to top it all off. Post game wrap-up can be found below.
The Dallas Stars had a difficult outing in their home game Saturday night. They fell to the Edmonton Oilers 5-2, despite a decent effort.
Recap
The first period saw the Oilers take a 3-0 lead on some lucky bounces, one of which was an own goal by Dallas defenseman John Klingberg.
The second period was better for Dallas, as Patrick Eaves and Jamie Benn tallied goals. However, Kari Lehtonen was pulled after giving up his fourth goal against of the night. The Oilers took a 4-2 advantage into the second intermission.
The third period saw the Oilers scored their fifth goal of the night, completing the hat trick for Connor McDavid. Edmonton would go on to win 5-2.
Thoughts and Observations
Bad Bounces Happen
Dallas was on the wrong end of puck luck tonight. It is hard to recover from an own goal, but to have another goal go in off of a defender and another one hit a defenseman before bouncing to McDavid is next level.
It was not that the Dallas Stars played poorly, but that they were unable to convert on their chances while the Oilers were. Had Edmonton scored a goal against themselves, it would have made the Stars' night easier, but that is not something to expect more often than not.
All in all this game was a miss for the Stars for a number of reasons. It was not Lehtonen's fault that he was put in a tough situation and pulled either. There is only so much a goaltender can do when there is a two-on-one goal against and two goals that bounce in directly off defenders.
Special Teams Conversion
One good thing from the game was the Dallas Stars' power play. The team was able to convert on back-to-back man advantages while an Oiler was in the box for hooking and unsportsmanlike conduct. Eaves was able to make a nice shot to beat Edmonton's Cam Talbot and break open the scoring for the Stars.
On the following man advantage Jamie Benn tipped in a point shot from Klingberg to get Dallas within two. Although the Stars could not complete the comeback, they put themselves in a pretty decent position heading into the third period.
It would have only taken one goal to really make it a hockey game again and they came close a number of times. As with most off nights, the Stars just could not get it done.
Next Game
The Stars will have tomorrow off before they host the Minnesota Wild on Monday at 7:30pm CT.
More from Blackout Dallas
This article originally appeared on