Dallas Stars Start Crucial Home Stand Off Against Devils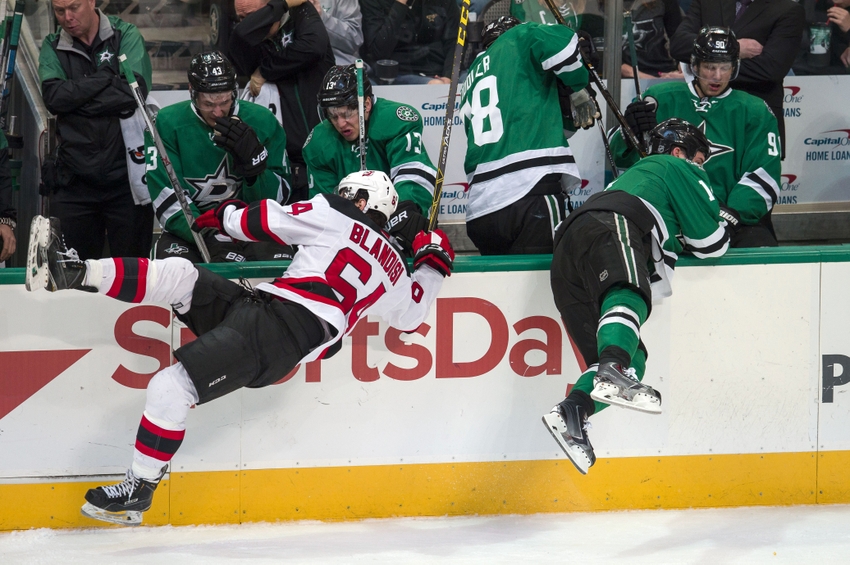 The Dallas Stars are back home for a few days and have a critical three-game set to deal with. They kick it off tonight against the New Jersey Devils.
Home sweet home. The Dallas Stars are back in the friendly confines of Big D for their next three games and each one is proving to be crucial in the Stars' hunt for consistency in the standings. They kick it off tonight against the New Jersey Devils.
The game will be broadcasted on Fox Sports Southwest (FSSW), and you can also hear it on 1310AM/96.7FM The Ticket. Puck drop is scheduled for 7:30 p.m. from the American Airlines Center in Dallas, Texas.
Records and Scores
The Dallas Stars enter tonight's game with a record of 6-6-4 with 16 points. They currently sit fifth place in the Central Division and hold the final wild card spot. A win tonight would put them in second place in the division. Their most recent contest comes as a 5-4 overtime loss in Vancouver. They are 2-1-2 in their last five games.
The New Jersey Devils currently boast a record of 8-3-3 with 19 points. They sit fourth place in the Metropolitan Division and hold the first wild card spot. Their most recent game ended in a 4-2 win against the Buffalo Sabres. They are 4-1-0 in their last five contests.
Dallas Stars Prepare To Host Emotional Hockey Fights Cancer Night
Storylines
The Fiddler is back on the roof
Vernon Fiddler is back in Big D tonight facing off against his former team for the first time since signing with the Devils on July 1, 2016.
The 36-year-old spent the five previous seasons of his career with the Dallas Stars, and they were arguably the five best of his career. Fiddler scored 43 goals and tallied 69 assists (112 points) in 366 total games. The center played the role of a bottom-six grinder and a first line penalty killer during his time with Dallas and became extremely talented at it. His speed, strength, and overall attitude in-game helped him acquire the "fan-favorite" title while in Dallas.
Tonight will be Fiddler's first time facing off against the Stars since 2011. It was rough seeing him go in July, but the fans will likely welcome him with open arms tonight. Fiddler has one assist and a -2 on-ice rating in 14 games with the Devils this year.
Give the puck to Roussel or Korpikoski
Antoine Roussel and Lauri Korpikoski could very well be considered the two most effective Stars' forwards over the past week.
Since the most recent line juggling by head coach Lindy Ruff, Roussel has been skating primarily on the second line with Tyler Seguin and Patrick Eaves, as well as on the power play. Korpikoski was promoted to the top line with Jamie Benn and Radek Faksa.
Roussel currently boasts a six-game point streak (3G-5A-8P) and a three-game goal streak. In two of those games he has tallied multiple points. Meanwhile, Korpikoski has a three-game goal streak that he is riding.
Both of these unusual heroes are working wonders for the Stars and providing a source of offense that they were desperately needing. If the Dallas Stars are smart, they'll continue to find these two on the ice and get them the puck. After all, the Stars need all the scoring they can get.
Special teams picking up
The Dallas Stars entered the 2016-17 season with a lot of different questions following them. One of the less significant ones that quickly turned into a major problem was the Stars' special teams units. Dallas struggled heavily through the first 10 games of the season on both the power play and penalty kill, lacking both consistency and energy.
But over these last five games, the Stars have really picked it up. During their five-game road trip that began last Sunday, Dallas went 5/18 on the power play (27.8 percent) and 13/17 on the penalty kill (76.5 percent). While the power play numbers are terrific, the PK looks shabby at first glance. But if you factor out the 8-2 loss to the Winnipeg Jets, their PK percentage jumps up to 91.7 percent.
If the special teams can continue riding their red-hot efforts, they should have no trouble dominating the man-advantage and shorthanded scenarios tonight against NJ.
Goalie hot potato
The Dallas Stars continue to bounce back and forth between goaltenders Kari Lehtonen and Antti Niemi. They pick a goalie, ride whatever sort of hot streak he has to offer, and then replace him with his counterpart. Whatever the case may be, one of the two goaltenders needs to figure out how to build a long-term success story. Going 69-73 over a two-game winning streak and following it up with a 25-30 performance isn't going to cut it.
One of these two goalies needs to step up or else the Stars will never truly reach the caliber the rest of the team is striving for. That's the sad but honest truth. Which goalie wants it?
Injury report
LW Mattias Janmark (knee), C Cody Eakin (knee), RW Ales Hemsky (hip), and LW Jiri Hudler (illness) are all currently on the IR for the Dallas Stars. C Jason Spezza (lower body) and RW Patrick Sharp (concussion) are considered day-to-day.
The New Jersey Devils will be minus the services of LW Michael Cammalleri (personal reasons) and D Jon Merrill (finger).
Projected lines
Dallas Stars
Jamie Benn – Radek Faksa – Lauri Korpikoski
Antoine Roussel – Tyler Seguin – Patrick Eaves
Curtis McKenzie – Devin Shore – Brett Ritchie
Gemel Smith – Justin Dowling – Adam Cracknell
Antti Niemi
Kari Lehtonen
New Jersey Devils
Taylor Hall – Travis Zajac – P.A. Parenteau
Beau Bennett – Adam Henrique – Kyle Palmieri
Jacob Josefson – Pavel Zacha – Devante Smith-Pelly
Sergey Kalinin – Vernon Fiddler – Nick Lappin
Prediction
The Dallas Stars will resort back to their winning ways tonight. Niemi will turn in a solid night and the offense will go off in a 4-1 victory.
More from Blackout Dallas
This article originally appeared on