Dallas Stars Seek To Stamp Out Flames At Home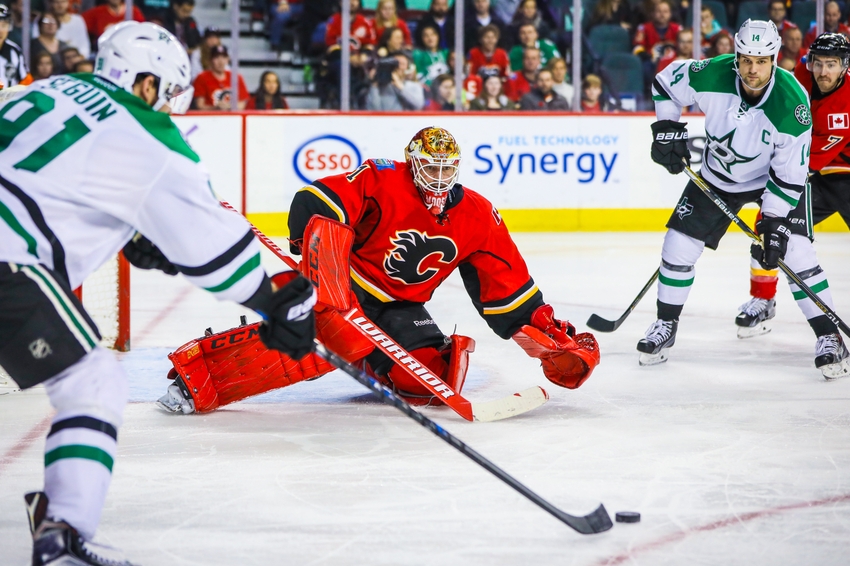 The Dallas Stars will return home to take on the Flames after closing out a four game roadtrip with a 3-0 shutout of the Avalanche.
After dropping five in a row, the Stars snapped their losing streak on their last road game, playing a solid sixty minutes to keep Colorado out of the net altogether. Now, returning home to play ten of their next thirteen, the Stars will hope to keep the momentum rolling.
Puck drop is scheduled for 7:30 from American Airlines Center. Catch all the action with Fox Sports Southwest (FSSW), or 1310 AM/ 96.7FM The Ticket.
Records and Scores
The Dallas Stars are 10-10-6 on their season and now sit below the Jets, who hold the final wildcard spot in the division, in the standings. The Stars snapped a five game losing streak on Sunday, shutting out the Avalanche in one of their more consistent, sixty-minute efforts this season.
The Calgary Flames have a 13-13-2 record and are also coming off a win. While the Stars wrapped up a roadtrip, the Flames wrapped up a homestand with a solid 8-3 thrashing of the Anaheim Ducks. This wrapped up the perfect 3-0-0 record for their homestand.
Dallas Stars Prepare To Host Emotional Hockey Fights Cancer Night
Storylines
A clash of titans
Okay, so maybe not really. But both the Dallas Stars and the Calgary Flames are coming off of encouraging victories. For the Stars, it was the shutout of the Avalanche on their last game of their roadtrip. For the Flames, it was an explosive 8-3 home win over Anaheim, in which the Flames scored 6 in the middle frame.  This measures the most goals scored at home for the Flames since March of 2000.
Needless to say, this will be an important victory for either teams in terms of keeping momentum and morale high. Extending a win streak here is the natural and desired continuation of both team's prior wins, so both will be working hard to keep their opponent out of the win column tonight.
Special teams on fire
In addition to a blow-out victory in their most recent game, the Flames present a few other obstacles the Stars will have to surmount on their quest for victory. They went 5-1-1 in their last seven games, and stayed in the win column for the entire duration of their three game homestand.
Against Anaheim in the last game of that homestand, the Flames were 2-3 on their power play, and also scored a shorthanded goal. The Stars have been lopsided when it comes to special teams; you never quite know what you're going to get. So Dallas will need to cement a consistent effort on the power play and penalty kill tonight.
Who to watch
The Flames' Johnny Gaudreau came back last night from sitting out for a ten game stretch due to a broken finger. He had a pretty decent comeback, picking up two points and scoring during his first shift on his first shot. For such a high-scoring affair, there were multiple other Flames on the scoresheet, but you'll want to keep your eye on Gaudreau to see if he follows up his prior performance.
The Stars are lead in goals currently by Patrick Eaves, who seems to find slots where there are none. Tyler Seguin is hot right now, too, and will be looking to extend his four game win streak after notching two against Colorado.
Injury Report
The Dallas Stars will work to keep things rolling without Patrick Sharp (concussion-like symptoms), Johnny Oduya (lower body), Jiri Hudler (illness), Mattias Janmark (knee), and Ales Hemsky (groin), who are all on injured reserve.
The Calgary Flames lost Micheal Ferland (hand) to an injury last game, and he is questionable for tonight. Lance Bouma (shoulder) and Ladislav Smid (neck) are on injured reserve.
Projected Lines
Dallas Stars
Jamie Benn – Tyler Seguin – Brett Ritchie
Antoine Roussel – Radek Faksa – Jason Spezza
Lauri Korpikoski – Cody Eakin – Patrick Eaves
Curtis McKenzie – Devin Shore – Adam Cracknell
Calgary Flames
Matthew Tkachuk – Mikael Backlund – Michael Frolik
Johnny Gaudreau – Sam Bennett – Alex Chiasson
Kris Versteeg – Sean Monahan – Troy Brouwer
Micheal Ferland – Matt Stajan – Garnet Hathaway
Mark Giordano – Dougie Hamilton
Jyrki Jokipakka – Deryk Engelland
Predictions
This will be a hard-fought game for the Stars, as the Flames will hate to drop one right after such a high scoring spectacle. However, Lehtonen will be up for the challenge and the Stars will come out on top 4-1.
More from Blackout Dallas
This article originally appeared on