Dallas Stars Search for Revenge as They Host St. Louis Blues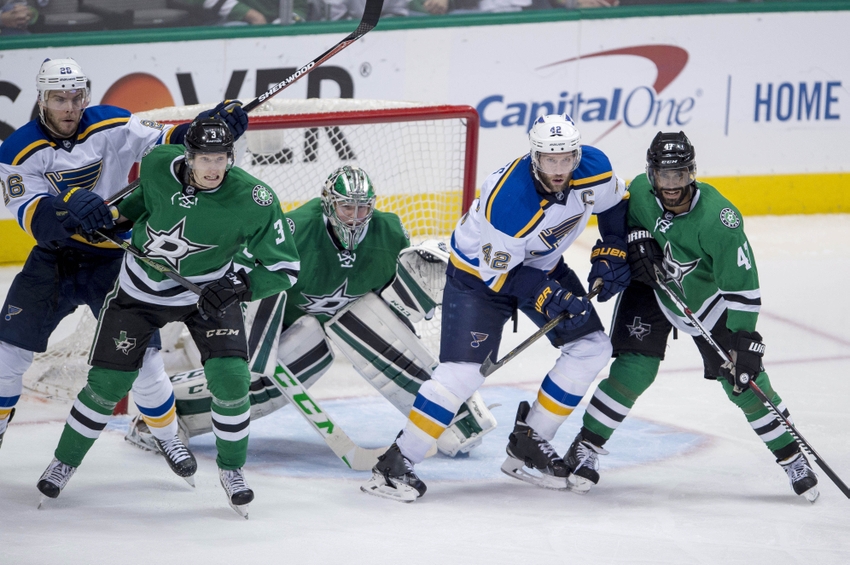 It's reunion time tonight, only this one isn't promising to be a happy one. The Dallas Stars will meet up with the St. Louis Blues for their first regular season matchup of the year. It might get ugly.
The Dallas Stars will return to the American Airlines Center tonight to take on the St. Louis Blues. Puck drop is set for 7:30PM CT.
Records and Scores
Dallas struggled during the month of November, going (3-4-2) in their opening nine games. They most recently fell to the Columbus Blue Jackets in overtime, 3-2, on Tuesday night. Their struggles will motivate a Dallas Stars team that is confused about their identity in tonight's match-up.
The Blues boast a (5-3-2) record in their opening ten games of the season. They lost to the New York Rangers, 5-0, on Tuesday night and will hope for better results against the Stars tonight.
Storylines
Identity Crisis Continues
Even though head coach Lindy Ruff spoke with the Stars about how they aren't the same team they were last season with all of their injuries, Dallas couldn't get the two points out of the game against the Blue Jackets. Their 2-1 lead late in the game wasn't enough to lift them to a regulation victory and Dallas' inability to score caused them to give a point to Columbus.
It was, however, good to see Jason Spezza and Tyler Seguin back on the score sheet. Dallas will rely on those guys, the big name forwards, to really boost them out of this slump and their contributions two nights ago are a step in the right direction.
Center Cody Eakin is supposed to be in the line-up in the next few weeks and his return will hopefully be another step in the right direction. Ultimately, Dallas' focus on their injured players is a testament to how close this club really is, but it hinders their ability to be progressive. The Stars need to take a look at who is in their line-up each night and be more concerned about them than who isn't.
Central Division Rematch
The Stars were the Central Division Champions last season and they won the Western Conference in the regular season. Those accomplishments put a lot of pressure on a young Dallas team that was largely getting their first taste of the NHL postseason. Unfortunately, they didn't achieve all that they set out for.
The St. Louis Blues eliminated the Stars in Game 7 at the American Airlines Center and crushed their dreams of continuing to compete for the Stanley Cup.
While that was back in May, the desire for revenge is still very much present. The Blues are a good hockey team with a strong hold on the system they want to play. They know their identity and are able to play to their strengths against most teams, but the Stars will have to find a way to breakdown their defensive-minded game if the hope to win tonight.
Injuries
The Stars will be without Mattias Janmark (knee), Cody Eakin (knee), Ales Hemsky (hip) and Patrick Sharp (concussion-like symptoms) in tonight's game.
St. Louis currently doesn't have any players missing from their line-up due to injury.
Line Combinations
Dallas Stars
Jamie Benn – Tyler Seguin – Patrick Eaves
Antoine Roussel – Radek Faksa – Jason Spezza
Lauri Korpikoski – Devin Shore – Jiri Hudler
Adam Cracknell – Gemel Smith – Brett Ritchie
St. Louis Blues
David Perron – Paul Stastny – Alex Steen
Jaden Schwartz – Jori Lehtera – Vladimir Tarasenko
Robby Fabbri – Patrik Berglund – Nail Yakupov
Dmitrij Jaskin – Kyle Brodziak – Ryan Reaves
Jay Bouwmeester – Alex Pietrangelo
Carl Gunnarsson – Kevin Shattenkirk
Joel Edmundson – Colton Parayko
Predictions
Dallas will find a way to penetrate the Blues' defense and come out victorious in a 3-1 win.
More from Blackout Dallas
This article originally appeared on