Dallas Stars' Overtime Struggles Continue Piling Up In Loss To Blues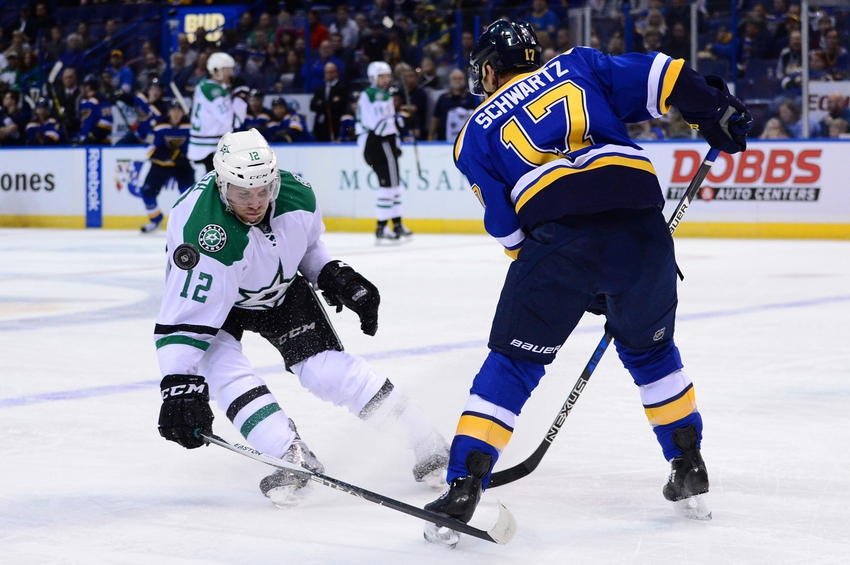 VS.
| | | | | | |
| --- | --- | --- | --- | --- | --- |
| | 1 | 2 | 3 | 4 | T |
| Stars | 0 | 1 | 2 | 0 | 3 |
| Blues | 1 | 1 | 1 | 1 | 4 |
The Dallas Stars fell to the St. Louis Blues in overtime 4-3 tonight. They did, however, overcome a number of deficits to earn a point from the match-up.
Recap
The first period saw the Blues open the scoring with a goal from Robby Fabbri at 13:36 of the frame. St. Louis took their 1-0 lead into the first intermission.
The second period started with an early Blues goal at 4:17 by Alex Pietrangelo to put them up 2-0 over Dallas. The Stars' Jamie Oleksiak, however, scored a highly skilled goal with fewer than four minutes remaining in the frame and Dallas headed into the second intermission down 2-1.
Jamie Benn scored 1:47 into the third period to tie the game, but the Blues' David Perron scored with just under seven minutes remaining to take a 3-2 lead. With Antti Niemi on the bench and an extra attacker in the Blues' zone, Oleksiak scored his second of the game and tied it 3-3 at 19:10. The two teams headed to overtime after being tied at the conclusion of regulation.
St. Louis scored in the overtime period to win the game 4-3.
Thoughts and Observations
Big Game for the Big Rig
For a man that stands over six and a half feet tall, Jamie Oleksiak is the tallest player to ever suit up for the Dallas Stars. Tonight he was also the most successful player offensively too.
No. 5 tallied two goals for the Stars for the first time in his NHL career and made it possible for Dallas to earn a point tonight. That is not something that would have been expected of the defenseman years ago as he struggled with his acclimation to the league, but now he seems to have figured it out.
This kind of game is exactly what Dallas needed for a young player like Oleksiak to have. Although they lost in overtime, No. 5 made great plays that no doubt boosted his confidence moving forward. He has proven to himself and his teammates that he can be an offensive contributor, which is something that will certainly help the man known as the "Big Rig" moving forward.
No Quit
Dallas just did not give up tonight. They fell behind by two goals and then gave up another after tying it in the third period. However, they did not allow the Blues' goal in the third period that gave them a 3-2 lead to shatter their hope or determination. The Stars managed to keep throwing pucks at the net and it paid off.
Earning a point in the league is always something to celebrate and even though they would have liked to come up with two, it is an accomplishment to come back from a number of deficits against a team like St. Louis.
Overtime Woes Continue
Dallas is still sitting with only one lone victory past regulation, which is concerning. For whatever reason they have trouble coming out on top when three-on-three overtime rolls around and it is very unfortunate considering how many points they have already lost this season.
Whether it is a mental factor that makes overtime difficult for the Stars or simply their approach, something will need to change moving forward. Tonight they take the point and move forward because they have three more games to play before Saturday, including one tomorrow. There is not time to fret on this one, but only to focus on continuing to get points.
Next Game
The Stars will head to Detroit to take on the Red Wings tomorrow night. Puck drop is set for 6:30PM CT.
More from Blackout Dallas
This article originally appeared on