Dallas Stars Options To Fill In Open Spots At Center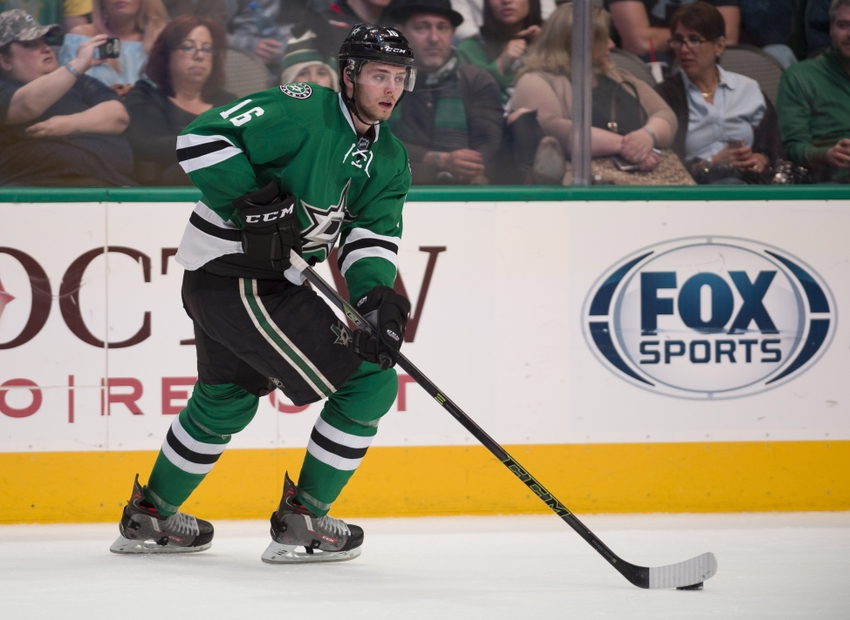 The Dallas Stars are suffering in the center category due to extensive injury. Do they have qualified and healthy enough players to pick up the slack?
Tyler Seguin, Radek Faksa, and Cody Eakin. Each of these three NHL-caliber centers play an influential role on the Dallas Stars offense. Each one of these players have also found their way onto the Stars' injury list over the past few weeks.
On September 9th, Seguin injured his heel in a Team Canada preliminary game against the United States at the World Cup of Hockey. A hairline fracture was detected upon further examination. He is on a week-to-week basis.
Radek Faksa was injured in on September 17 in Team Czech Republic's first game of the World Cup of Hockey. He was involved in a collision with Team Canada's Ryan Getzlaf and was sidelined with concussion-like symptoms. He is back to practicing now, but was still out for a week and training camp.
Finally, Cody Eakin was injured on the first day of training camp in an accidental collision. He is projected to be out for six weeks.
Dallas Stars Updates: Breaking Down Tyler Seguin's Injury
These injuries leave the Dallas Stars in a hole. What are they expected to do? What can they do? How can they fill the voids that are now open?
Let's first take a look at where there will be holes once the preseason ends and then we will examine which players could find their way into the dot just in time for opening night.
First off, Cody Eakin will definitely miss out on opening night. His lower body injury requires at least six weeks recovery time. That would put Eakin back into the lineup by early November.
Seguin and Faksa's spots are tricky to predict. It's a pretty safe bet that Faksa will be ready for the October 13th home opener against the Anaheim Ducks. He was skating on Monday afternoon in a red no-contact jersey at practice, leaving no doubt that he is nearing a return.
Seguin, on the other hand, is a complete toss-up. The 24-year-old center has a consistent and aggravating past with injuries since joining the Dallas Stars in July 2013. These injuries have sidelined Seguin during critical parts of different seasons and typically keep him out longer than the original diagnosis projects.
At the current moment, Seguin has no set timetable to return. He will be evaluated soon and hopefully given a new prognosis. So there is no point in trying to guess a return date because of how varied the results could actually be.
But how will the Stars replace these centers? Do they have the necessary substitutes to fill in and perform the job at hand?
With Eakin and possibly Seguin out, Dallas will need to fill one or two holes.
The most likely answer to come to mind is probably Devin Shore. But Shore was also injured during training camp and is expected to miss 'a couple of weeks.'
Another great suggestion would be Jason Dickinson. The 21-year-old 2013 first round draft pick has only played one NHL game in his career (April 7, 2016 vs. Colorado), but he scored a goal in it. Dickinson tore it up in the AHL last season and earned a roster spot due to injury last year. His energy and offensive skill could compliment the Stars' firepower offense nicely.
The only problem is that Dickinson is recovering from offseason hip surgery and may take a little time to readjust to the speed of competition. He is still a viable option though.
Perhaps the best option for the Dallas Stars at the moment is Mattias Janmark. The expendable forward is listed as a center in his profile but can play just about any role on offense. He proved that in his rookie season with the Stars last year.
Janmark is a small, mobile forward that can jet up the ice with a burst of speed and score with a devious shot. In 73 games last season, he scored 15 goals and tallied 14 assists for 29 total points. His face-off percentage was not the greatest, but the Stars rarely had him at center throughout the year anyways.
Janmark already has one assist in the preseason after winning a race for the puck and dishing it off to Patrick Eaves for the goal. Overall, he knows how to be crafty with the puck and how to move it around.
If Dallas needs a center and cannot find one in their system that is prepared for the NHL, then Janmark definitely needs to be the way to go. He can help run an offense and balance out the strong core of offense in front of him.
Opening night is only 15 nights away. The Dallas Stars still have some time to recover and plan, but they will need to make some decisions in the near future about the middle of their lineup. Mattias Janmark might have to become the saving grace the Stars need. After seeing his rookie campaign, he shouldn't have a problem with filling the role.
More from Blackout Dallas
This article originally appeared on