Dallas Stars Needed To Be Humbled By Brutal Loss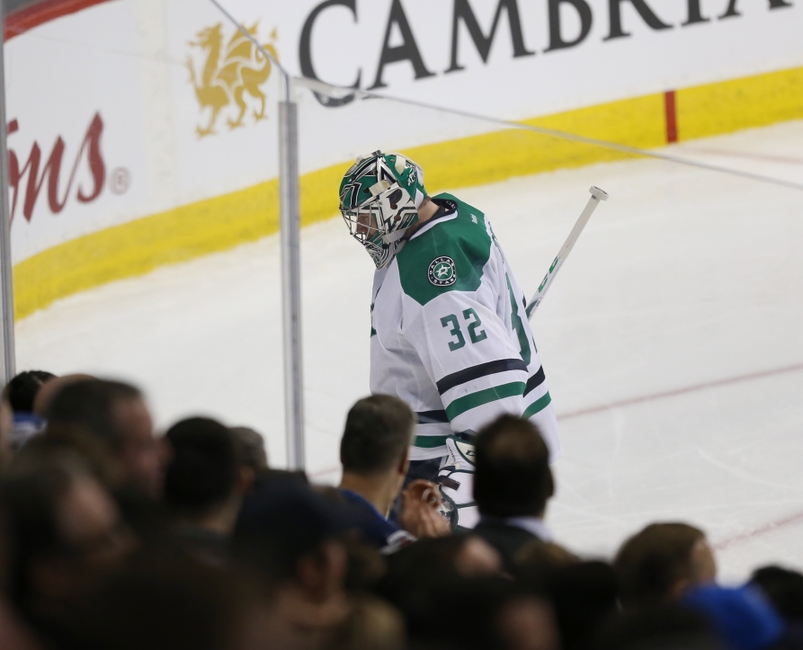 The loss that the Dallas Stars suffered on Tuesday night was one that will not be soon forgotten. But however horrific the loss truly was, it needed to happen to Dallas sooner or later.
On March 16, 2013, the Dallas Stars welcomed the Chicago Blackhawks to Big D for a showdown on St. Patrick's Day.
Considering it was the 2013 lockout season filled with bland, old jerseys and Joe Nieuwendyk as general manager, those Stars were very different than the ones we've seen since Jim Nill took over. That fact stood out in the game on March 16th.
After three goals from the Hawks in the first period, it was clear that the Stars were in for a long Saturday evening. Three more goals were tallied for Chicago in the second period and two final rounded out the third. Only former Star Trevor Daley was able to crack Corey Crawford on the power play in the third to avoid a shutout.
But even with that measly goal, the Dallas Stars lost to their divisional rival by a final score of 8-1.
8-1. That's absurd. It was uncanny, it was unexpected, and it was downright embarrassing. Chances are if you have a friend that is a Blackhawks fan (what are the odds?), they have probably yet to allow you to forget about it.
Dallas Stars Prepare To Host Emotional Hockey Fights Cancer Night
On the bright side, it was just a typical regular season game. It carried just as much weight as the other 48 did in that shortened season and the final score did not mean anything in terms of the standings or playoff outlook. The Stars did not end up qualifying for the Stanley Cup Playoffs that year but the gruesome loss to Chicago was not the backbreaker.
Those kinds of losses suck. The game is painful to watch, the score is painful to follow, and the comments that are directed your way following the game are enough to drive you mad.
The worst part is that these losses do not run on a once-in-a-lifetime basis. They can happen on a somewhat regular basis, leaving NHL fans consistently in wait for one of these painful outcomes.
The Dallas Stars added to their collection of noteworthy losses last night in Winnipeg. The final score of 8-2 can probably speak for itself.
The Jets took a hammer to an already fragile and shaky Stars club and busted them into a million pieces from the opening puck drop on Tuesday night. Dallas could never seem to get any consistent play going and had to sit back and take each beating as it came along. Maybe it helps to form a stronger outer shell, or maybe it's all for nothing besides more embarrassment. The worst part is, we cannot look away or remove it entirely from our minds.
But on the bright side (if there actually is one), the Dallas Stars needed to go through one of those losses. They needed to be publicly humiliated and dragged through the streets with the dunce cap on their head for all to see and laugh at. It's only going to help them out in the long run.
See, this loss was a long time coming for the Stars. They needed a loss like this, especially in a game they performed relatively well in. Their offense was put on another gritty performance. They took 30 shots but only snagged two goals. Their special teams were only half-effective. Both their power play and penalty kill went 2/5.
Their defense was absolutely stagnant, as was the goaltending of both Kari Lehtonen and Antti Niemi. The Stars outshot Winnipeg 15-4 in the first period but trailed 2-1 after. That's a .500 save percentage for Lehtonen. The defense bit hard on multiple occasions during the rush and gave up too many odd-man rushes, and the Jets made them pay for it.
The Stars could not bandage their wounds over the final two periods. Sadly, Winnipeg was more than ready and willing to tear off the scab even more. The Stars' defense continued to buckle, the goaltending could not be salvaged, and the offense barely found the back of the net. In other words, 8-2 it is.
It needed to happen. It really sucks, but it needed to happen.
Sure the injuries hurt and sure the Stars might be stronger once Patrick Sharp, Jason Spezza, Cody Eakin, and some others return. The keyword is MIGHT. All of the injuries are on offense and it seems as though defense is the issue at hand. Will Dallas really resort once again to trying to outscore their problems?
This loss has hopefully formed a hard, outer shell around the Stars. It's given them something to build off of. They've been drug to a new level of low by a supposedly inferior team. They saw all of their flaws painfully laid out in front of them. It's unlike the Stars in the recent past to only score two goals and give up a touchdown and two-point conversion. Maybe this is a wake-up call.
The question is whether or not they will be able to use it as motivation going forward. Can they figure things out by Thursday night in Calgary? That's a question we'll have to wait for an answer to. but this game is a severe wake-up call.
So let's just say we forget that this ever happened and move on?
More from Blackout Dallas
This article originally appeared on