Dallas Stars Need To Top Nashville To Retain Standing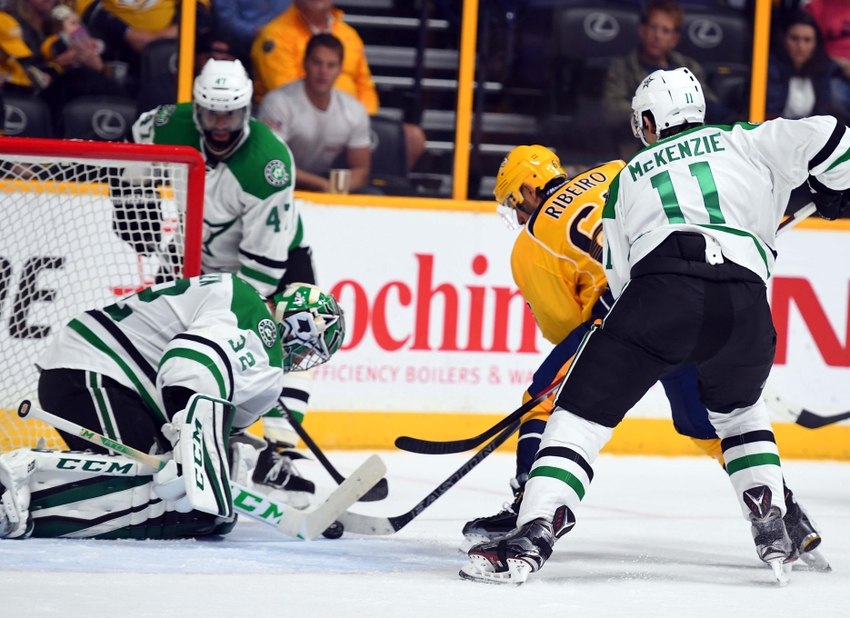 The Dallas Stars have inched into third place in the Central Division, and a win tonight will be crucial for them to maintain that standing.
After a few nasty skids, the Stars pulled out a win against the Wild, in overtime no less, to start them back on the right track.
Make sure to catch tonight's game and every action-packed moment on Fox Sports Southwest (FSSW), or on 1310 AM/ 96.7FM The Ticket. And from the moment the puck drops at 7 PM CT at Bridgestone Arena, we'll be keeping you up to date, as always, with all things Stars.
Records and Scores
Despite a slow and sometimes agonizing start to the season, the Stars advanced to third place in the Central Division after a 3-2 overtime win against Minnesota on Monday night. This puts them at a 8-7-5 record. They'll be looking to extend their win streak to two games tonight, against Nashville. The Stars have a 3-4-3 record the road this season.
The Nashville Predators are 8-7-3 on their season after a 3-1 home win against the Lightning. They sit at 50 GF for the season, just three behind the Stars. At home. they are 6-1-1. However, they will also be wanting to add to a one game win streak.
Dallas Stars Finally Crack Top Three In Central Division Standings
Storyline
A tale of two points leaders
For the Dallas Stars, Tyler Seguin leads in points with 22. In the way of goals, he has 7 for now, with that number slated to grow. This season, Seguin seems to have taken a playmaker approach for the time being. It's been his passes and decisions on many occasions that have put the Stars in the zone in the right place at the right time.
The Nashville Predators are led in points by Filip Forsberg, who has historically been a high scoring, high points player for the Preds. Although he has a tied team-high of 13 points, only one of these points is attributed to a goal. Perhaps he has also taken a route similar to Seguin's, although there is also speculation that he is feeling the pressure of his new contract and is trying to hard to live up. Either way, we'll be watching to see how these two perform under the pressure of tonight's game.
Special teams
The Dallas Stars were 0-2 on the power play on Monday, which is not that big of a surprise for this season, but this is something they need to improve upon as the season progresses. Something that has been impressive, however, is the Stars' penalty kill. It has been very consistently efficient.
It will need to stay that way tonight if the Stars want the leg up on the Preds. Although there is not an intense rivalry with Nashville, it seems that their match ups with the Stars always end up pretty intense, so the Stars should prepare for special teams situations in order to take full advantage.
To scratch or not to scratch
John Klingberg was a scratch for the Stars last game, and it seemed to do the trick. Not to say Klingberg was the only thing holding the Stars back from the win, but I don't think I'm alone in saying it had been a long time coming. After a lot of mishandling of the puck and a lot of resulting pressure, it seems sitting Klingberg out may have helped the Stars get back on track.
That being said, will Lindy Ruff put Klinger back in, or decide not to fix something before it's broken? I'd like to see one more game sans Klinger to decipher whether or not the success was a placebo effect. We'll see what Ruff's decision is tonight.
Injury Report
All on injured reserve for the Dallas Stars are Jiri Hudler (illness), Johnny Oduya (lower body), Mattias Janmark (knee), and Ales Hemsky (hip).
The Nashville Predators' Miikka Salomaki (upper body) is also on injured reserve.
Projected Lines
Dallas Stars
Jamie Benn – Cody Eakin – Tyler Seguin
Patrick Sharp – Jason Spezza – Patrick Eaves
Antoine Roussel – Radek Faksa – Brett Ritchie
Lauri Korpikoski – Devin Shore – Adam Cracknell
Nashville Predators
Viktor Arvidsson – Ryan Johansen – James Neal
Filip Forsberg – Mike Ribeiro – Craig Smith
Colin Wilson – Mike Fisher – Pontus Aberg
Colton Sissons – Calle Jarnkrok – Austin Watson
Predictions
Depending on personnel decisions, there's no reason the Stars shouldn't be able to pull out a win on this one. With home advantage, their overtime mojo back, and their teamwork getting back to a good place, Dallas should take this one 3-2.
More from Blackout Dallas
This article originally appeared on