Dallas Stars Need To Quickly Find New Level Of Effort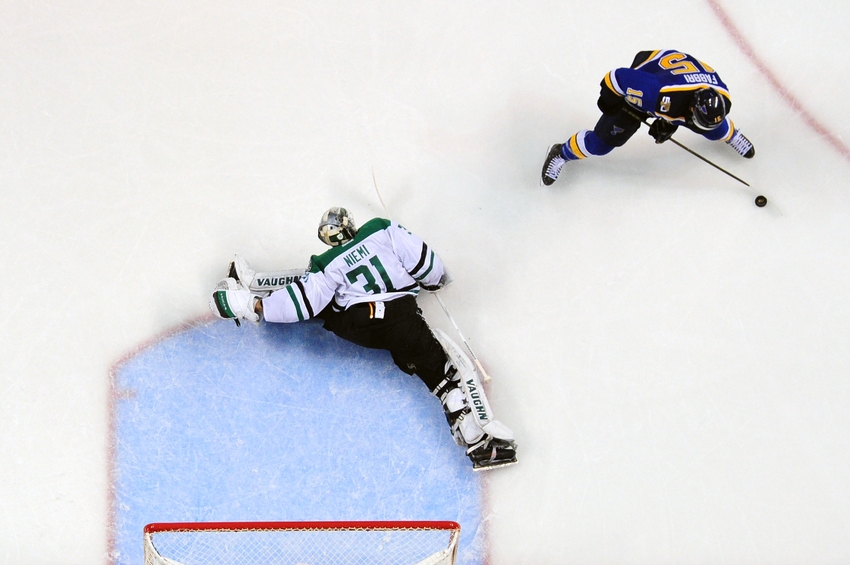 The "giving season" is in full swing, but the Dallas Stars seem to be having a problem in giving a full effort on a nightly basis. If they don't get into the spirit, they could quickly find themselves on the outside with no hopes of getting in.
A picture is worth a thousand words. That's how the saying goes and can be applied to any photograph.
As you were getting set to click on this article, you probably saw the main picture that I used. Or maybe it's still at the top of the article to view. In the shot, Antti Niemi is doing the full splits, extending his right leg as far as it will go to try and cover the right side of the net.
Opposite him is St. Louis Blues forward Robby Fabbri with the puck. Fabbri is quickly closing in on Niemi and is preparing to take a shot on the right side.
At this point, any sensible person with a moderate amount of hockey knowledge that has not seen the picture would ask, "Which Dallas Stars defender is fending Fabbri away from Niemi?"
Well, there isn't a defensive pairing in the shot. To be completely honest, there isn't even one Stars defender in the frame.
"Oh, so it was a breakaway?" This one happened to be, though two Stars d-men were trailing behind.
But let's take a look at Exhibit B really quick.
Ah yes, here we are. In this picture you can clearly see Niemi facing a shot from the opposite side of the net. While sliding across the crease, he found a way to stop Vladimir Tarasenko, who had a wide open bid on the net. Where are the Stars defenders?
"It must have been another breakaway, no biggie." Wrong answer. This picture was actually taken a good eight seconds after the Blues entered the zone. All five Stars were present in the zone as well, meaning that this chance came at even strength.
These are just two of the many dazzling chances that the Blues were offered last night. The superstar play of Niemi is the only reason that St. Louis didn't walk away with seven or eight goals.
But somehow the Stars weaseled a point out of the game. They were scrappy, that's for sure. Dallas found a way to capitalize on even the smallest of chances and managed to score three goals. Jamie Oleksiak had himself a game on offense with two goals including the one that tied it up with 50 seconds to go and Jamie Benn scored on the power play.
Then overtime began and it was more of the same. Maybe the "sudden death" mentality didn't settle in right with the Stars, or maybe they just didn't want it enough. But whatever the case may be, Dallas absolutely submitted to the Blues. There were 2-on-1 opportunities, multiple cross-crease passes, and plenty of open chances. It didn't take long for St. Louis to take advantage of the situation and win the game.
This level of effort isn't going to cut it, and the Dallas Stars know that (at least they should). Too many times this year they have entered games with slow and sluggish play, and it has come back to bite them every time. Last night, they were slow on offense and misconstrued on defense. Surprisingly enough, goaltending was their strongest aspect in the game.
Now they are staring down the second half of a back-to-back against a Detroit Red Wings team that is rested and always proves difficult for the Stars to get around. If their best effort was displayed last night, they may as well stay in the locker room tonight.
The standings are tight right now, and while the Stars are holding on to the final wild card spot, they have games out of hand on almost every team around them. If they can't start stringing together multiple wins, they are in for the worst combination of them all: a long season and early offseason.
It's an early puck drop tonight at 6:30 p.m. Hopefully we see a new, more focused Dallas Stars team. It seems like a simple task to achieve, but can the Stars do it? We'll have to wait and see.
More from Blackout Dallas
This article originally appeared on