Dallas Stars Must Either Go Big At Home Or Stay There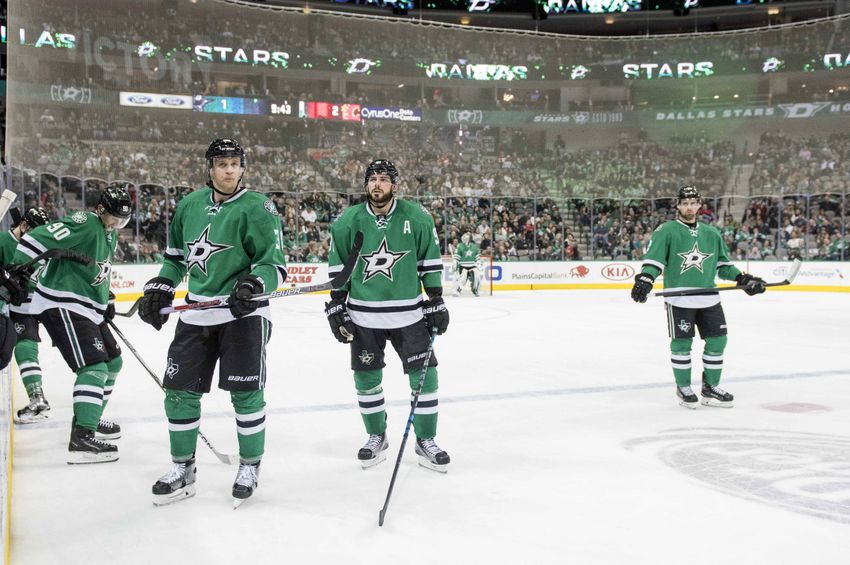 The Dallas Stars are going to get an awful lot out of their victory green home jerseys over the next month. This upcoming home stand could not have come at a more critical time.
In 1954, Al Stillman and Robert Allen wrote and composed what is now considered to be one of the most iconic Christmas songs of all time. It was titled "(There's No Place Like) Home For The Holidays" and quickly became a holiday favorite, as it still is today.
It's been covered by various artists, spanning from Perry Como to The Carpenters, and is one of those generic Christmas songs that everyone can sing along to whether they've heard it five times or five hundred.
The lyrics talk about a man from Tennessee heading up to Pennsylvania for some homemade pumpkin pie, as well as Pennsylvanians traveling from their home state to the Dixie Sunny Shores. The single verse it tied together by the final two lines which talk about the traffic spanning from the Atlantic Ocean to the Pacific Ocean.
But one verse that really hits home is that, "if you want to be happy in a million ways, for the holidays – you can't beat home sweet home."
These lyrics could apply perfectly to the Dallas Stars, so long as they find a way to make themselves and their fans "happy in a million ways."
Dallas Stars Prepare To Host Emotional Hockey Fights Cancer Night
Last night, the Stars reacquainted themselves with the warm confines of the American Airlines Center, deep in the heart of Dallas. It was their first time skating on home ice in over a week.
They had just concluded a four-game road trip in Denver on Saturday night by defeating the Colorado Avalanche 3-0. The win helped them post a 1-2-1 record for the trip as a whole. They still sat outside of the playoff picture, but were within sight of receiving significant players back from injury and were playing some of their best hockey of the year.
They were set up for a two-game home swing this week, starting with the Calgary Flames. The Dallas Stars had motivation and energy in their corner, but it didn't pan out. Instead, the Flames rang up two goals on Dallas in a 2-1 victory. With the loss, the Stars fell back into the pit of inconsistency that they've grown so accustomed to this season.
But it doesn't mean all hope is lost. This team can still be very dangerous, as we all know. All they need is a good revamping, and there is still plenty of time left for it to happen.
Now the Stars are basically "home for the holidays." Between now and January 6th (one month), the Stars will play nine of their 12 scheduled games at the AAC. That's what is called "home ice advantage," so long as the Stars use it right.
Their competition includes the Nashville Predators (1-1-0 against this season), Anaheim Ducks (1-0-0), New York Rangers (first meeting), Philadelphia Flyers (play both games against over the next week and a half), St. Louis Blues (1-0-1), Los Angeles Kings (0-0-1), Colorado Avalanche (2-1-0), Florida Panthers (first meeting), and Montreal Canadiens (first meeting).
All but two of these teams are currently holding or tied for a playoff spot. The Montreal Canadiens own the best record in the NHL at 17-6-3, and the New York Rangers are not far behind at 17-9-1.
These teams have established their reputations early in the year and Dallas sadly has not. They did last season, which meant that they did not have to necessarily "worry about their standing" later in the season. But the Stars are still struggling to find consistency and balance in their play, so a revival is going to be necessary.
This home stand will be crucial in making that happen. After all, if they cannot string wins together  at home in front of a strong home crowd during the holiday break, do they even have any hope to begin with? And if they cannot win at home during this extended stay, why not just stay home for the rest of the year?
After last night's loss, the Stars fell to 6-4-2 this season when playing on home ice. By early January, the Stars will have added nine more decisions into this record. Could at least a decent majority of them be in the win column?
Last year, Dallas dominated home ice during the holidays. From December 8 to January 7, the Stars posted a record of 8-1-0. That's nine games in a one month frame. Maybe we could repeat that performance this year and make it a tradition?
There will be plenty of players to lean on during this critical stand as well. Dallas Stars captain Jamie Benn desperately needs to find his stroke again (one goal in last seven games) and get back to his scoring ways. Jason Spezza "needs a goal in the worst way right now," considering he has not scored a goal in 12 games.
One player who could play a critical role is Antti Niemi. The veteran goalie is 5-1-1 on home ice this year with an average save percentage of .936. He's given up 15 goals in eight games played at the AAC this year. If the Stars can see similar production from the Finn, they could ride the hot streak throughout the home streak.
The Stars have a lot of work to do if they want to get back in the middle of the fight, and that all starts with dominating their home barn. They will more than likely have a strong crowd backing them in each contest, so it will be all up to them to rally together and produce the necessary wins.
After all, there is no place like home for the holidays.
More from Blackout Dallas
This article originally appeared on