Dallas Stars Meet Up With Wild For Second Time This Year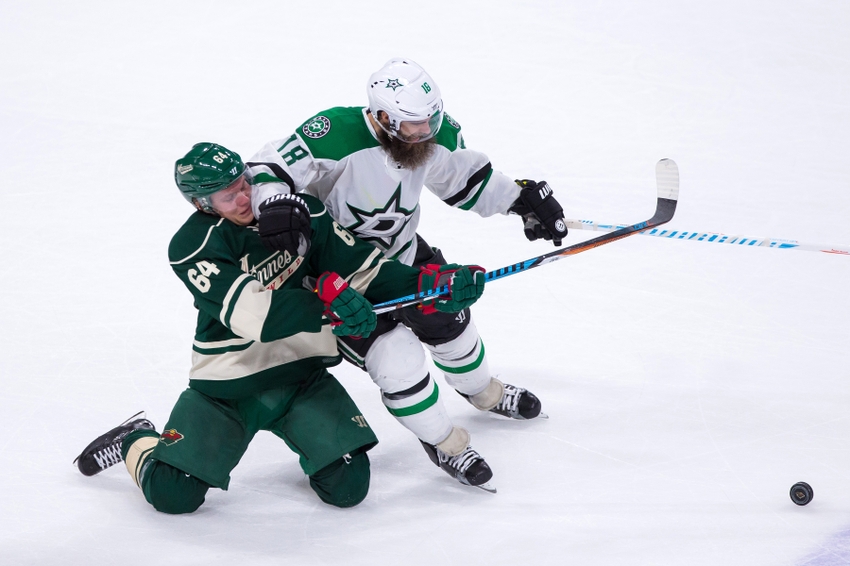 The Dallas Stars welcome the Minnesota Wild to the AAC tonight for another Central Division showdown. Here's a look at what to keep an eye on.
As the Thanksgiving break nears, the Dallas Stars find themselves desperate for every available point. Their next shot at said points is tonight when the Stars welcome the Minnesota Wild to Big D for a Central Division matchup. This will be their second meeting of the season. In the first meeting, the Wild obliterated the Stars 4-0.
The game will be broadcasted on Fox Sports Southwest Plus (FSSW+), and you can also hear it on 1310AM/96.7FM The Ticket. Puck drop is scheduled for 7:30 p.m. from the American Airlines Center in Dallas, Texas.
Records and Scores
The Dallas Stars continue to ride the train of mediocrity throughout the beginning of the 2016-17 season. They currently boast a record of 7-7-5 with 19 points. They sit fifth in the Central Division and are tied for the final wild card spot, but a win tonight would put them in third place in the division. Their most recent game comes as a 5-2 loss to the Edmonton Oilers and they are 2-1-2 in their last five games.
The Minnesota Wild are in a very similar position. Though they've played two less games than Dallas, they hoist a record of 9-7-1 with 19 points. They are sitting in the first wild card spot and could make the same jump as Dallas with a win tonight. In their most recent competition, they fell 3-2 to the Colorado Avalanche. They are 2-3-0 in their last five contests.
Dallas Stars Prepare To Host Emotional Hockey Fights Cancer Night
Storylines
Will the Stars ever have a completely healthy lineup?
Yesterday afternoon, the Dallas Stars placed veteran defenseman Johnny Oduya on the injured reserve list after he sustained a lower-body injury in Saturday night's game against the Edmonton Oilers.
The game against Edmonton happened to be Patrick Sharp's first game back after a one-month absence due to injury. The Stars have been struggling through the first month of the season with an influential number of injuries. Whether it was Sharp, Jason Spezza, Ales Hemsky, Mattias Janmark, Jiri Hudler (who is still injured), or Cody Eakin, it wasn't easy for Dallas to trek along.
And now they're missing one of their defensive leaders for an extended period of time. No one ever said it was going to be easy, but they didn't say it would be this difficult. Time for more rookies to step up and help the Stars manage.
Honka and Lindell coming up
In light of the Oduya injury, the Stars made a signal to the AHL pen and recalled defensemen Esa Lindell and Julius Honka up to the NHL level. Lindell was just reassigned to the AHL a few days back but is now needed by Dallas to help fill the void. He's played 10 games for Dallas this season, tallying one assist and a -6 rating over the span. In his two AHL appearances, he has one assist and a +3.
Honka has yet to make his NHL regular season debut. The 2014 first round pick has assisted in running the Texas Stars' blue line for the past three seasons. In 16 games this season, he's scored three goals, tallied nine assists, and logged a +1 on-ice rating. He will more than likely make his NHL debut either tonight or Wednesday in Nashville.
Minnesota playing it close
The Wild do not seem to be the same team now that they were when the Stars tangled with them in late October. At that point, they were 5-2-1 and were one of the biggest surprises in the Western Conference.
But, as many "early jump" teams do, they recessed back into the shell of their preseason expectations. They are now tied with the Stars in the standings and battling for a playoff spot.
Over the past few games, it's clear that they are not the high-flying team Dallas saw last time. But at the same time, they aren't an absolutely awful team. In the past five games, the Wild have neither won nor lost by more than a one-goal margin. All of the results have come in regulation, but have either been 2-3, 0-1, 1-0, or 2-1 finishes.
If the Stars could find a surplus of offense tonight and crack the Wild open early with a couple goals, they could really set the tide for a dominant game and catch Minnesota off guard.
This game could mean an awful lot
We are still very much at the point in the year where you can say that a win or loss "doesn't mean too much." But this game might mean more than most see when they examine it on the surface.
Of course every interdivisional game carries some amount of weight, and the Stars and Wild could both use the points. Both are at 19 and could use a win to bump them into the top three. A move up to the top three could be what one of these teams needs to toughen up on defending their position. We'll see what happens tonight, but both Dallas and Minnesota could definitely use the two points at stake.
Injury report
The Dallas Stars will be minus the services of D Johnny Oduya (lower body) and LW Jiri Hudler (illness). C Mattias Janmark (knee) and RW Ales Hemsky (hip) are still on the long term IR.
The Minnesota Wild will be missing D Marco Scandella (ankle), C Zac Dalpe (knee), and D Victor Bartley (triceps).
Projected lines
Dallas Stars
Jamie Benn – Cody Eakin – Tyler Seguin
Patrick Sharp – Jason Spezza – Patrick Eaves
Antoine Roussel – Radek Faksa – Brett Ritchie
Lauri Korpikoski – Devin Shore – Adam Cracknell
Dan Hamhuis – Julius Honka
John Klingberg – Patrik Nemeth
Minnesota Wild
Nino Niederreiter – Eric Staal – Charlie Coyle
Zach Parise – Mikko Koivu – Mikael Granlund
Jason Zucker – Erik Haula – Jason Pominville
Zack Mitchell – Tyler Graovac – Chris Stewart
Jonas Brodin – Christian Folin
Mike Reilly – Matthew Dumba
Prediction
This is a big game and the Dallas Stars' lineup isn't necessarily brimming with confidence right now. But considering it's a big divisional matchup and this is a rematch from last season's Western Conference quarterfinals, give me the Stars knocking the Wild off 3-2.
More from Blackout Dallas
This article originally appeared on