Dallas Stars May Start Season Without Tyler Seguin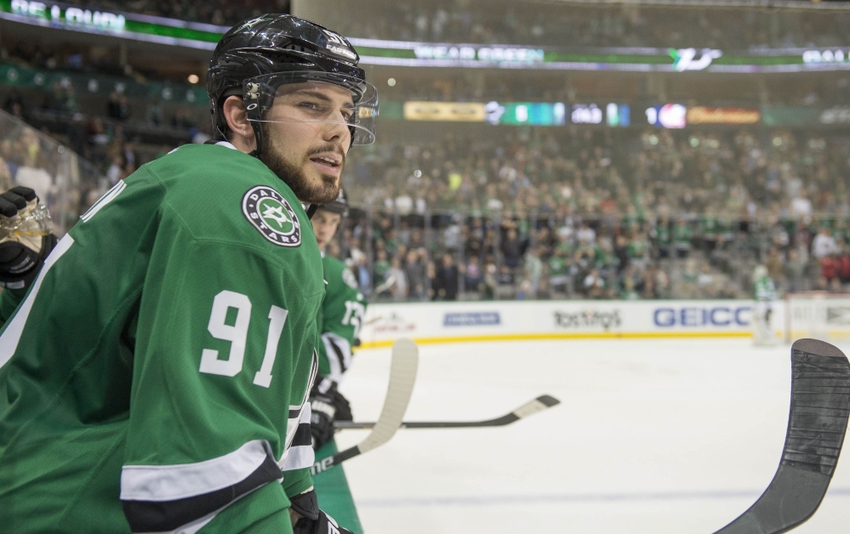 The Dallas Stars were playing with fire when their players decided to join their respective countries in the World Cup of Hockey. Now they may be missing one of their best by the time the season comes around.
A hairline fracture. What does that mean? How does it affect the season ahead? Whatever the case is, the Dallas Stars are missing one of their most skilled players as a result of this.
Tyler Seguin was sent home from the World Cup of Hockey this past Wednesday due to an injury that became too much to bear. Apparently Seguin had tried to play through it due to his overwhelming desire to play for Team Canada.
But that's not what happened. The injury hindered #91 from continuing play, and he was forced to return to Dallas and get a more thorough examination. The procedure revealed that the Dallas Stars forward had a hairline fracture in his foot.
What was originally predicted to be a 7-10 day recovery could end up being drastically longer. Seguin has a bad track record with injuries since joining Dallas, especially in regards to recovery time. Most recently, he dealt with an achilles injury that kept him out from mid-March to the second game of the first round of the Stanley Cup Playoffs.
Dallas Stars Updates: Breaking Down Tyler Seguin's Injury
Seguin played in game two against the Minnesota Wild before being benched for the final 11 games of the Dallas Stars' playoff run due to a lower-body injury.
In other words, his recovery time always seems to be incredibly lengthy. This instance might be very similar. It all depends on what happens in the evaluation next week before training camp.
The Dallas Stars training camp session begins in five days and it will be interesting to see whether Seguin participates or not. Stars captain Jamie Benn, who also missed the World Cup due to injury, is expected to be there and take part in the camp.
There has not been any other developments on Seguin's injury besides the hairline fracture and the week-long wait for a reevaluation. With training camp and the preseason coming in hot, the Stars will need their first-line center back in action quickly.
And then there is the regular season to worry about. The Stars prided themselves on a fast start last year that helped them reach the top spot in the NHL and hold it by the time 2015 ended.
There is nothing that sheds light on a short or long recovery time for Seguin just yet, but the initial assumption is that this injury will not be too terrible or time-consuming for him. But we just don't know at this point.
Tyler Seguin is an extremely valuable player for this run-and-gun Dallas Stars offense. To be fair, the Stars did find a way to get by without him towards the end of last season and still win the division. But no one can know how Seguin's absence could affect the Stars this year. At this point, all Dallas can do is hope that this does not turn into a long-term situation.
The regular season kicks off on October 13th, and the last thing the Dallas Stars need is for their offense to be in question. The defense and goaltending are already going to be under a microscope. Adding the offense in could lead to total anarchy.
Until the next examination, we will simply have to wait and speculate what will happen to Tyler Seguin. His past proves that this could go any number of ways, so all we can do is wait. One thing is clear: this whole World Cup thing did not turn out as it was all cracked up to be.
More from Blackout Dallas
This article originally appeared on