Dallas Stars Have Second Shot at Blackhawks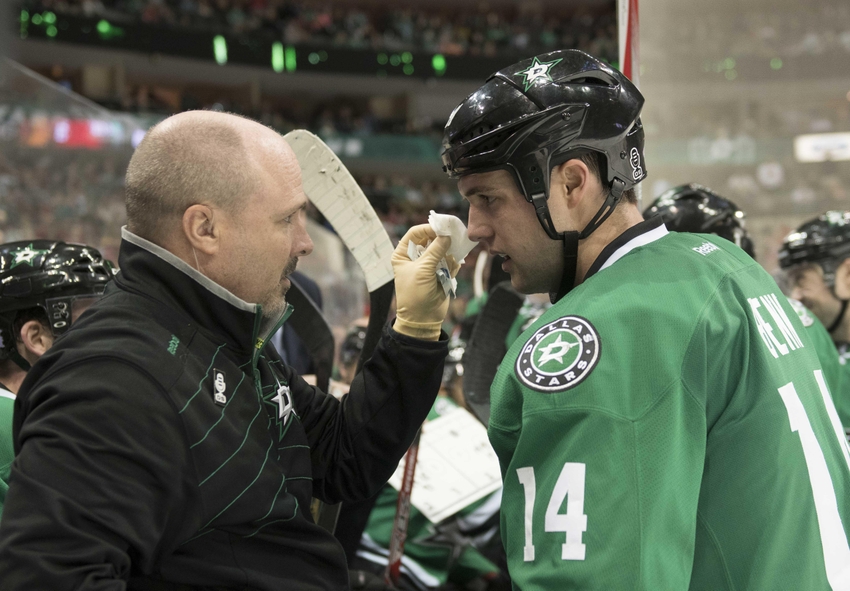 Last night's game didn't tilt in the Dallas Stars'  favor, but they have a chance to make it up tonight on Chicago's turf.
The Dallas Stars were neck and neck with the Blackhawks last night at the AAC, but in the end, couldn't pull out the win. However, the Stars played strong and can hold their heads high tonight as they take on Chicago for the second of a two game back-to-back in the Windy City.
Tune int Fox Sports Southwest (FSSW), or catch the broadcast on on 1310 AM/ 96.7FM The Ticket to not miss any of the action. From puck drop at 6 PM CT at United Center, to that final buzzer, we'll keep you updated on all things Stars.
Dallas Stars Lose 3-2 In Heartbreaker To Blackhawks
Records and Scores
The Dallas Stars are 4-5-2 on the season so far, looking to gain back those few ugly losses they suffered in their scoring drought.  They've fared better at home, with a 3-2-1 record, than they have on the road, where they've notched a 1-3-1 record.
Although they lost their first season meeting with Chicago, the Stars, who are down several spots from them in the standings (eleven, to be exact) are hoping that they can take the one tonight and sweeten that road record.
The Chicago Blackhawks are 8-3-1 with a game in hand over the Stars. Their win against the Stars last night extended their winning streak to 5. The Blackhawks are sitting at the very top of the Conference and Division in first place. Their home record is 6-1-1 and their road record is 2-2-0. Although it seems this leaves little wiggle room for the Stars to work, they are great at surprises.
Storylines
And then there were 11
Jason Spezza suffered yet another injury in last night's game. He left the second period and did not return, owing to a lower body injury. Lindy Ruff told the press that Spezza would miss "a little bit of time," and that he would be sitting tonight's game out. With the forward number still dwindling, the Stars will be working on call-up sometime today to fill that gap.
If at first you don't succeed
The Stars were edging on that perfect win formula last night. Both veteran forwards and new guys were contributing and taking chances, the Stars were physical and aggressive, and their defense contributed to their offense. With all these good components, the puck just didn't metaphorically bounce the Stars' way last night.
However, if the Stars continue to play the same at United Center, a win is within their grasp. They outshot and outhit the Blackhawks, and split faceoff wins fifty/fifty with them. Basically, the Dallas Stars need to make sure they retain their energy and urgency, and keep doing what they've been doing.
Points of improvement
If the Stars want a guaranteed win, there are a few things they could work on. First of all, power plays, The Stars power play is a fickle thing; it comes and goes and shows up when you least expect it.
To maximize all their other efforts, the Stars really need to work to hone their power play. Especially since they are settling into their role as a more physically aggressive team, they need to be ready to take those opportunities when they come.
With Spezza out, that second power play unit might feel a bit unbalanced. The Stars will need to employ their teamwork skills and be certain to make up for the role switching with solid communication and streamlined play.
Another thing the Stars need to turn in their favor, but admittedly can't really change, are the calls. They suffered some bad ones last night, evidenced early on by the first-goal-whistle debacle and continued later on as the Stars tried to equalize, and on throughout the game.
While they can't change the calls, they can continue to play smart and make the most of every call that does go their way in an efficient power play.
Thankfully, the Stars' penalty kill has been impressive and thorough. In order to keep the Blackhawks at bay and counter unfair calls, the Stars should definitely keep doing what they're doing on the penalty kill and keep Chicago's PPG column empty.
Injury Report
The Dallas Stars are still bitten by the injury and illness bug, leaving them without Jiri Hudler (illness), Patrick Sharp (concussion), Cody Eakin (knee), Mattias Janmark (knee), and now Jason Spezza (lower body).
The Chicago Blackhawks have placed Trevor van Riemsdyk (upper body) on injured reserve and will be without him tonight also.
Projected Lines
Dallas Stars
Jamie Benn – Tyler Seguin – Patrick Eaves
Devin Shore – Justin Dowling? – Lauri Korpikoski
Antoine Roussel – Radek Faksa – Brett Ritchie
Curtis McKenzie – Gemel Smith – Adam Cracknell
Chicago Blackhawks
Richard Panik – Jonathan Toews – Patrick Kane
Artemi Panarin – Artem Anisimov – Marian Hossa
Ryan Hartman – Marcus Kruger – Tyler Motte
Dennis Rasmussen – Nick Schmaltz – Jordin Tootoo
Michal Kempny – Brent Seabrook
Gustav Forsling – Niklas Hjalmarsson
Predictions
The Dallas Stars are gonna take this one, y'all. Be prepared for a 4-2 victory as the Stars continue to do all the good things they began in last night's game.
More from Blackout Dallas
This article originally appeared on