Dallas Stars Go On Hunt For Better November in Columbus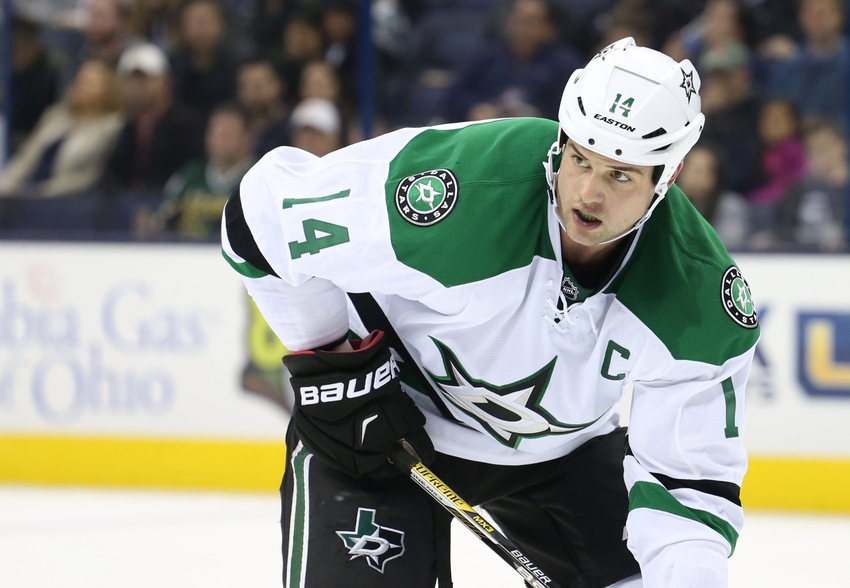 The Dallas Stars have no end in sight when it comes to setbacks, but will plunge forward regardless as they take on the Columbus Blue Jackets tonight in Ohio.
Although the road this season hasn't been a particularly long one, we can all agree that it's been a rough one. The Dallas Stars have dropped more games so far than we had expected from them, but it's still too early to predict where the Stars are headed in the long term.
However, we'll get another chance to see if the Stars can turn it around and start November off on a sweet note as they take on the Columbus Blue Jackets for the final time this season tonight.
The game will be broadcast on Fox Sports Southwest (FSSW), and you can also tune in on 1310AM/96.7FM The Ticket. Puck drop is scheduled for 6:00 p.m. CT from the Nationwide Arena in Columbus, Ohio.
Records and Scores
The Dallas Stars are sitting at a 3-4-1 record after a rough 4-0 loss to The Wild. They've lost four of their last five games, two of which were shutout losses. Tonight's game will conclude a 3 road-game stretch, so the Stars will be hoping to return home with a win under their belt.
Dallas Stars Cannot Seem To Catch A Break Right Now
The Columbus Blue Jackets are in a different boat, with a 3-3-1 record. They played last on Saturday night, when they defeated the Ducks 4-0. They started off a 4 game road trip against the Stars on October 22nd, a game which they won 3-0.
Storylines
You shall not pass
The Blue Jackets are riding a high right now thanks to the hard work of goalie Sergei Bobrovsky. He stopped 35 shots to keep the Ducks scoreless and kept the Blue Jackets down to a 1.25 GAA on Columbus' most recent road trip. The Stars are already suffering in the offensive department.
Loss of many key players has made it difficult for Dallas to adjust and keep production consistent. They're going to have to achieve laser-like focus and start period one with their heads in the right place if they want a chance at finding the back of the Columbus net.
Dallas dropping like flies
Yesterday the Stars announced that Ales Hemsky will be out for five to six months following hip surgery. This puts two Dallas forwards, Hemsky and Janmark, out for the entire year. So the injury gauntlet is not looking any thinner for the Stars as October comes to a close.
The Stars seemed like they were going to miraculously adapt to the issues at hand when the season began and the lower lines stepped up to keep the Stars scoring. The upper lines started chipping in also to make efforts even, but Dallas has yet to be able to reach a sustainable level of offensive production.
The losses of key players has undoubtedly put a damper on the Stars' mentally and their feelings of competency on the ice. This is something they're going to need to overcome, as the situation doesn't look like it's going to change very soon.
Going, going, gone
This will be the final meeting of the Blue Jackets and Stars for the season, so if the Stars are looking to achieve some type of bounce back factor to up their confidence, now would be a prime opportunity. In talking about Columbus' prior win against the Stars, coach John Tortorella called the effect of winning two nights in a row as "adding layers of confidence."
If you apply this logic in reverse, the Stars have been stripping away layers of confidence rather consistently. In order to start building that comfort and confidence back up, the Stars really need to win this one on the Blue Jackets' ice and take the two points back to Dallas.
Injury Report
The Dallas Stars are still forging forward without Patrick Sharp (concussion-like symptoms), Ales Hemsky (groin), Cody Eakin (knee), and Mattias Janmark (knee), who are all on injured reserve.
The Columbus Blue Jackets are without David Clarkson (lower body), who is on injured reserve. Ryan Murray (upper body) is probable for tonight's game.
Projected Lines
Dallas Stars
Jamie Benn – Tyler Seguin – Patrick Eaves
Antoine Roussel – Radek Faksa – Jason Spezza
Lauri Korpikoski – Devin Shore – Brett Ritchie
Curtis McKenzie/ Gemel Smith – Adam Cracknell – Jiri Hudler
Columbus Blue Jackets
Brandon Saad – Alexander Wennberg – Nick Foligno
Matt Calvert – Brandon Dubinsky – Josh Anderson
Boone Jenner – William Karlsson – Cam Atkinson
Scott Hartnell – Lukas Sedlak – Sam Gagner
Markus Nutivaara – David Savard
Prediction
The Dallas Stars will want to end out their season series with the Blue Jackets on a triumphant note, but Columbus has built up many more layers of confidence than the Stars have. The Blue Jackets' goaltending will continue to be strong, and the Stars will fall 3-1, but hopefully take the loss with a grain of salt and use it to come back stronger.
More from Blackout Dallas
This article originally appeared on