Dallas Stars Go Back To Work Against Vancouver Canucks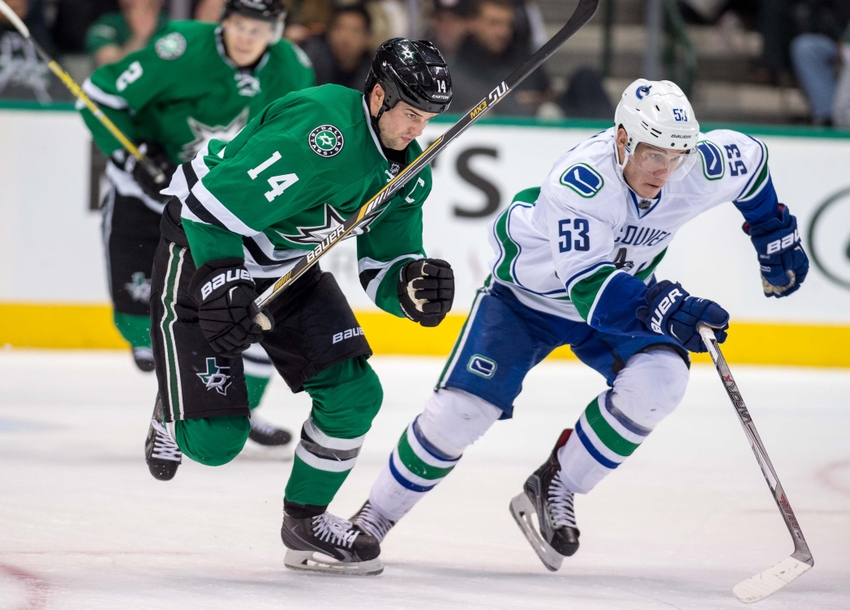 The Dallas Stars fell just short in overtime in their first meeting against the Vancouver Canucks this season. Can they turn the tide tonight on home ice?
Whether the food has completely digested yet or not, the Thanksgiving holiday is officially in the rearview mirror and Dallas Stars hockey is back on tap. Tonight, they will welcome the Vancouver Canucks to Big D for a showdown on Black Friday.
The game will be broadcasted on Fox Sports Southwest Plus (FSSW+), and you can also hear it on 1310AM/96.7FM The Ticket. Puck drop is scheduled for 7:30 p.m. from the American Airlines Center in Dallas, Texas.
Records and Scores
The Dallas Stars are riding an average record of 8-8-5 with 21 points. They are sixth place in the Central Division and are just outside the wild card, but a win tonight would push them into third place in the division. Their most recent game comes as a 5-2 loss to the Nashville Predators and they are 2-2-1 in their last five contests.
The Vancouver Canucks are in a similar boat as Dallas with a record of 8-10-2 with 18 points. They currently rest in sixth place in the Pacific Division, but a win would put them one point out of the wild card. Their most recent game comes as a 4-1 win over the Arizona Coyotes and they are 3-1-1 in their last five games.
Dallas Stars Prepare To Host Emotional Hockey Fights Cancer Night
Storylines
Johns heading back to Cedar Park
Earlier this morning, the Dallas Stars announced that Stephen Johns had been reassigned to the Texas Stars at the AHL level.
Johns, 24, made his NHL debut with the Stars on March 10, 2016 after being traded by Chicago in the 2015 offseason. The 6-4 defenseman has played 16 games this season with Dallas. He has scored two goals, tallied two assists, and posted a -4 on-ice rating.
"He's struggled a little bit in his play, but we want to see him play," Stars coach Lindy Ruff said at today's morning skate. "We have to get him some really good ice time and get some confidence back in him and get his head where it needs to be. He's pretty frustrated."
Johns had been one of the Stars' defensive scratches for the past two games and has not played since last Saturday in the 5-2 loss to Edmonton.
Without him, Dallas now has seven active defensemen. Here were the pairings at morning skate:
Scratch: Patrik Nemeth
Second time's the charm?
This will be the second meeting of the year between the Stars and Canucks. The first one was on November 13 in Vancouver.
Though the Stars played a strong offensive game, they could not organize their defensive game and fell 5-4 in overtime.
This was the final game of a five-game road trip for the Stars. Dallas managed to walk away with six of a possible ten points while playing some of the best teams in the NHL. They were also still balancing multiple injuries during the trip.
"For the most part, I liked the way we had gone in that game," Ruff said. "You don't like losing or letting them tie it up, although I look at it as a pretty tough goal to be going in. From a structure standpoint, those are hard ones. We're just trying to find a game that is better defensively and make sure we maintain some good offensive habits."
This will be the Stars' second opportunity to down the Canucks, and it could not come at a more critical time in regards to the standings. A lot could happen after tonight in the rankings, and the last thing Dallas needs is to be at the bottom of the list.
Vancouver experiencing similar defensive woes
The Vancouver Canucks have fallen hard since starting the season on a surprising 4-0-1 streak. They had an eight-game losing streak (all in regulation) counter their hot start, and as a result they are struggling to make ends meet.
Over the last five games, their defense has suffered significantly. The Canucks have sacrificed 18 goals to four different teams (Stars, Rangers, Coyotes, Blackhawks). That's an average of 3.60 goals against per game. While the Stars sit first in the NHL for highest GAA at 3.38, the Canucks are not far behind in seventh at 3.05.
It may be another high-scoring affair tonight in Dallas.
Niemi gets the nod
Antti Niemi was the first goaltender off the ice at morning skate today, meaning he is the likely starter tonight vs. Vancouver.
Niemi's stats, specifically on home ice, are nothing short of spectacular this year. He is 4-1-1 with a 2.13 GAA and .932 save percentage when under the roof of the AAC this season. We'll see if he can continue his hot streak tonight.
Projected lines
Dallas Stars
Jamie Benn – Tyler Seguin – Curtis McKenzie
Patrick Sharp – Cody Eakin – Jason Spezza
Antoine Roussel – Radek Faksa – Brett Ritchie
Lauri Korpikoski – Devin Shore – Adam Cracknell
Esa Lindell – John Klingberg
Dan Hamhuis – Julius Honka
Jamie Oleksiak – Jordie Benn
Antti Niemi
Vancouver Canucks
Daniel Sedin – Henrik Sedin – Brandon Sutter
Sven Baertschi – Bo Horvat – Alexandre Burrows
Markus Granlund – Michael Chaput – Loui Eriksson
Jack Skille – Brendan Gaunce – Jayson Megna
Alexander Edler – Troy Stecher
Prediction
Give me the Stars winning this one 4-1 against the Canucks. Home ice and a strong performance from Niemi will give the Stars just what they need to put on a strong Black Friday showing.
More from Blackout Dallas
This article originally appeared on