Dallas Stars Finding New Signs Of Life At Perfect Time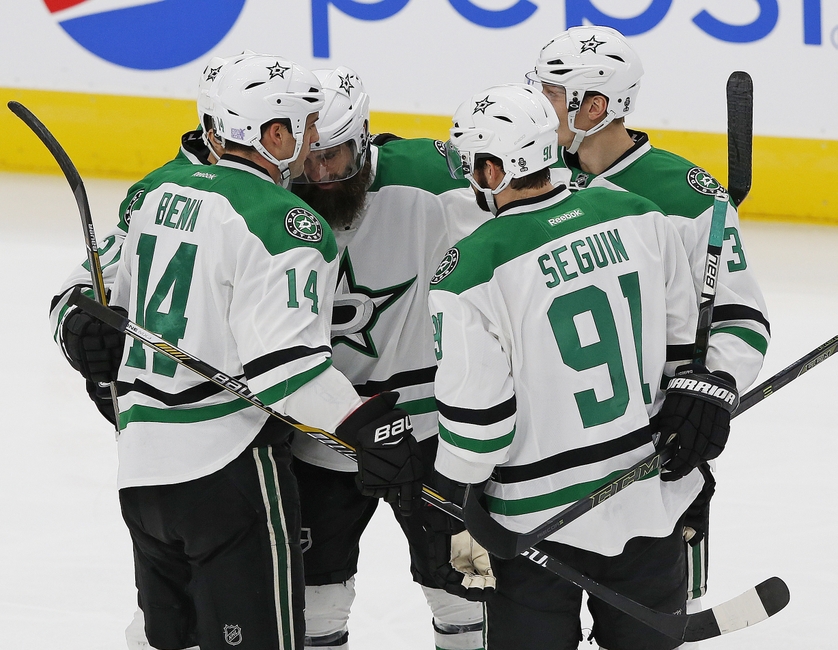 Maybe an 8-2 thumping from the Winnipeg Jets on Tuesday night was just what the Dallas Stars needed. They've transformed into a brand new team, and the transformation came not a moment too soon.
You can tell a lot about a team based on how they perform in a back-to-back scenario. You get a firsthand look at how they handle adversity, how hungry they are, and just how effective they play as a unit no matter their energy level.
Going into Friday night, the Dallas Stars had a lot going against them. They had just played a physically exhausting game in Calgary just a few hours earlier in which they narrowly escaped with a 4-2 win. They were set to square up against the Edmonton Oilers, who were sitting in second place in the Western Conference.
They had just traveled from Calgary to Edmonton, they were still missing key players like Jason Spezza and Patrick Sharp due to injury, and they had yet to build a winning streak throughout the 2016-17 season. In other words, the odds were not leaning in their favor in any way.
But then something happened. No one knows quite what it was or how it occurred in the first place, but Dallas Stars fans were pretty pleased with it. The Dallas Stars secured a 3-2 victory over the Oilers and successfully built their first winning streak of the year.
Dallas Stars Prepare To Host Emotional Hockey Fights Cancer Night
Just take a step back on this cool Saturday morning and acknowledge all that contributed to the victory. Patrick Sharp, Jason Spezza, Cody Eakin, Mattias Janmark, Ales Hemsky, and Jiri Hudler did not dress out for the game. So who does that leave for offensive firepower? Jamie Benn and Tyler Seguin?
You'd probably assume the dynamic duo did some damage on offense until you find out that neither of them found the back of the net during the game.
Instead, the undrafted 26-year-old Antoine Roussel scored the game winning goal and upped his points streak to five games. Lauri Korpikoski also opened the scoring for Dallas for the second straight game and is red-hot since joining the first line with Benn and Radek Faksa. Patrick Eaves scored the other goal on the power play.
You could probably give the average hockey fan 30 guesses and they would never correctly guess the three goal scorers from tonight. The Stars are finally seeing some depth scoring and it's paying off. But the impressiveness doesn't stop on offense.
Kari Lehtonen was thrown between the pipes for the second straight night. After facing a 31-shot onslaught on Thursday night in Calgary and stopping 29 of them (.935 save percentage) on the way to his second victory of the year, head coach Lindy Ruff decided to ride the hot hand on Friday night.
On short rest, Lehtonen put together a masterful performance. He denied the Oilers' young superstars on multiple occasions and straight up robbed them a few times. He ended the night 40-of-42 (.952 save percentage) to snag his first back-to-back victories since March 12-13 of 2015.
That means that Kari Lehtonen, a goalie that has absorbed a mass of criticism about being a "subpar" goaltender who is incapable of backstopping he Stars to a Stanley Cup, went 69-73 in a 27-hour period, which translates to a .945 save percentage and 2.00 goals against average. Bravo, Mr. Lehtonen.
These Dallas Stars are different than the ones we so endeared and loved last season. They are even different than the ones we were expecting to see this year back in mid-September.
Injuries have crippled them, inconsistency has hindered them at times, and their overall production has been spotty and untrustworthy. But it looks like those days could be over (knock on wood).
The Stars now have a winning streak. They've spent the past two nights fending off Western Conference opponents using four dominant lines on offense, three surprisingly effective defensive pairs, superb goaltending, and powerful special teams. You know what that is? That's a solid recipe for a Stanley Cup-bound team, whether you want to admit it or not.
And to think that all of this sprang from a game Tuesday night that more than likely had some Stars fans seriously questioning whether to jump ship on this season's hopes or not. On Tuesday, the Stars visited the Winnipeg Jets for an interdivisional matchup. The Jets proceeded to brutally pummel Dallas into submission in what eventually concluded as an 8-2 victory for Winnipeg.
Those kinds of games give the losing team a lot to think about. The only problem is, they usually do not have a lot of time to think about them. In the Dallas Stars' case, they had about 48 hours. Apparently that was enough.
This is a new Stars team that we are witnessing. They seem to have it all figured out, or at least most of it. The goals are starting to come at a more consistent and repetitive pace, the defense is playing with a more fluid style, and the net-minding is stepping up to the challenge. Overall, they are a completely different team, one that seems capable of doing anything they put their mind to.
It's like that old saying, "Good things come to those who wait." 15 games have passed and the Stars barely hold a .500 record (6-6-3). They are averaging one point per game. The wins have not been consistent enough and the losses have been unbearable. It's been a rough month overall.
But maybe the waiting is finally over. Maybe these Dallas Stars have finally cracked the code and know what is expected of them and how they can fulfill those expectations going forward. If this is true, it came along just in the nick of time.
Buckle up, Stars fans. This could be the start of something of something beautiful. The last thing you'd want to do is miss it.
More from Blackout Dallas
This article originally appeared on