Dallas Stars Finally Crack Top Three In Central Division Standings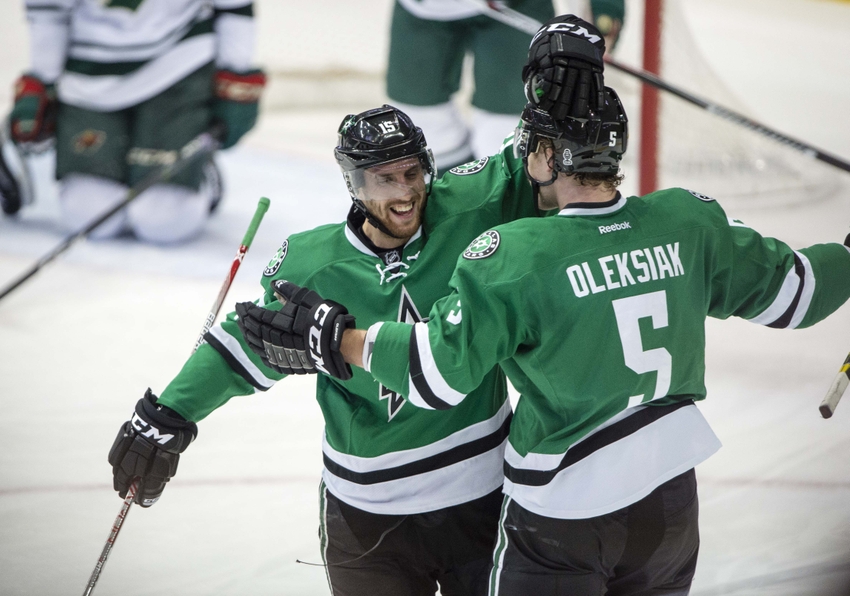 The Dallas Stars are somehow back in the top three in the Central Division standings. Things are starting to come together. Now let's see if they can keep the good times rolling.
There aren't many things that are better than an overtime victory, especially when the Dallas Stars are the team scoring the game winner.
That's exactly what happened last night when the Stars knocked off the Minnesota Wild deep in the heart of Dallas. Stars captain Jamie Benn picked the top left corner and sniped it past Wild goalie Darcy Kuemper to claim the 3-2 win. The victory was a substantial one for multiple reasons.
First off, it was two points against a divisional opponent that helped improve the Stars' status in the Central. It also helped snap a nine-game losing streak in overtime for Dallas that spanned back to last season.
But the game carried a lot more weight than simply snapping a skid for the Stars. The overtime W officially bumped Dallas into the top three in the Central Division standings for the first time since early on in the 2016-17 season. For the past few weeks, the Stars have been struggling to keep ahold of a wild card spot. Now they're back in familiar territory.
It has not been the prettiest ride for this newest version of Dallas Stars so far throughout their 2016-17 journey. The injuries have piled up (Patrick Sharp, Jason Spezza, Ales Hemsky, Cody Eakin, etc.) and become overwhelming on multiple occasions, the offense has missed some of its brightest stars, the defense has experienced significant growing pains, and the goaltending has been on a roller coaster in terms of performance.
Dallas Stars Prepare To Host Emotional Hockey Fights Cancer Night
It's not been entirely enticing to follow for Stars fans. The team as a whole has struggled to put a winning streak together, which has resulted in an average start. There have been some heartbreaking and downright embarrassing defeats, and very few wins have come in dominant fashion.
But they still found a way back to the top three. That says a lot about this Dallas Stars squad. It says that no matter the circumstances, they are prepared to do their best to adapt as quickly as possible. It says that they are still aiming for the ceiling, just as they did last season. It says that the players are buying in and prepared to surprise critics at every possible turn.
Last night, head coach Lindy Ruff decided to scratch John Klingberg and Stephen Johns. These are two of the Stars' most influential defensemen. He replaced them with two rookies in Esa Lindell and Julius Honka.
Honka made his NHL debut and played as if he was a regular NHL veteran. He tallied an assist, finished with a plus-1 rating, took five shots on net, and skated for 21:01 including time on the top power play unit.
This team is different in the fact that they have been forced to adjust on the fly in various situations this year. But instead of laying down and submitting to the challenge, they've stepped up and met the challenge head on. Rookies have stepped in along with veterans, typical minor players have served big roles, and the coaching staff has made some tough decisions for the betterment of the team.
But this is just the beginning. While it is exciting that the Dallas Stars are back among the top of the Central Division, it's not going to be easy to remain there. At 8-7-5, the Stars have 21 points in their first 20 games. They are two points back of the St. Louis Blues in second place, though St. Louis has a game in hand.
The Wild have two games in hand and only sit one point behind. The Winnipeg Jets are only one point out as well, though they have a game out of hand. The Nashville Predators sit two points back with two games in hand, and the Colorado Avalanche are three points back with two games in hand.
So in other words, here is how the Central Division looks right now:
Chicago Blackhawks 20 GP 28 PTS
St. Louis Blues 19 GP 23 PTS
Dallas Stars 20 GP 21 PTS
Minnesota Wild 18 GP 20 PTS
Winnipeg Jets 21 GP 20 PTS
Nashville Predators 18 GP 19 PTS
Colorado Avalanche 18 GP 18 PTS
Three points separate the Stars from the bottom of the division. That's a regulation and overtime loss. So it's not going to be easy to stay in their current place of power.
But if these Dallas Stars can continue to show up, they're going to be hard to not only size up, but also to beat. Their next opportunity will come on Thanksgiving Eve when they travel to the Music City to duke it out with the Nashville Predators for the second time this season.
Another opportunity to create some separation from a Central Division opponent breathing down their neck. Just another day in paradise.
More from Blackout Dallas
This article originally appeared on